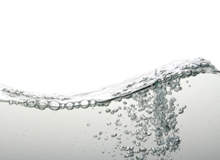 Advanced wound care is one of the fastest-growing sectors in the international healthcare arena. This growth is largely a result of the ageing of populations in much of the developed world and the increasing incidence of the chronic and acute diseases associated with ageing, as well as the complications associated with these diseases.
The biological process of wound healing is a complex interaction of numerous factors that either promote or delay healing, and chronic wounds arise from an imbalance in these opposing factors.
"An optimal state of moisture at the wound surface is essential for the efficient healing."
An optimal state of moisture at the wound surface and in the contacting wound dressing has been shown to be essential for the efficient healing of acute and chronic wounds, and all major wound healing product companies are now competing to supply 'moisture balance' products. However, the majority of advanced wound dressings sold are aimed at exudate control. To date there has been no device on the world market to monitor moisture or hydration status inside wound dressings or at the critical wound-to-dressing interface (McColl et al 2007) to inform decision-making on dressing changes.
WOUND MONITOR
The development of a wound monitor at the Strathclyde Institute of Medical Devices, part of the University of Strathclyde, will have major implications across several healthcare delivery sectors.
Moisture monitoring of the wound-dressing interface could help ensure that an optimum moisture balance for wound healing is maintained and that wound dressings are removed at appropriate intervals. This ensures that they are neither too wet, causing inflammation and maceration to the surrounding tissue, nor too dry, tearing at delicate healing tissue as they are removed. Until now, there has been no way of measuring the wound-dressing interface moisture balance other than by removing the dressing for assessment. This can, however, disrupt the healing process and cause unnecessary discomfort for the patient.
The inappropriate changing of wound dressings can have a number of undesirable results:
The wasting of scarce healthcare resources, such as clinic appointments
An increase in indirect costs, because of delayed healing, extended in-patient stays and demand for acute services
The use of additional dressings and nursing time on applying dressings, which can be complex and time consuming
The introduction of infection to the wound site
Additional costs and expenditure for patients and their families, such as travelling costs, lost earnings and, in some countries, prescription charges
EXPANDING MARKET
Chronic wounds, such as diabetic foot ulcers, venous status ulcers, pressure sores and burns, are a significant worldwide problem and place a great burden on healthcare system resources. As a result, the global wound care market is expanding. It is estimated to have been worth $7.2bn in 2006.
The market for wound care devices is one of the most lucrative and rapidly expanding market sectors, and recent industry reports estimate that the global market will exceed $11.8bn in value by 2009. The $4.1bn global advanced wound care sector is the fastest growing area, with annual growth of 10% (Espicom 2007, Kalorama Info 2002).
According to analysis by Frost & Sullivan, the $1.1bn European wound care market is expected to grow by an average of 10–12% a year from 2003 to 2009. Growth in the advanced dressing market is projected to outstrip that of the traditional market, powering overall revenues to an estimated $2bn by 2009 (Wounds 2007).
Chronic leg ulcers are a major health problem worldwide. They mainly affect the elderly, and in western countries 1% of the adult population are likely to have a chronic leg ulcer at some time that can require treatment over a period ranging from months to years.
The cost of chronic leg ulcers is not only financial: it can also be measured in social and physical costs to the patient, in terms of the pain, suffering and loss of self-esteem caused to individual patients and the distress inflicted on their families.
"The increasing worldwide incidence of diabetes and its chronic complications will require prolonged treatment regimes."
The cost of managing pressure ulcers has huge financial implications for healthcare funders across the globe. In the US, the cost of managing a pressure ulcer is estimated to be between $5,000 and $50,000, while the annual cost of all treatment is $3.4bn (Beckrich and Aronovitch 1999). In Australia, the annual cost is estimated at over A$350m (Graves et al 2005). In 1999, wound dressing sales reached £100m in the UK (Russell 2000).
In the field of burn care, the worldwide burn treatment market grew by 7.6% from 2001 to 2006, reaching $1.9bn in value, and it is expected to grow by more than $700m by 2011.
Advances in biotechnology, biomaterials and tissue engineering are expected to drive growth during this forecast period. The market's steady growth will be sustained by the increasing availability of new therapeutic techniques that reduce healing times and subsequent costs (Biomedicine 2007).
The growth in the wound care market is primarily being driven by the ageing of populations in the developed world and the rise in the incidence of diabetes worldwide, with chronic conditions greatly increasing the cost of care and reducing patients' quality of life. Advanced new technologies and products that are more clinically effective than their conventional counterparts are also driving growth in the wound care market.
All of these factors are creating demand for new technologies that will reduce the costs associated with wound care. These new technologies will offset high care costs, reduce hospital stays and provide more effective home-based treatments, reducing visits to clinics and doctors, which in turn should enhance patient self-esteem and quality of life.
WOUND DRESSING MONITOR
This has the potential to satisfy the clinical need for a device to monitor a wound's condition without unnecessarily disturbing the dressing. The device also enables a healthcare professional to make an informed decision on whether or not to change a wound dressing without removing the dressing.
The management of chronic wounds is developing into a nurse-led aspect of care, and the wound monitor provides a tool for nurses and carers to manage dressing changes effectively. This will reduce the demand on nursing resources and prevent the inappropriate changing of expensive advanced wound dressings.
The wound monitor comprises a sterile, non-adhesive sensor system, which can be placed on the wound before any dressing is applied, and a small hand-held meter. The simple, disposable sensor can be used with a wide range of dressings. The small hand-held meter can be used in an extensive range of clinical and homecare settings to read the moisture status of the wound-dressing interface.
The system is straightforward to integrate into current standard clinical practice, as it does not require major clinical practice changes, just some practical training, as with any other medical device.
CLINICAL TRIALS
The wound monitor (disposable sensor and meter) has completed its first clinical trials in the National Health Service in the UK, where it has been readily accepted by the nursing professionals in a tissue viability clinic treating venous leg ulcers. Clinical trials with the wound dressing monitor have already demonstrated the system's ability to detect dry, wet and moist wound conditions and its user friendliness, and that it can be easily integrated into current clinical practice.
The system can potentially be used by patients and carers at home to provide guidance on when they should contact healthcare professionals to change a dressing, avoiding inconvenient home visits or travel for patients and carers. This has implications for healthcare provision in rural districts, where a visit to a health centre by a patient or a home visit from a healthcare professional could involve time-consuming and unnecessary travel.
KEY APPLICATIONS
The wound monitor could have major implications for healthcare and life sciences. In the clinical environment, the monitor can be used across primary and secondary care.
The monitor can be used in a primary or community setting by healthcare professionals and also in nurse-led clinics. In the secondary/acute care environment – where ward staff rely on the specialist knowledge of tissue viability clinical specialists for the management of chronic wounds and change of dressing instruction – the wound monitor could provide guidance to ward staff on when they need to contact clinical specialists about the moisture status at the wound-dressing interface.
The wound monitor may also have a role in plastic surgery and burns care, particularly in the field of split skin grafts. For patients with these grafts, the management of moisture and the maintenance of the integrity of the graft is clinically significant in the healing and recovery process.
A further application for the wound monitor is in research, where it could test, for example, the efficacy of novel wound dressings. The wound monitor would allow researchers to measure the moisture control and balance at the wound-dressing interface for testing wound care products that are at the developmental stage.
GROWING NEED
"As the world population continues to age, demand for wound care products to treat chronic wounds will increase."
As the world population continues to age, demand for wound care products to treat chronic wounds such as pressure ulcers and venous status ulcers will increase. Meanwhile, the increasing worldwide incidence of diabetes and its chronic complications, such as diabetic wounds or ulcers will require prolonged treatment regimes.
The prevalence of diabetes worldwide was estimated to be 2.8% in 2000, and it is expected to increase to 4.4% by 2030, indeed this figure had already been exceeded in the US, while Central and Eastern Europe are seeing a rapid increase (Nolte et al 2006). It is estimated that the number of diabetics worldwide could grow to 350 million, which would have major implications for wound care delivery and resources.
Ageing populations and the resulting increase in chronic and acute disease are affecting the delivery of healthcare and driving the development of new technologies that have both home care and hospital applications, to offset high costs, reduce resource utilisation, and reduce hospital admissions and length of stay. The wound dressing monitor is one emerging medical devices that can help healthcare professionals and managers conserve scarce resources without compromising patient care and outcomes, and cross the boundary between primary and secondary healthcare provision.