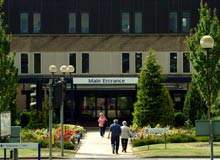 Paul French: In April you began your new post as site director at St John's Hospital in West Lothian. How is it going?
John Jack: It's actually an additional role. I'm still working as director of facilities for NHS Lothian. The site manager job at St John's is, in no small measure, a second job. It's about recreating a site director's role on the St John's campus.
PF: How did you come to get the job?
JJ: I've given 40 years' service to the NHS and I've worked in West Lothian for a good deal of that time. I commissioned the building of St John's Hospital 18 years ago, so it has a real place in my heart. I'm passionate about the services we can provide at St John's and the ratio of opportunities to provide conjoined services in future.
PF: What are your aims for your time in the job at St John's?
JJ: I aim to hit the ground running. One of my main tasks is to ensure the staff and community in St John's and West Lothian appreciate the critical role the hospital plays in delivering acute services across Lothian.
I intend to ensure the hospital provides a key role in developing services and to look at how facilities are used within the existing envelope of the building and to ask: could they be used better? It's about providing facilities pan-Lothian.
It's also about energising the commitment within the hospital and key stakeholders. This is not about providing a quick-fix solution. It's about me agreeing to go back and reacquaint myself with the hospital and foster new relationships to move things forward.
PF: Part of your remit is to build a better working relationship with West Lothian Council. What problems do you need to overcome?
"In terms of economic regeneration, West Lothian is a particularly buoyant economy."
JJ: It's about managing expectations and aspirations. There was a view that a range of facilities at St John's Hospital were at risk and that it had less of an impact than its sister hospitals within Edinburgh.
My job is about convincing colleagues in the hospital – which isn't taking much doing so far – and colleagues in the community and the local authority that NHS Lothian is committed to the three hospitals in the region.
That network of hospitals is the key to providing efficient patient care.
PF: How do you plan to solve the problems with the council?
JJ: At this stage it's about walking the patch; being seen, talking to people, listening and learning so I can understand the problems. It's also about being honest and transparent and agreeing with my colleagues an agenda for the future. I'd like to think that at some time in the future there will be a formal process for liaison between Lothian NHS and West Lothian Council to share issues on a regular basis.
PF: Three issues flagged up as being in dispute between NHS Lothian and the council are health inequalities, economic regeneration and transport infrastructure. What do you plan to do about those specific areas?
JJ: At this stage I don't have ready-made answers. In terms of transport infrastructure, we'll look to build on what we have. We have a good working relationship with the local authority; who help support and subsidise transport links between West Lothian hospitals and other hospitals in Edinburgh. We plan to improve that infrastructure further.
In terms of economic regeneration, West Lothian is a particularly buoyant economy. This brings economic benefits to individuals and the community including employment opportunities. We aim to offer enhanced services over time. That's part of a wider role, to work pan-Lothian and be part of the redevelopment and regeneration of the area.
"One of the first things I'll be doing is bringing back the prominence of the hospital management group."
PF: It's clear that to be successful at St John's you are going to have to deploy an element of troubleshooting and problem solving. Is that something you've had experience of in the past?
JJ: Yes. In my previous role as director of operations the focus has been on managing performance. It's about getting the best out of the individual, even when you're taking them to places they don't want to go. It's about developing those individual skills.
PF: How would you describe your management style? Are there any processes that you will be introducing to the hospital to help it run more smoothly?
JJ: I'd describe my management style as being open door. I can be firm when I need to be but I'm open and honest. It might sound old hat but one of the first things I'll be doing is bringing back the prominence of the hospital management group. In the past this has suffered from infrequent meetings and poor agendas, but in my opinion it should be the workhorse of the organisation. It's about setting targets and communicating effectively. Over time I hope to engage certain professional individuals within the organisation, like doctors and nurses, to support me in this.
PF: The Stop the Downgrade campaign has been set up to, in their words, "save St John's Hospital and stop the transfer of services to Edinburgh". Does the hospital need saving? How can you bring harmony to this situation?
JJ: The hospital doesn't need saving, I've absolutely no doubts about that. I don't think you'll ever bring harmony to a situation that has two diametrically opposed views but we can demonstrate our commitment to the organisation and engage in debate.
Stop The Downgrade is a political bandwagon. They have been talking about the removal of services that were never going to be taken away. All we can do is prove the key nature of St John's Hospital to NHS Lothian.
PF: They list a host of problems including staff and visitors having to pay for parking. Do you have any plans to tackle that issue?
"The hospital doesn't need saving, I've absolutely no doubts about that."
JJ: Like many hospitals, parking at St John's can be congested. We were the first site in NHS Lothian to introduce traffic management systems, which are essential to ensure that emergency vehicles can always get through. We've had to charge for parking since then but we charge less than it costs to park in the city and we had the support of our partnership colleagues when we introduced it.
Stop The Downgrade's parking agenda is politically motivated and to take up their idea of not having traffic management would be a recipe for disaster. Traffic management is essential to ensure emergency vehicles free access to the hospital.
PF: What does the future hold for St John's? Where do you see the hospital being in five years' time?
JJ: In five years' time I have every confidence that the hospital will have consolidated its position as one of three key providers of acute services in NHS Lothian. The range of services will have been further developed and there will be more patient output on site. I am absolutely confident of that.