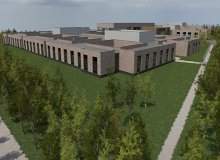 A new British Ebola treatment facility opened in Kerry Town, near the Sierra Leone capital Freetown, as part of efforts to assist in tackling the unprecedented epidemic.
The new Kerry Town facility includes a 80-bed treatment centre, managed by Save the Children charity and a 12-bed centre staffed by British Army medics.
Intended to specifically monitor health care workers and international staff responding to the Ebola crisis, plans are currently underway to expand the 12-bed facility to a 20-bed unit in 2015.
US-based AMSURG agreed to acquire Sheridan Healthcare, a provider of multi-speciality outsourced physician services, in a cash and stock transaction valued at $2.35bn.
With the transaction, the firms aim to create a business model that would better meet critical needs for physicians, health systems, communities and payers.
The combined company will have a total addressable market of $70bn and will encompass more than 4,600 physician relationships across 38 US states.
US-based Cognizant signed an agreement to acquire healthcare IT software and solutions provider TriZetto for $2.7bn in cash.
The acquisition will help Cognizant to expand the services to a wide range of healthcare clients. The combined companies will serve 245,000 healthcare providers, with a revenue of $3bn.
The acquisition will also provide Cognizant with multiple industry-leading software platforms used by payers and providers, and will result in $1.5bn of revenue synergies cumulatively over the next five years.
Cognizant CEO Francisco D'Souza said: "Healthcare is undergoing structural shifts due to reform, cost pressure and shifting responsibilities between payers and providers.
"This creates a significant growth opportunity, which TriZetto will help us capture."
Western Australia's newest health care facility Fiona Stanley Hospital officially opened in Perth, making it the state's first new-build tertiary hospital project in more than 50 years.
The $2bn Fiona Stanley Hospital was originally scheduled to open in April, but was delayed due to a series of cost overruns and technology problems. However, the healthcare facility is not expected to be fully operational until February 2015.
Premier Colin Barnett said: "Fiona Stanley Hospital is a revolutionary facility that provides patient comfort and care innovation, architectural design and health service delivery never before seen in Western Australia."
Healthcare solutions provider Novartis and the NHS Foundation Trust launched a new mobile eye treatment clinic at Frimley Park Hospital in the UK.
Claimed to be the first of its kind in the country, the clinic will provide one-stop diagnosis and treatment services for eye problems, including wet age-related macular degeneration (wet AMD), which causes blindness.
The mobile eye unit will travel across Surrey, Hampshire and Berkshire, seeing up to 50 patients a day. The unit is said to provide the same services as the current clinic in the hospital.
US-based inpatient rehabilitation hospitals operator HealthSouth signed an agreement to acquire EHHI Holdings that owns Encompass Home Health and Hospice for $750m.
Established in 1998, Encompass provides medicare focused home health services in the US, and is currently owned by healthcare-focused private investment firm Cressey & Company.
HealthSouth president Jay Grinney said: "One of our stated strategic objectives has been to expand into home health, assuming we were able to acquire a high-quality, scalable asset that was capable of consolidating the highly fragmented home health industry."
Sarasota Interventional Radiology, a full service outpatient surgery centre located in Sarasota, Florida, installed the state's first Hitachi SCENARIA 128-slice, lower dose CT scanner.
The 128-slice CT, with advanced clinical capabilities and unique features, provides a more comfortable experience for all patients, from paediatric, to oncological, to elderly patients, and offers low radiation exposure.
The new state-of-the-art SCENARIA CT is designed with integrated dose reduction technologies and reduced kV imaging, which together provide a lower amount of radiation exposure.
Mercy Health Muskegon, a multi-campus health care system, seeked approval for a new $220m medical centre in Muskegon, Michigan, on the current Mercy Campus at 1500 E Sherman.
The cost is more than double, compared to initial plans announced in spring 2013, when a $96.7m expansion was proposed.
Original plans were expanded into a proposed new nine-storey, state-of-the-art medical centre to allow for greater efficiencies and better patient care.
NHS Lothian received approval of the Outline Business Case (OBC) from the Scottish Government for the £48m first phase of the Royal Edinburgh Hospital development.
The first phase of the Royal Edinburgh Hospital's redevelopment project could begin by the end of 2014. The projected timescale for completion of phase one is 2016, while the entire project may take up to ten years.
Phase one includes a state-of-the-art facility, which would provide acute mental health care. The proposals also include an intensive psychiatric care unit (IPCU) and a new Robert Fergusson national brain injury unit.
UK-based Royal Hallamshire Hospital, part of the Sheffield Teaching Hospitals NHS Foundation Trust, and four university hospitals in Germany, adopted Oraya Therapeutics' therapy for the treatment of wet age-related macular degeneration (AMD).
The four German hospitals now offering Oraya Therapy are University Hospital Essen, University Hospital Schleswig-Holstein Campus Luebeck, University Hospital Freiburg, and the Medical Care Centre of the University Hospital of Cologne.
Several additional NHS hospitals and German hospitals are also expected to offer Oraya Therapy by the end of 2014.
UK tech start-up SimPrints secured funding from the Saving Lives at Birth Grand Challenge to develop a mobile biometric scanner to maintain health records.
The scanner and software enables real-time identification and access to patient records through fingerprints.
Suitable for integration with any mobile health (mHealth) application, the scanner is designed to address problems such as misidentification caused by common community names and unknown dates of birth. It also eliminates the need to maintain hard copies of health records.
Johns Hopkins University Global mHealth Initiative director Alain Labrique said: "As we struggle to identify ways to strengthen vital registration systems that improve our ability to deliver care to every person who needs it, knowing who someone is and being able to pull up their prior health record is a real game changer for the footsoldiers of global health."
Apollo Hospitals Group, an India-based integrated healthcare organisation, introduced teleradiology remote consulting and diagnostic services at its flagship hospital in Chennai.
The technology, which was inaugurated by former president of India Dr APJ Abdul Kalam, will help patients and diagnostic centres in remote locations to access quality radiologists for opinion-based services and treatment recommendations.
Apollo said the service would play a vital role in reducing patient waiting time for diagnosis and commencement of treatment and cost.