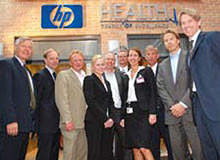 Hewlett Packard's recent decision to open a European centre of health technology in Oslo, Norway, marks the indisputable arrival of digital solutions in the hospital sector.
Designed as a showcase facility for HP and its strategic partners Telenor, Microsoft, Imatis and Cisco to give practical demonstrations of their complete digital hospital infrastructure (DHI), the centre is equipped as a small hospital would be, complete with a patient room, nurse station and an adjacent demonstration room.
"Our goal for the centre is to be a window to the hospitals of the future."
The director of HP's Health Centre of Excellence Roger Morberg believes the facility can become a springboard for new products and services in the European market.
"The centre enables us to display and export our knowledge to other European countries. Our goal for the centre is to be a window to the hospitals of the future," says Morberg.
"Companies with attractive solutions and high levels of competence, like Imatis, will get the opportunity to reach an international market. We will also be able to make sure that the European countries, at all times, will choose the technological solutions that result in the best efficiency and most satisfied patients."
A USEFUL DEMONSTRATION
HP's decision to open such a centre illustrates the growing need to demonstrate digital hospital solutions in their working environment. The facility's main demonstration room in particular focuses on HP, Cisco and Imatis' Information and Communication Technology (ICT). Given this technology's reliance on digital screens and handheld terminals, it benefits no end from a visual explanation.
Based around a single IP connectivity and integration platform that links different hospital systems together, DHI is designed to meet the availability, security and reliability requirements of clinical applications. This includes the use of data-acquisition technologies, messaging and alerts, location-based services and asset tracking.
"We definitely believe that the future of the hospital sector lies in learning how to use these new technologies in order to improve efficiencies," says Morberg. "They meet patient, staff and throughput needs and it is absolutely essential HP will be a part of that transformation. By clearly showcasing the products in the new centre, we are creating interest in the ways such technologies can be used."
KEEPING IT SIMPLE
As anyone who has seen a demonstration of the system will testify, DHI is surprisingly simple in its application. The use of real-time information via PDAs, IP-phones, clinical medical assistants (CMA) and bedside terminals lays the foundation for a more responsive and flexible hospital organisation.
The use of handheld and bedside terminals is crucial to the development of digital patient records. By displaying a patient's record on a large screen next to the hospital bed, a doctor not only has greater access to the patient's details but is able to more clearly explain a situation to the patient.
"The use of handheld and bedside terminals is crucial to the development of digital patient records."
Two-way voice or message communication between nurses and patients helps reduce nurse walking time, which is currently estimated at an average of almost four miles per eight-hour shift.
"New systems for network and infrastructure, advanced electronic warning systems and separate patient terminals containing entertainment and communication, have drawn international attention, and contributed to making every day easier for doctors and patients," says Morberg.
Integration plays a valuable role in the system. By combining the resources and expertise of its partners – the principal two being Cisco and Imatis – DHI in effect offers a complete digital package for hospitals. Furthermore, help with the system implementation is offered through HP Consulting and Integration (C&I) Services.
A WORKING EXAMPLE
Interest in the centre has been mounting since its official opening on 11 June 2008.
Oslo initially appears an unusual choice of location for a European centre, but in fact makes perfect sense because a number of hospitals close to the Norwegian capital are pioneering the use of digital technology.
Located on the west coast of Norway halfway between Oslo and the Arctic Circle, the city of Trondheim has emerged as an important medical centre for the region's rural population thanks to the efforts of St Olav's Hospital. Functioning both as a university and research hospital, St Olav's possesses a major educational facility capable of producing around 120 newly qualified physicians every year.
In 2002 the hospital began construction of a new University hospital at Øya, the first clinical centres of which were completed in 2006. The entire project is due for completion in 2015 and is focused on meeting the health challenges of the 21st century through an acute focus on new technologies.
In October 2005, the consortium of HP, Telenor, Cisco and Cardiac completed the first phase of the new hospital's technology infrastructure. This included an end-to-end IP network which allows staff to access information at anytime in any position within the hospital using a range of devices such as PDAs and IP wireless phones.
Each bed at the new clinics is also equipped with the Cardiac IMATIS Patient Portal, which, in a similar vein to in-flight entertainment systems, provides access to a host of entertainment features.
As a real-life working example of the solution, St Olav's Hospital compliments the demonstration capabilities of the HP Centre of Excellence. "The HP centre being opened in Norway is a clear result of Norway being world leaders in developing digital hospitals," says Morberg.
FRESH START
Further supporting that notion is the forthcoming new Akershus University Hospital on the outskirts of Oslo. Piloted as Europe's most modern university hospital, the €1.1bn project relies heavily on the use of ICT technology. Hospital staff have already begun training sessions in the use of the new system, prior to moving to the new facility later in 2008.
"The HP centre being opened in Norway is a clear result of Norway being world leaders in developing digital hospitals."
For HP, the hospital's digital infrastructure represents a golden opportunity to demonstrate how its solutions function when applied within the design of a new project. "I can reveal that in the future we are going to move the Centre of Excellence to the new university hospital," says Morberg.
"To demonstrate the product on such a practical scale is mutually beneficial – we can display the products in a clinical environment and receive feedback from their use. It will be a dynamic environment that will help develop both the hospital and the solutions."
HP's Centre of Excellence in combination with St Olav and New Akershus Hospitals offers a valuable insight into the working practicalities of digital solutions in the hospital sector. Through close collaboration with its strategic partners, HP helps to demystify some of the complexities surrounding digital hospital solutions by simplifying the infrastructure and its components into one complete package. It remains to be seen how its digital hospital vision evolves in the future.