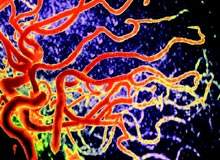 Since 2006, there has been intense focus on a severe fibrotic disorder that has afflicted a small percentage of patients with end-stage renal disease (ESRD). Nephrogenic systemic fibrosis (NSF) was identified in 2000, but since 2006 it has come to prominence as the possibility emerged of a link between NSF and the use of gadolinium-based contrast agents (GBCA) used in MRI scans, due to the presence of gadolinium in skin samples of NSF patients.
NSF is a distressing and debilitating condition that sees patients exhibit fibrosis of the skin, joints, eyes and internal organs, hardened skin, fibrotic nodules and plaques. At the histological level, NSF looks much like scleromyxedema, and it is characterised by rapid growth of dermal fibroblasts and dendritic cells, and thickening of collagen bundles.
The last two years has seen an explosion of research into NSF, often focused on the in vitro stability of GBCAs, and there has been an apparent move towards consensus regarding the causative link. "GBCAs were seen as stable and safe," says Dr Mike Edward of the University of Glasgow. "Their association with NSF came late, after a great deal of interest in a disease that early on may not have been diagnosed."
Edward's research focuses on how fibrosis is caused and what role circulating fibrocytes play. He is convinced there is a link between NSF and GBCAs, and hopes to complete his research project into the effect of gadolinium chelates on fibroblast proliferation by the end of 2008. He is looking at the stability and release of free gadolinium, which is seen as the problem with GBCA use. His preliminary findings suggest the release of gadolinium chelates stimulates fibrosis. As yet, however, he sees no explanation of how free gadolinium gets into human cells.
"There is a strong link between GBCAs and NSF," he says. "However, some patients get NSF if no GBCAs have been used, though this is very rare. The link is strongly suggested by the data, which is very convincing so I have no doubt that GBCAs are responsible. However, there must be other factors involved."
Case closed?
How well do you
really

know your competitors?

Access the most comprehensive Company Profiles on the market, powered by GlobalData. Save hours of research. Gain competitive edge.
Company Profile – free sample
Thank you!
Your download email will arrive shortly
Not ready to buy yet? Download a free sample
We are confident about the unique quality of our Company Profiles. However, we want you to make the most beneficial decision for your business, so we offer a free sample that you can download by submitting the below form
By GlobalData
There is a large body of research backing a connection between GBCAs and NSF. This was enough to prompt firm action by the US FDA last year.
In May 2007, the US FDA requested that the five gadolinium-based contrast agents it had approved for use in magnetic resonance imaging – Magnevist, MultiHance, Omniscan, OptiMARK, and ProHance – should carry a warning about the potential risk of nephrogenic systemic fibrosis in patients with end-stage renal disease.
The imposition of this 'black box' warning was the FDA's conclusion that although the precise causes of NSF remain unknown, there is data to confirm the prevalence of the condition among ESRD patients undergoing MRI examinations where GBCAs are administered intravenously, though it recognised that data does not support a positive association between cumulative dose and specific types of GBCA.
Its analysis concluded that post-marketing reports have identified development of NSF following single and multiple administrations of GBCAs. While these reports do not always identify a specific agent, where a specific agent was identified the most commonly reported was Omniscan, followed by Magnevist and OptiMARK.
"If some patients develop NSF when they have no documented exposure to GBCAs, then there is a question over whether these agents are essential for NSF."
However, there are some people who do not feel ready to accept that the suggested link between GBCA use and NSF is the whole story. Among them is Professor Bob Brasch from the department of radiology and biomedical imaging at the University of California, San Francisco, US, who is currently researching what happens in the evolution of NSF lesions. He does not rule out a role for GBCAs, but wants to know more.
"I am less convinced of the clear etiology of NSF than many people who speak at conferences or who publish literature, though I hesitate to offer an umbrella opinion," he says. "I am still taking in evidence and seeking more information before making a firm conclusion, which is probably wise."
Although he does not know conclusively what the causes of NSF are, he suspects there are multiple causes, and one factor may be GBCAs.
"The NSF/gadolinium studies began as epidemiological observation," he adds. "People saw NSF and saw gadolinium chelates, and at first there was a temporal association. Then observations found measurable growth in chelates in lesions, but this is far from showing a causal relationship.
"There are some smoking guns, but we don't know who held them or when the shot was fired."
The earlier cases alluded to by Edward are also picked up by Brasch, who observes that if some – though very few – patients develop NSF when they have no documented exposure to GBCAs, then there is a question over whether these agents are essential for NSF.
Brasch is not trying to rubbish current consensus opinion, he is merely pointing out that there is no conclusive evidence either way, and that there is work to be done identifying the other factors that contribute to the incidence of NSF. After all, only a small percentage of ESRD patients who receive GBCAs develop NSF, which leads many to think that there are important co-factors. Research scientists are keen to identify them and describe the mechanisms behind NSF. They are also trying to understand what is different about those patients who develop the condition.
Many things have been cited as possible co-factors: the presence of inflammatory cytokines, thrombosis, iron or other drugs, or recent surgical procedures in the medical history, and even the potential for genetic predisposition.
"There is reason to keep an open mind as more information from clinical studies, animal studies and other sources sheds more light on the question," says Brasch.
Clues to fibrotic mechanisms
The people behind many other studies, including Sergio Jimenez, professor and co-director of the Jefferson Institute of Molecular Medicine at Thomas Jefferson University, share Brasch's curiosity. "All the epidemiological studies say GBCAs are responsible," he says. "But a large number of ESRD patients are treated with GBCAs and only 3% get NSF, so there must be some associated co-factor, though it seems gadolinium must be there. I am very interested in what those co-morbidities are."
Jimenez's research has a broad perspective on fibrosis in the body. He often sees patients with scleroderma, and has previously been involved in studying environmentally induced fibrotic conditions, including epidemics caused by a minor contaminant in L-tryptophan and an outbreak in Spain that was traced back to a case of car oil being cleaned up and sold as cooking oil.
"Our knowledge and understanding of the mechanisms that generate fibrotic conditions are fragmented and primitive," says Jimenez. "I was hoping to perform in vitro studies to examine the cellular effects of GBCAs. Preliminary data shows that they can irritate human cells, so the cellular response seems very important. Also, animal studies to date have used normal animals and huge doses of GBCA, but I wanted to pursue an animal model using mice or rats with kidney failure. However, these days funding is often rejected because there are almost no new cases of NSF. This is a very myopic view, though it is a good thing that we don't see any new cases."
It is true that procedural changes have virtually eliminated new cases of NSF. GBCAs were thought to be inert, so some feel that poor practices may have emerged, including the use of very high doses. Guidance and information about the link between NSF and GBCAs, even if this turns out not to be the whole story, have had the desired effect. In fact, the current in-joke is that there are more research studies than there are cases of NSF.
"I feel the whole issue has been overdone," says Brasch. "Even at its peak NSF was rare; serious yes, but very rare. Since the recognition of the setting in which it occurs and the response of the medical community to modify that setting, there has been
a dramatic decline in NSF. The disease is minimal and may be disappearing."
"The current in-joke is that there are more research studies than there are cases of NSF."
Edward agrees that the number of cases has plummeted. "Renal physicians take a lot more care in giving GBCAs to people with ESRD," he says. "Guidelines and recommendations have gone out telling people not to give linear GBCAs, which are seen as more unstable, or to dialyse patients while they are being used. In Glasgow, we had a lot of cases, but in the last year we've had none."
However, he still counsels against over-reaction. There is a difference between linear or non-cyclical GBCAs and their cyclical counterparts. Linear agents are more strongly implicated as a causal factor, a distinction that the FDA did not take into account.
The concern, shared by Jimenez and others, is that this may limit the use of agents that are highly beneficial to ESRD patients. The answer, they feel, is to conduct more mechanistic studies.
"Some physicians even stopped using GBCAs altogether, but they need to weigh up the benefits and the risks," notes Brasch. "They could perhaps use cyclic compounds instead, though they have drawbacks, too."
In fact, Jimenez, Edward and Brasch agree that further research into NSF would be valuable, even if there were no new cases. Understanding the underlying mechanism could lead to greater insight into other fibrotic conditions.
"Research may help us learn things that we don't expect," continues Brasch. "We will learn more about drug interactions and chelates, and what it means to have a pharmaceutical product based on chelation or about the stability of chelates." It may also be useful to examine why NSF cases are clustered around certain centres, as there may be a question of it being over-diagnosed in those locations or under-diagnosed elsewhere; the possibilities are numerous.
Opportunities for action
Edward's interest lies in the mechanism behind NSF and the link to other fibrotic diseases. "Companies are interested in developing new contrast agents, and there is a real need for such agents in ESRD," he says. "Also, though most patients develop NSF early, free gadolinium becomes localised in bones and is slowly released over time, so we could see some patients develop NSF in the future."
"Understanding the underlying mechanism could lead to greater insight into other fibrotic conditions."
Nevertheless, Edward warns that research into NSF may become harder to initiate. "Looking into how gadolinium chelates stimulate tissue differentiation might well give us insight into other fibrotic diseases," he says. "But funders want guarantees of success before they'll give any money."
Jimenez understands this well, but urges funders to back more research programmes. "Fibrotic conditions affect many people, but some don"t have treatments, and we don't know their causes," he comments.
"NSF is a missed opportunity to identify very important mechanisms behind these conditions. Studies should continue, then we could understand ways to develop safer contrast agents."
The most important thing may be that NSF is under control, and patient safety has improved through changes in practice. However, its relatively brief time in the spotlight could be the platform for understanding more about fibrotic conditions. The opportunity is there to be taken, but it must be taken soon.