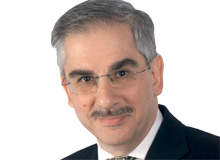 After graduating from the Middlesex Hospital Medical School in 1977, Professor Andy Adam trained in radiology at the Royal Postgraduate Medical School, UK. Since then, he has enjoyed a number of high-profile positions with bodies including the British Institute of Radiology, the European Congress of Radiology, the Cardiovascular and Interventional Radiological Society of Europe, the International Society for Minimally Invasive Therapy, the British Society of Interventional Radiology, and the International Society of Hepatobiliary and Pancreatic Radiology.
1.Andrew Tunnicliffe: When you were a child, how did you see your career working out?
Andy Adam: Until the age of 15 I had no clear ideas. Then I planned to study law. I was first attracted to it by the force of logic on which it is based.
2: At what point did you know that the medical profession was the one you wanted to focus on?
When I was 17, I visited my friend's father; he was a radiologist and persuaded me to study medicine. Obviously, I'm easily influenced.
3: How has the medical profession changed during your career?
How well do you
really

know your competitors?

Access the most comprehensive Company Profiles on the market, powered by GlobalData. Save hours of research. Gain competitive edge.
Company Profile – free sample
Thank you!
Your download email will arrive shortly
Not ready to buy yet? Download a free sample
We are confident about the unique quality of our Company Profiles. However, we want you to make the most beneficial decision for your business, so we offer a free sample that you can download by submitting the below form
By GlobalData
It is more regulated, less autonomous, and many young doctors regard medicine as similar to other professions, and do not allow it to dominate their lives. This latter change has its advantages and may even be desirable, however, it's a view of medicine that I do not share; being a doctor is a great privilege. The single biggest change has been the way imaging has influenced most medical and surgical specialities, and vastly extended their capabilities.
4: What area of your career are you most proud of, and why?
I was fortunate enough to be involved with early research on metallic stents and my work may have had some influence on their adoption into clinical practice.
5: You have helped shape the way interventional radiology is taught today. Do you see any other dramatic changes ahead?
Interventional radiology is one of the most exciting branches of medicine and I believe that it will replace many traditional surgical operations. The availability of 'instant' 3D cross-sectional images and their fusion with functional imaging will revolutionise the treatment of cancer by allowing accurate targeting of tumours in a variety of organs.
6: If there was anything you could change or perhaps do again what would that be, and why?
My school grades were good enough for me to go to Oxford or Cambridge universities. I chose not to do so as I was a little older than other students when I entered medical school. At that time, studying medicine at Oxbridge took a year longer than at other universities and I did not want to prolong my studies. If I had my time again, I would have gone to one of these universities.
7: When you first got involved in medicine did you ever think that your influence would have such an impact?
Medicine changes so fast that I doubt whether any doctor can predict where their career will take them.
8: Have you ever wished that you had chosen another career?
Yes, especially when grappling with UK National Health Service bureaucracy. But I always change my mind again after a successful interventional procedure.
9: Your career has stretched 22 years; what has been your strangest experience?
"Medicine changes so fast that I doubt whether any doctor can predict where their career will take them."
When I was a young doctor the variation in the standard of intensive care was greater than it is today. During my training at the Middlesex, the person in charge of the intensive therapy unit was Dr Jack Tinker, whose skills were legendary. As a senior house officer, I always went to see him when I had a very ill patient, knowing that if he admitted them to the ITU they could not be in safer hands.
A few years later, on my first night as the duty medical registrar at University College Hospital, I had a seriously ill patient. Remembering Jack Tinker, I decided to see his equivalent at UCH and ask for help. I went to the ITU and asked Sister who was the doctor responsible for the unit that night. She looked at me intently and replied: 'You are, Doctor'. I remember thinking: 'Uh-oh, we have a problem'.
10: How did that shift go?
The patient survived, but I don't know whether that had anything to do with my contribution to his care.
11: You've taught abroad; have you had any adventures during your travels?
In Japan, when staying at a ryokan (a traditional Japanese inn), I stubbed my toe on furniture, and tried to restore my balance by supporting myself on the paper sliding doors dividing my room. I discovered that paper is not as strong as bricks. My attempt to repair the doors using a sewing kit I had kept from another hotel fooled no one, but no comment was made. Three months later, I received a pair of ceremonial chopsticks as a Christmas present from the ryokan, so I guess there were no hard feelings.
12: Where have you enjoyed working the most?
My most enjoyable day's work abroad was carrying out live interventional radiological procedures during a conference in Melbourne, Australia. I was at the Melbourne General Hospital, wearing a soft red hat with the inscription 'Live Demo Team' – you might say that simple things please simple minds.
13: Did you notice any major differences in the way your work is practised when abroad?
Yes, a lot of work in the oesophagus is carried out by gastroenterologists under endoscopic guidance – an expensive and long-winded method of doing the same thing as many interventional radiologists do in the UK under X-ray guidance alone.
14: What is your motivation to get up in the morning?
The next smile from a grateful patient who has been spared major surgery by an interventional procedure.
15: Your work is a big part of your life; was it ever difficult to balance your career with your home life?
Like many doctors, I find it difficult to completely separate my work and my home life. Doing a lot of my academic work at home has meant that at least my daughters saw more of me than if I had stayed in my office in the hospital. The move from glass slides to PowerPoint presentations helped, as it made it possible to prepare lectures at home rather than in my office, where all my glass slides are stored.
"It helps hugely if you can imagine yourself as the patient."
16: What do you enjoy doing in your spare time?
Reading history and realising how little we have learned from it.
17: What one lesson do you think we need to learn from our past?
That government policy must take account of human nature.
18: If you had been able to offer yourself some advice on your first day of your first medical role, what might that have been?
It helps hugely if you can imagine yourself as the patient.
19: What advice would you offer to aspiring radiologists today?
Be a doctor, not a planespotter. Always put the images in the context of the clinical findings.
20: What one lesson have you learnt from your career that helps in your personal life?
If you persist for long enough with a tiny screwdriver, you can fix your glasses.