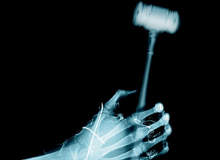 Telerays, the brainchild of Houston-based neuro-radiologist and entrepreneur Dr Daniel Roubein, was unveiled last October. The idea is pretty simple: hospitals and imaging centres post requests for scans to be read on its website, which is compliant with the Health Insurance Portability and Accountability Act that sets national standards for electronic healthcare transactions in the U.S.
Radiologists, who have been preapproved and licensed by the organisation and are also credentialled, then submit bids for the work, with the lowest bid winning the contract and Telerays taking 15% of the profit.
But while the idea might be simple, its ramifications are potentially complex, cautions Dr Robert M Wachter, professor and associate chair of the Department of Medicine at the University of California in San Francisco.
"The fundamental issue here is, is medicine a commodity that can be traded in this way? Does the user, in this case the patient or the referring physician, have enough of a guarantee of the quality of the person at the other end of the wire to ensure that the results are credible?" he asks.
"Wachter recognises that new models of healthcare provision and delivery are needed."
Certainly, in interviews Roubein, the company's chief executive, has made great play of the importance for interpretations to be accurate and of high quality, and for the radiologists offering the service to all be of the highest levels. For example, Roubein has pointed out that to become licensed and credentialled with Telerays, radiologists have to be certified by the American Board of Radiology, provide copies of each current state medical licence showing the expiration date, show proof of current medical malpractice insurance and submit a resumé.
Nevertheless, while recognising this sort of model can clearly work, Wachter argues that even with these sorts of safeguards, if cost starts to become the sole or common denominator, then pressure could be applied on quality within the decision-making and purchasing process.
Wachter explains: "In the old days a scan would be read by someone I knew in the building that I could go and talk to and I would know they had been trained in a certain way and what their credentials were. We are now losing that, but even if it less personalised, if you are doing a single contract with a company, you will at least have the opportunity to assess them as you would any other vendor providing a service, to look at their values and their track record."
Quality bar
Whatever the advance in terms of technology, Wachter stresses, whether it is within teleradiology or elsewhere, there therefore needs to be a minimum quality bar that providers have to get over in order to participate and sell their wares. At its most basic, in terms of teleradiology, the purchaser, whether hospital or patient, needs to be confident of the quality of the report.
"It is equally easy to argue that this is just progress of a sort, and what's the difference between this and, say, outsourcing the reading of images to a company in Sydney or wherever on a case-by-case basis? But the issue with doing it via an auction is whether, within that pool, there will be people who will be good and who will not be as good," says Wachter.
"If you are just doing it on a case-by-case basis there is no way of establishing a pattern of whether what they are doing is any good," he adds.
However, Wachter, like many physicians, recognises that new models of value-for-money healthcare provision and delivery are needed. With US healthcare spending expected to reach an eye-watering $4.3trn by 2017, or 20% of GDP, just assuming hospitals can go on spending as they have always done and in the same ways is probably naïve.
"But in any competitive market there is always an issue of quality. If people are just going to be making decisions on value there also has to be a quality level below which you don't go," he emphasises.
There is an argument that, far from widening the gap between health insurance haves and have-nots in the US (despite the prospect of President Obama's proposals for a system of universal coverage), advances such as this may in fact help to narrow the differentials. Assuming the quality argument stacks up, access to this type of network could actually be good news for hospitals that predominantly deal with people who have little or no insurance, as they might be able to get better-quality reads for a better deal.
The growing market for outsourcing radiology does also potentially have profound implications for training. "Systems that aggressively seek the lowest price for the most basic standards of care could put every teaching hospital out of business very quickly," says Wachter.
"But there is normally an asterisk against academic health centres so that, while you still need to drive value, there has to be a mechanism of paying for innovation and training the next generation of providers. Otherwise, where do the radiologists of the future get their training? Those questions do have to be grappled with."
Spreading influence?
This type of advance might, indeed, be the start of a brave new world. Wachter, for example, says he could potentially see a similar sort of "spot market" developing around hospital consultations.
"You can already go and look and see which cardiologists, for example, are online. I can see a world in the future where you are seeing a patient and need the advice of a cardiologist or a kidney specialist or whatever it may be. In the past you would have just paged them and they would have come to see the patient independently and make their recommendation," he explains.
"In fact, it may help to narrow the differentials between health insurance haves and have-nots."
"Now I can see a situation where you might just have a large plasma screen TV in your room and go online to see which cardiologist or nephrologist is available and who has the right quality ranking. It might be that they are in, say, Baltimore or San Diego – if it was Europe or Asia there might be time difference issues to consider – and then you have a video conference where they make their recommendations. The consultation is done synchronously, which is probably going to be better than having it done as a parallel play. But it has to be quality as well as cost, that is the challenge."
Wachter concludes: "It is a little bit scary if the world we are talking about is simply one of the lowest bidder. But if it is the lowest bidder within a set quality framework, then that starts to become much more acceptable."
Radiologist check list
Telerays radiologists must be certified by the American Board of Radiology
Must provide copies of each current state medical licence showing the expiration date
Must show proof of current medical malpractice insurance
Must submit a resume.
Dr Roubein speaks
Dr Daniel Roubein, chief executive of Telerays, was interviewed last autumn by the radiology networking website radRounds. In the interview he outlined his thinking behind setting up the auction-based teleradiology network and how he saw it as changing the face of radiology and radiography.
He argued it would lead to smaller hospitals and imaging centres having access to better quality doctors, larger facilities being able to compete better on price and offer radiologists more control over when they worked, what cases they worked on and how they set their fees.
He also agreed that the issue of quality and credentialled staff was vital. "As a physician, I believe that delivering the highest quality of care to patients is of paramount importance. Telerays' credentialling process and its quality improvement advisory panel, which reviews a sampling of the radiology interpretations, helps us set a high standard of service. With quality addressed, we connect the parties together, help control costs for the facilities and let the radiologists have a say in the process. The beauty of Telerays is that the market decides what is best for a given case at a given time." he said.
While Roubein conceded some people feared a creeping "commoditisation" of medicine, he argued that it was a natural step on from teleradiology, which, is now considered part of the landscape although some radiologists found equally hard to accept when it first appeared.
"Change is always difficult but new ideas are the future of any industry. Telerays is a revolutionary idea because it is a great equaliser," he said.
"All parties are put on a level playing field and gain from the process. The same parameters which currently govern the practice of medicine and teleradiology apply to the Telerays model. We are committed to the care of the patient. The ultimate goal remains the same."