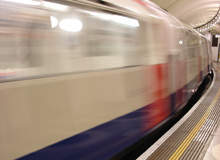 I will always remember when I first experienced the London Underground train system. As I walked down the steep steps to await the subway train on the platform, I glanced down and saw the ubiquitous Mind the Gap sign. Since I hadn't ridden the underground in the city before, I did not have a clue what it meant.
However, once a train pulled up and stopped in front of me, it soon became clear that it referred to the space between the car and the platform. I have since travelled extensively around London using the tube system, and have become aware that some gaps between the train and platform are much larger than others.
Safety gap
I have met many wonderful physicians, nurses and related staff in the healthcare systems of the UK and Europe. I believe they do an incredible amount of good, even with all the challenges they face. Although the standard of care varies from country to country, the healthcare in the UK and Europe is ahead of many parts of the world. However, there is a large gap between that care and the protection that is offered to healthcare workers.
Too often, doctors, nurses and support staff are injured while trying to do their jobs, and needlestick and other sharps injuries occur with increasing frequency. Needlesticks might not have been a concern prior to the appearance of HIV and hepatitis epidemics, but they are definitely a major worry now.
One example concerns a US healthcare worker by the name of Julie Naunheim-Hipps, who was struck by a patient's needle and started to feel sick and extremely tired within a month. She was having trouble concentrating, but was convinced that she was merely exhausted and simply needed a holiday. However, just a few weeks later Julie was informed she had tested positive for the hepatitis C virus.
"You're so tired you can't concentrate and so depressed you can't focus – I couldn't really function," she says, admitting that she was terrified. Her liver was already damaged, and she could do little besides lie on her couch and feel hopeless.
Lackadaisical attitude
Although the US has federal and state legislation mandating the use of safety products, many clinicians there are still not in compliance with regulations, and that adds to the problem. I had a procedure conducted on me recently where several large needles were used for joint injection. They were 22ga by 2.5in long – neither were safety needles. The sharps container was more than 90% full and was set on a table at the back of computer equipment that was hard to get to, while very few clinicians wore gloves or glasses.
"By the final year of training, 99% of residents have had a needlestick injury. Of this group, 53% had sustained a contaminated sharps injury from a high-risk patient."
There seemed to be a very lackadaisical attitude towards safety, and when questioned about the apparent lapses in compliance no-one seemed concerned. I asked how many of them had had needlestick injuries before – only one out of four had ever had a sharps injury. And yet a few times that week several of them had experienced a blood spray event where blood went all over computer equipment, bed, linen, furniture and healthcare workers.
Most nurses indicate that they are concerned about needlestick injuries. In one American Nurses Association study conducted in 2008, 64% reported they had received an accidental needlestick while working. What is remarkable about this study was that despite the requirements of the 2000 Needlestick Safety and Prevention Act mandating the use of safety syringes, 75% of the needlestick injuries reported involved a non-safety syringe.
Nurses are not alone. In a study of physicians, it was determined that needlestick injuries are common among surgeons in training and are often not reported. Some 83% of the surgeons had had a needlestick injury during training. By the final year of training, 99% of residents had had a needlestick injury. Of this group 53% had sustained the contaminated sharps injury from a high-risk patient.
The most telling part of this study is that 51% of the sharps injuries were not reported to an employee health service, likewise the 16% involving high-risk patients. Lack of time was the most common reason given for not reporting, but another reason why surgeons do not report is that they fear they might lose referrals due to the perceived stigma of being contaminated.
Changes ahead?
However, there has been progress towards a change in work practices. In a landmark agreement between the European Public Services Unions federation and Hospeem, which represents hospitals and healthcare employers across Europe, a framework has been established to prevent the incidence of injuries with contaminated sharps, protect the workers at risk and establish appropriate response and follow-up policies in cases where those injuries occur.
It is hoped the guidelines established in the agreement will be incorporated into EU health and safety legislation before the end of the year, meaning hospitals across Europe could soon be legally required to take action to prevent needlestick injuries to their staff. However, all hospitals should take the opportunity to start using safer needles immediately, and the following strategies should be taken by hospitals across the EU:
Identify every needle and sharp used in your facility.
Look for alternatives to existing needles and other sharps. Look at possible alternatives on the safety product list at www.isips.org/safetyproductlist.php. Look for any products or 'engineering controls' that help isolate or remove blood-borne pathogen hazards from the workplace. These safer medical devices are used to prevent percutaneous injuries before, during or after use through safer design features.
Eliminate the use of all needles and other sharps when safe and effective alternatives are available by implementing the use of devices that have safety features.
Evaluate the use of safer medical products using a form that all of your departments agree on. Some forms are available from ISIPS www.isips.org/ispef.php or from TDICT www.tdict.org/evaluation2.html.
Document all evaluations. If it is not documented – it didn't happen.
Examine all needlestick and sharps injuries to identify hazards and injury trends.
Train healthcare workers in the safety and disposal of needles and sharps.
Modify work practices that pose a needlestick injury hazard to make them safer.
Make sure procedures are established for the reporting and timely follow-up of all needlestick and other sharps-related injuries.
Keep score. Evaluate the effectiveness of prevention efforts and provide feedback on performance.
Encourage healthcare workers to report any hazards from needles or other sharps they observe in their work environment. Establish a culture of safety and encourage participation in blood-borne pathogen training.
Encourage all workers to follow recommended injury prevention practices.
Encourage all workers to obtain a hepatitis B vaccination. If they choose not to be vaccinated, have them sign a declination form.
"A framework has been established to prevent the incidence of injuries with contaminated sharps."
Closing the gap
The agreement between labour unions and hospitals is a great start, but it is not enough. More has to be done on the governmental side. In the US, little protection was provided to healthcare workers in relation to sharps safety until unions and an activist press continued to put information in front of politicians, and although there are several European safety directives that cover work accidents, they have proven ineffective in protecting healthcare workers from needlestick injuries.
Further efforts are necessary to ensure that legislation is put into place and implemented properly by the EU member states in the healthcare sector.
I believe there is a growing movement and feeling that is starting to permeate the EU. Hopefully the EC as well as the individual EU member states will recognise that healthcare workers are a valuable resource that must be protected and will issue a call to action to put in place legislative rules to protect and preserve them.