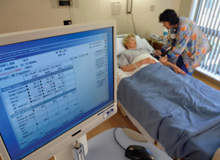 Patient monitoring has never been as important as it is today, and manufacturers are increasingly collaborating with healthcare providers, and patients, to develop technologies that help improve the delivery of care through the efficient monitoring of vital health signs. A number of key technologies are being employed in monitoring treatment outcomes and in delivering care to patients.
Remote patient monitoring
Remote patient monitoring (RPM) enables healthcare providers to monitor and diagnose health conditions by remotely collecting, storing, retrieving and analysing vital health signs. It involves either the real-time or off-line transmission of vital health data, and works by utilising a telecommunication network that connects the patient with the remotely placed provider. The off-line mode doesn't require the simultaneous presence of both the patient and the healthcare professional – data is collected at one time and location and analysed by the provider at a different time and place. The real-time mode, however, requires the simultaneous presence of both parties.
For hospitals and other healthcare delivery settings, RPM greatly reduces patient load on the available health resources by allowing early discharge and by monitoring the progression of chronic diseases. RPM also enables patients to receive quality healthcare at home, resulting in a much faster recovery, and helps avoid unnecessary trips to the emergency department and hospital re-admissions. By minimising hospital stays, it reduces the cost of healthcare delivery while increasing flexibility and productivity.
But is cost reduction the only motivation to switch to remote patient monitoring? With increasing realisation towards the flipsides of a prolonged hospital stay in the form of hospital-acquired infections (HAI), patients are more than willing to embrace remote patient monitoring.
"The need to monitor a patient's vital health signs is driving technological developments in the patient monitoring devices market."
RPM also has a role to play in disease management, primarily aiding healthcare professionals' timely intervention in response to abnormal health signs. It is enabling healthcare providers to treat patients before their condition becomes acute, for diseases as diverse as congestive heart failure (CHF), cardiac arrhythmia, diabetes, chronic obstructive pulmonary disease and asthma.
The benefits of embracing remote patient monitoring are many. Clinicians are benefiting by managing care more effectively, by making more informed decisions and by identifying high-risk patients – all based on real-time and/or off-line access to vital health signs data and patients' responses to health status checks and risk assessment surveys. Chronic care patients, however, are benefiting by participating in the decision-making process through exchange of vital health information.
Essentially, factors such as an ageing population and an increasing pressure to deliver the highest quality care in the most cost-effective manner are driving healthcare organisations to realise the needs for remote patient monitoring – in enhancing patient care, lowering costs and in involving patients as active participants for all health-related decisions.
Point-of-care testing
Point-of-care testing (POCT) is defined as medical diagnostic testing at or near the site of patient care – the objective being an immediacy of response. POCT enables clinicians to monitor in real-time a patient's vital health signs, resulting in the early recognition of life-threatening conditions.
While the intensive care unit (ICU) and the patient's home environment remain the most common sites for use of POCT devices, advances in technology has resulted in the devices being used in many other delivery settings. For example, Abbott Laboratories' i-STAT System is claimed to be used in emergency departments, surgical departments, critical care units, clinical laboratories, neonatal units and in respiratory therapy.
In fact, technological breakthroughs have resulted in the development of devices used by the patients themselves. Self-care products represent the ultimate in point-of-care testing, and examples include home pregnancy tests and glucose monitoring systems. But what has led to this rapid emergence and penetration of POCT products?
More than anything else it's the immediacy of need. However, the fact that they do not require dedicated space and can be used outside of clinical diagnostic laboratories is another factor contributing to their adoption and market penetration.'
POCT products bring test facilities conveniently and immediately to the site of care, thus increasing the likelihood that an immediate clinical action will be undertaken, should a need arise, because it enables clinicians to early diagnose and address life-threatening conditions. As such, it and is being increasingly used in addressing clinical needs during cardiac arrests and strokes.
In summary, POCT reduces test turnaround time, improves clinicians' satisfaction and boosts the hospitals' bottom-line by minimising unnecessary load on the existing infrastructure.
Continuous glucose monitoring
More than 250 million adults worldwide were living with diabetes in 2008, but driven by an ageing population, unhealthy diets and sedentary lifestyles this figure is expected to rise to 380 million by 2025. Each year 3.8 million people fall victim to the disease while an even greater number die from cardiovascular diseases worsened by diabetes-related disorders. The fact that diabetes is the fourth leading cause of death by a disease justifies the investments made and technological developments realised in managing it. Continuous glucose monitoring (CGM) represents the latest addition to the portfolio of technologies available to patients.
The majority of insulin-dependant diabetics test their blood glucose levels three times a day to make sure it is within a clinically acceptable range. However, there are often periods of hyperglycaemia or hypoglycaemia that are short-lived but go undetected, which increases the risks of complications. CGM addresses this problem by allowing for improved glycaemic control for example, by decreasing the instances of hyperglycaemic or hypoglycaemic stages and by increasing the time spent in the acceptable range.
"Technological breakthroughs have resulted in the development of devices used by the patients themselves."
Patients who use CGM systems are informed about their blood glucose levels on a 24/7 basis with test readings as often as every five minutes. This means that CGM systems can provide up to 288 readings a day as against the standalone once-at-a-time readings the fingerstick-based conventional self-monitoring blood blucose (SMBG) systems provide.
It is believed CGM has the potential to revolutionise the way diabetes is managed and treated presently. With more accurate and relatively real-time data at their disposal, physicians have the capability to develop personalised disease management regimes for each patient.
Currently, Medtronic, DexCom and Abbott Laboratories remain the only companies marketing US FDA-approved CGM systems. Abbott Laboratories has been the most recent entrant following the approval of its FreeStyle Navigator Continuous Glucose Monitoring System in March 2008.
The future would see the availability of CGM systems specifically for use in hospital settings. Considering that about 25-30% of patients receiving a cardiovascular procedure performed in hospitals are diabetics, there has always been a need to implement intensive glucose management initiatives in ICUs. Many hospitals, particularly in the US, are already using intensive glucose monitoring in their ICUs, carried out primarily by a nurse testing a patient 12 to 48 times a day using the traditional commercial grade fingerstick system. So, undoubtedly, there is need for an automated glucose monitoring system, and one company, the US-based DexCom Inc is well on its way to developing an IV-based CGM system that provides real-time glucose values.
A look at the aforementioned technology profiles reveals that the need to monitor a patient's vital health signs, in real time and as and when the physicians need them, is driving technological developments in the patient monitoring devices market.
The next stage of technological innovations will involve more robust integration of information technology with the existing devices leading to the development of systems, not just with monitoring capabilities but also with improved interpretation and analysis capabilities.