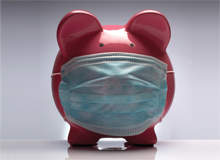 Reports began to emerge from Mexico of a new strain of the A(H1N1) flu virus in April 2009. By the time laboratories were confirming the presence of a new strain, the virus was already spreading across the globe. The World Health Organization (WHO) Emergency Committee met on 29 April, raising its pandemic alert level from Phase 4 to Phase 5, the second highest level.
On 1 June, WHO reported that 62 countries had officially reported cases of what had widely become known as swine flu. Across the world, governments and healthcare leaders began implementing plans to maintain patient care in the face of this new threat.
The recent outbreak of swine flu is just the latest in a series of pandemics or potential pandemics that have threatened the health of the world's population. There were three influenza pandemics during the 20th century: Spanish flu at the end of World War One, Asian flu in the 1950s, and Hong Kong flu in the 1960s. It doesn't have to be influenza, of course. The third plague pandemic that began in China in the 1850s rumbled on until the 1940s. The Severe Acute Respiratory Syndrome epidemic in 2002-03 was a near pandemic.
Early planning
With influenza being the most common cause of pandemics, it makes sense that many developed economies should have some level of formal healthcare system preparedness. The Government and the National Health Service in the UK have been preparing for a flu pandemic for some time. The UK Health Departments' UK Influenza Pandemic Contingency Plan was published in October 2005. That document was superseded by Pandemic Flu: a National Framework for Responding to an Influenza Pandemic in November 2007.
The plans cover those measures intended to support the provision of patient care at national, regional and local level, via bodies such as the UK Government's Department of Health, strategic health authorities, primary care trusts (PCTs), hospital and foundation trusts.
"An inter-wave period during a pandemic provides an opportunity to develop and introduce a vaccine to protect a proportion of the population."
In the UK, the initial flu wave this year saw a peak of some 100,000 new cases weekly by mid-July, with a number of badly affected hotspots. The UK Government's detailed assumptions about the effects of swine flu estimated a clinical attack rate of some 30% of the population.
Up to 2% of those affected, a total of 350,000 would require hospital treatment, a quarter of them in intensive care. The mortality rate, it was assumed, would range from 0.1% or 19,000 deaths, to 0.35%, or 65,000 deaths.
The level of infection placed operational pressures on patient services at all levels. For example, in primary care, general practitioners became the point of inquiry for tens of thousands of concerned patients.
"The volume of phone queries during the first wave was astonishing," says Dr Laurence Buckman, chairman of the GP committee of the British Medical Association. "Beforehand, in a typical day I got five to six people wanting to talk to me on the phone. During the flu wave, I was getting 30 to 40. That meant that I had to stop seeing patients in order to deal with that."
To protect GPs from the deluge of phone calls from patients, as well as those arriving at surgeries in person to get a diagnosis or obtain antivirals, plans for the National Pandemic Flu Service – a self-care phone service – were implemented.
"The National Pandemic Flu Service was designed to do several things," says Ian Dalton, the new national director for NHS Flu Resilience. "It makes sure that people get access to antivirals quickly, because the scientists tell us rapid access to antivirals is a way of saving lives and preventing flu causing complications and hospitalisations. It is also very successful in relieving the pressures on general practice."
The flu service phone lines, operated by non-healthcare staff, completed some 1.32 million assessments and issued around 483,000 courses of antiviral medication by the beginning of September.
Another important measure designed to relieve the pressure on GP services involves PCT support. "Primary care trusts stand ready to support local general practices with buddying arrangements so that if a number of staff in one practice get the virus and find it difficult to come into work, practices can help each other out and keep services going," says Dalton.
Second wave
By early September, new weekly cases in the UK were down to 3,000, and the Government revised some assumptions downwards. Hospitalisation figures were revised to 1% and worst case fatality rates reduced to 19,000. However, as winter approaches, a second wave of H1N1 infection remains a distinct possibility.
"There is no complacency in the NHS," says Dalton. "We are looking ahead on the basis that we should plan for a second attack wave, and that it might be significantly more extensive than the wave over the summer in terms of numbers of patients affected."
An inter-wave period during a pandemic provides an opportunity to develop and introduce a vaccine to protect a proportion of the population, depending on a vaccine's availability.
"We have had scientific advice on the way that the vaccine should be deployed and that will involve a number of groups in the population where there is perceived to be particular clinical benefit from having a vaccine," says Dalton.
Priority groups have been identified for the swine flu vaccination programme that will roll out in the UK over the autumn and winter 2009. Priority will be given to, in the following order (numbers are approximate and for England only):
anyone aged over six months and under 65 years in current seasonal flu vaccine clinical at-risk groups (about five million people)
all pregnant women, subject to licensing conditions (about 0.5 million people)
household contacts of people with compromised immune systems (about 0.5 million people)
people aged 65 and over in the current seasonal flu vaccine clinical at-risk groups (about 3.5 million people), but not otherwise healthy over-65s, as they appear to have some natural immunity to the virus.
"There are some 159,600 beds in use across the UK, of which 3,900 are for patients requiring critical care. Just 2,000 are able to deal with multiple-organ failure."
Beginning at the same time as the first at-risk group, there will be a programme of vaccination for front-line healthcare and social care workers (about 2 million people).
"We have good logistics, good management systems, and we are experienced at running successful vaccination campaigns for large numbers of people, so I am not complacent, but I am very optimistic that the campaign will be run well," says Dalton.
"In addition, the advice is that front-line healthcare and social care workers should be prioritised. Hospitals and primary care trusts have a responsibility to have robust arrangements in place for ensuring that front-line staff are offered the vaccine on the basis that if they take the vaccine it will provide a member of staff, their family, and their patients" protection from the virus, and ensure that the ability to keep services going is maximised."
Although the decision about whether or not to take the vaccine should be optional, Dalton emphasises the important leadership role that healthcare professionals at all levels have to play in explaining the benefits and the safety profile of the vaccine to staff.
"I think the onus is on the people running the organisation to make sure that the information is available so staff can make a properly informed choice, and on the employer to make sure that when a member of staff has decided to take the vaccine up, that the vaccine is easily available to them," he says.
Critical care
A potential pressure point for healthcare services, especially if a more serious second wave materialises, is likely to be critical care provision, especially paediatric critical care. Pandemic planning guidance in the UK notes that there are some 159,600 beds (including day beds) in use across the UK, of which some 3,900 are for patients requiring critical care.
Just 2,000 are able to deal with multiple-organ failure. With critical care beds under pressure even without the additional burden of a pandemic, the UK Government's Critical Care Strategy for the pandemic, published in September, aims to double critical care bed provision. This may be a tough challenge with respect to children's beds.
"How do we manage people on intensive care units, and people who ought to be on intensive care units that aren't because there aren't any intensive beds?" asks Buckman. "What do we do about children, because there is a significant shortage of paediatric intensive care beds, and the paediatricians are extremely aware of this? There have been contingency arrangements for all of this for some time now, but the first wave taught us some lessons, such as the capacity of the NHS, primary and secondary care, general practice and hospitals, to be able to cope with hotspots. The health service can't be geared up for a flu pandemic permanently, so you have to have as much capacity as you can and contingency arrangements for when you run out of capacity."
Other important aspects of maintaining patient care at maximum levels during any flu pandemic include, stress testing and hygiene in the healthcare setting.
All parts of the NHS were required to complete an assurance process at the end of September, enabling them to self assess their readiness against guidance on dealing with any surge in demand on capacity, including critical care, as well as on the management of staff during a pandemic. This follows on from Cold Play II, a major national stress testing scenario exercise.
"We are also running a programme of national command and control exercises in every NHS region, which will look at the NHS's ability to run services as a whole system when under pressure from flu," says Dalton. "That will test the way that ambulance services work with GPs and hospitals, where mental health trusts fits in, as well as where strategic health authorities sit at the strategic command level of the NHS in emergency planning situations, in terms of taking command."
Tracking the pandemic
Ultimately, the behaviour of pandemics is dependent on many variables and as such is highly unpredictable. It seems the best way of maximising patient care during a pandemic is to plan for the worst and hope for the best, maintain a high state of readiness, be vigilant and through effective international communication learn from the experiences of other national healthcare systems.
"We need to stay close to the emergent evidence of what is happening in other countries so that things like attack rates, hospitalisation rates, demand on critical care, duration of individual illness, are understood as best the scientists can, and then communicated to the NHS," says Dalton. "My responsibility is making sure that the NHS is able to offer high quality care to people through any attack phase presented by the swine flu virus. What is clear, at national, regional and local
hospital levels, is that you can never be completely happy with the preparations. You need to keep preparing right up to any major attack of a pandemic virus. There is always work to be done."