Spreading the Holiday Cheer for Children
The festive period is a challenging but rewarding time for the hospital sector, especially where children are concerned. Alex Hawkes finds out how the UK's children's wards keep children smiling during the festive season.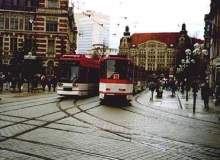 For children too sick to leave hospital, the festive period can be a particularly difficult time of the year, which is why hospital staff and local communities each year have been going that extra mile to make their stay as special as possible.
That is certainly the case at The Evelina Children's Hospital at Guy's and St Thomas' in London, which has been busy in recent weeks organising and hosting an array of festive activities and visits for children. The hospital moved to a new purpose-built facility at St Thomas' in 2005, which had everything from its menus and furnishings through to the design of the building itself chosen by children.
The hospital provides a paediatric intensive care unit that caters for seriously ill children from all over the South East and London and also offers a regional cleft lip and palate centre and specialist care for children with heart and kidney problems.
With 140 inpatient beds, three operating theatres and a hospital school, it is London's first new children's hospital in more than 100 years. As such, it has made huge strides in recent years to develop an activity-filled festive period that its patients won't forget.
"The hospital has made huge strides to develop an activity-filled festive period that its patients won't forget."
Christmas cheer
During the first few weeks of December 2009 the hospital had a very special visit from English boy band and X-factor runners-up JLS during a Christmas party on the hospital's third floor. As well as spending time with and giving presents to the children there, the band also visited those children unable to attend in the intensive care unit.
Continuous visits were organised for the children from a broad range of members of the local community.
The famed Hells Angels motorcycle club arrived at the hospital on motorbikes and entertained the children by dressing in festive costumes such as Santa Claus, reindeer and fairies, while the local Jewish community also delivered toys to the hospital. The London Underground and Post Office too continued their long-standing partnership with the hospital by delivering presents.
Evelina Children's Hospital's play specialist Susan Pruden says she believes such visits make a valuable contribution to the children's festive stay. "All these people that come and see the children make them smile. It is a really difficult time and to know that there are people there caring makes such a difference," Pruden says.
Welcoming families
As well as organising visits from the local community, Evelina Children's Hospital has paid special attention to providing activities not just for patients but also their siblings and parents. A holiday club is put on over the Christmas season, which sees the children and their siblings engage in arts and crafts activities such as making Christmas cards, decorations and masks.
"Our job is to focus on the children, but it is also important to make sure the mother and father are also ok."
On Christmas day itself, the children and their families will be provided with a Christmas dinner and a visit from Father Christmas. This more open-door policy over the festive period is something the hospital has actively encouraged since its opening.
"Years ago the visiting was certainly more limited," Pruden says. "Some children, for instance, have gone ice skating which is something that wouldn't have happened years ago.
"The NHS is becoming more family focused. Our job is to focus on the children, but it is also important to make sure the mother and father are also ok as if they aren't happy the child can sense it and it affects them.
"I think the staff here work incredibly hard to make it as nice as possible for children over Christmas. It helps the parents as it gives them a break when they know the children are happy and being entertained."