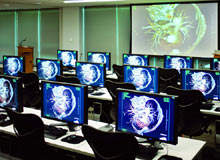 It's a truism, but every clinician is only ever as good as what they have learned and experienced; in the classroom, from their peers and, most importantly of all, through diagnoses. This is particularly the case in radiology, a speciality profession very much at the cutting edge of technological innovation. More sophisticated technology and more advanced software are constantly leading to improvements in imaging, in turn helping radiologists to interpret images ever more effectively and therefore ultimately improving patient diagnoses and outcomes.
This makes continuing medical education (CME) important for any clinician and absolutely vital for radiologists. CME is an ongoing, mandatory requirement for certification and registration if you want to continue practising as a radiologist. Yet, more than that, CME is about ensuring radiologists constantly stay ahead of the curve when it comes to the fast-moving, ever-changing world of technological innovation, as Ronald Freedman, assistant executive director for education at the American College of Radiology (ACR), explains.
"It is not just a question of keeping up with your peers and other specialities or maintaining the status of radiology – though all are important – but about staying up with technology," he says. "Radiologists spend a significant amount of time becoming educated as radiologists, but once they are practising, the technology continues to advance. The way both software and hardware have continued to change has been amazing.
"So continuing medical education is not just important in relation to the education radiologists received at college, during their internship or fellowship, but also in terms of staying current with technologies and practices," he adds.
"Every clinician is only ever as good as what they have learned and experienced."
Of course, continuing education almost always has to be juggled against the competing pressures of the day job, creating challenges that individual radiologists, and also departmental managers and hospital administrators, have to face and overcome.
"As for all doctors and physicians, a key challenge is finding the time to access that education and to ensure that what education opportunities there are available are optimised. Time is such a precious commodity for radiologists," says Freedman.
"There is also, of course, the issue of hospitals, private practices and academic institutions ensuring there is the budget in place to ensure that radiologists can allocate sufficient time to education. The licensing and maintenance of certification regime by and large means budgets for this are maintained and that radiologists are able to take full advantage of the education opportunities offered to them.
"We would always of course like to see budgets for this increasing but the point at least is that hospitals and private practices do generally recognise the importance of CME."
Easy access
Radiologists are no different to any other clinicians in that they learn in different ways, and this is something the college has had to recognise and respond to. Freedman explains that some prefer to be able to use printed materials where they write in the margins or highlight areas and make notes. The ACR makes available a range of printed material, including a continuous professional improvement series of books.
"More sophisticated technology and more advanced software are constantly leading to improvements in imaging."
Others, particularly younger radiologists, prefer to learn from the web, from their computer or laptop or even from their mobile devices. "So, again, there is a lot that we can offer in this way, too," he adds, "including web lectures and online courses and so on. What radiologists, and the college, also recognise is that often the best way to learn is simply by doing."
Which brings us rather neatly to the ACR Education Center. Launched in March 2008, the centre, which the college also describes as the radiology "classroom of the future", is a ground-breaking learning environment, located across from ACR headquarters in Reston, Virginia, offering radiologists access to cutting-edge technology, a huge repository of annotated data sets and case examples.
"This is pretty unique, we think of it as being a mini-fellowship. I do not know of another professional body that at the moment is doing anything precisely like what we are doing," enthuses Freedman.
"What we have done is take some of the newest technologies that have come out since, perhaps, many radiologists left their postgraduate training, and brought them into a setting where it is possible for radiologists to work with them alongside leading experts from around the world. So not only do you get lectures but hands-on experience on those cases and how to interpret them, along with mentoring and feedback."
Learning by doing
So far, some 1,200 radiologists have been through the centre, with feedback forms saying that 98% would come back to another class and many already having done so. Courses tend to last between two and three days. Attendees will often come early anyway to familiarise themselves with the technology and so ensure they can focus on the imaging once the class starts.
"This for us is the new paradigm for how radiologists have to be trained: learning by doing. It is also important for us that radiologists feel they own the information and the learning," says Freedman.
"It can help a radiologist who is looking at beginning to perform some new advance modality that they have not done before, or where they are perhaps expanding their practice and looking to move into a new area or where they are already doing a procedure but their hospital or practice wants them to get appropriate certification or proficiency recognition on that technology.
"Some imaging vendors do offer training on using their equipment, but not like this. We offer access to a variety of software so a radiologist can practise and learn on the software they are going to be using back in their practice," he adds.
"We want education that really improves outcomes, for the patient and for the radiologist."
Other advantages to this approach are a high faculty to student ratio, normally around 1:10. Then there is the ACR "case engine", proprietary software to help learners navigate through the curriculum of cases and measure their performance as they go. So once you submit an interpretation of a case study image you can get immediate feedback so you can see if there is anything that you may have missed.
"It allows the radiologist to develop a protocol for interpreting the various cases in the most efficient way," says Freedman.
Next on the list for the ACR "learning cycle", though still under development, is the generation of a remote learning facility. "If people have taken a course at the centre, perhaps a three-day one, they will have gone through maybe 150 cases and then they leave. So what we are looking at developing is giving them web access to maybe another 100 cases when they get back so they can continue to improve their skills without physically having to come to the centre," argues Freedman.
"It is about having education that is available as you use it and which you can take away with you. We want education that really improves outcomes, for the patient and for the radiologist, which really improves diagnoses and that allows radiologists to maximise how they use the new technology that is being developed to improve the wellbeing of the patient."