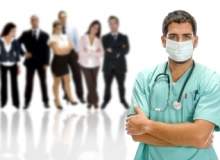 The UK's healthcare system has benefited greatly for many years from the mobility of professionals across the European Economic Area (EEA). Today, a third of doctors registered in the UK, who gained their qualification elsewhere in the EEA, make use of a directive which gives them the freedom to work anywhere in Europe.
However, in recent years shortcomings of the current regulation have become obvious, showing the need for a directive that reflects advances in healthcare and increases transparency across member states. Most memorable is the story of German locum doctor Daniel Ubani who accidentally killed his 70-year-old patient in February 2008 by giving him a fatal dose of a drug he wasn't familiar with. He was later charged with negligence by German authorities but is still free to practice in his home country, despite being struck off the UK register.
Four years on, following calls from the UK's leading medical bodies to revise the EU rules, the European Commission is in the process of overhauling the current directive and published a proposed revision of the legislation in December 2011.
Introducing a new directive
"We've absolutely got to make sure that qualifying once in your life just doesn't become the only measure of your fitness to practice."
Introduced in 2005, the Recognition of Professional Qualifications Directive (2005/36/EC) was put in place to make it easier for professionals to work and move freely in the EEA. But while it was supposed to encourage the automatic recognition of qualifications and simplify procedures, shortcomings highlighted in recent years have raised questions over whether patient safety is high enough on the agenda.
In response to the demands for the legislation to be modernised, the House of Lords European Union Sub-Committee on Social Policies and Consumer Protection was called in May 2011 to scrutinise the current directive and look into how it could be improved to boost confidence in the healthcare system, before making suggestions to the Commission.
Following findings that for instance the Nursing and Midwifery Council (NMC) registered foreign nurses who had not had practice experience within 20 years, the committee concluded in its report in October last year, 2011, that the current directive strikes the wrong balance between the mobility of healthcare professionals and public safety.
It called for extra precautions with language competency, an overhaul of the minimum training requirements – which have not been updated for 30 years – and for the introduction of an alert mechanism system, so that if a healthcare professional has been deemed unfit to work in one member state, other member states can be informed easily.
Language competency testing
House of Lords EU sub-committee chair Baroness Lola Young said patient safety is of great importance in the revised directive – more so now than ever before. "In my view, the Commission takes patient safety very seriously," she said. "Various changes in the directive are particular to healthcare professionals."
One change the committee was passionate about was to make language competency testing applicable to all healthcare professionals who apply from outside the UK – not just those outside of the EEA.
As a result, the proposal for the revised directive says that systematic language testing may be carried out by a regulator once the applicant's qualification has been recognised. However, many feel that employers should take on a bigger part in the role of assessing language skills, as well as the professionals themselves.
"Language testing is a very difficult issue," explained Council for Healthcare Regulatory Excellence knowledge and research manager Douglas Bilton.
"Responsible regulators should be promoting at all times the obligation of a professional to acknowledge in themselves if they don't have the linguistic ability to practice in that country. Also, other professionals who are working around somebody should be alert to any sort of problems of this kind and should be taking action if a colleague isn't fit to practice."
Bilton suggests that a bigger role in language testing sits with employers themselves. "There's a lot of variation. Of course, there are other languages within the UK than English and the employer, as they are more local, will know what range of linguistic skills will be needed so would be in a better position to make those judgements about whether someone has the required ability or not."
EU sub-committee member Baroness Rosalind Scott adds that language skills – alongside an improved information sharing system – are crucial in order to restore public confidence in the UK's healthcare system.
"They need to be confident that the person treating them is fully qualified and doesn't have any black marks against them, and obviously speaks good enough English for the patient to be able to communicate effectively with them."
Call for a Europe-wide information system
The proposed directive includes the addition of an 'alert mechanism', an obligation for national authorities to alert each other is a healthcare professional is struck off, even temporarily, which Baroness Young describes as "fundamental".
"The current system could be missing out on vital information about healthcare workers who display problematic behaviour."
"This is useful, but in our inquiry we raised the question of the stage at which authorities in another member state should be alerted to a potential problem," she added.
"We recommended that there should be an obligation to share information from the point at which a case is initiated. Clearly, there is further work to be done on this issue before the directive is finalised and implemented."
Baroness Scott points out that the current system could be missing out on vital information about healthcare workers who display problematic behaviour. "We've heard anecdotal evidence of people who build up a number of question marks from a member state, and then they just move on, and because no formal action has been taken, all that information has been lost," she said.
"I think we need to have an information system that allows people's overall record to be looked at, so you can actually see over time if there is a pattern of problematic behaviour, and that the registry and employing authorities are aware of it."
Continuous professional development
Bilton agreed the current system has to be updated to ensure regulators can access the relevant information to make an assessment about someone who has applied from another country to go on their register.
"They need to be able to access information quickly and without having to go through loads of bureaucracy to find out whether the person who is applying is firstly actually who they say they are and that then they meet the standards of regulation in this country," he said.
However, from the regulator's point of view, the notion of a system that constantly receives updates about healthcare professionals across the EEA could prove problematic and frankly unnecessary.
"What we wouldn't want to see is regulators having to keep loads of information on people who they are never going to have anything to do with," Bilton said.
He added that each regulator should have easily accessible, up-to-date information about practice concerns and findings available to other regulators.
Another way that confidence in somebody's qualifications can be achieved is through the recognition of continuous professional development (CPD) – an element that is still missing from the directive, despite calls from the UK Government for it to be included.
"Without mandatory CPD, it's harder to make a judgement on whether the person been making efforts to keep their practice up to date while registered or has been practising at all while registered," Bilton said. "One form of proof could be CPD."
Baroness Scott agreed and said this is still being negotiated with Commission. "We've absolutely got to make sure that qualifying once in your life just doesn't become the only measure of your fitness to practice."
Cloudy times ahead?
"The current directive strikes the wrong balance between the mobility of healthcare professionals and public safety."
One area that has sparked controversy in the healthcare industry is the Commission's proposal for the European professional card, with concerns that too much emphasis is being placed on simplifying and speeding up procedures rather than safe guarding patients.
"All of the evidence reached from people was very sceptical about whether that would work, whether it would be kept up to date, and whether they could be forged," said Baroness Scott.
Although the committee has not investigated the financial implications of the revised directive in detail, Baroness Scott says the government has acknowledged that provisions, such as the professional card and language testing, will incur costs for health authorities, but expects the overall economic benefits for the UK to be greater.
While the Commission's proposed directive still raises some questions, the committee hopes that with further work and clarification the new legislation will improve public safety and confidence in healthcare.
Baroness Young, however, admitted there is still a long way to go. "Having these things in the draft directive is one thing. First, there is important detail to be established, particularly on the sharing of information. Then we need implementation across all the member states. Only then can we hope to re-build confidence in the system."