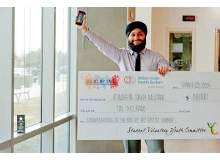 Healthcare solutions provider Novartis and the NHS Foundation Trust launched a new mobile eye treatment clinic at Frimley Park Hospital in the UK.
Said to be the first of its kind in the country, the clinic will provide one-stop diagnosis and treatment services for eye problems, including wet age-related macular degeneration (wet AMD), which causes blindness.
The new mobile eye unit will travel across Surrey, Hampshire and Berkshire, seeing up to 50 patients a day. The unit is said to provide the same services as the current clinic in the hospital.
Canadian healthcare services provider William Osler Health System (Osler) launched the 'HosNav' mobile app to help patients and visitors locate its hospitals.
The free app is said to act as a guidebook for patients and visitors during their visit to Brampton Civic Hospital and Etobicoke General Hospital.
The app also includes a feature that helps users to see what preparation is required before most hospital diagnostic tests. Osler president and CEO Matthew Anderson said that the first-ever mobile app would bring an opportunity to improve the hospital experience for its patients and visitors.
BridgeHead Software, a UK-based provider of healthcare data management solutions, was selected by the Homerton University Hospital NHS Foundation Trust (Homerton) to implement its vendor neutral archive (VNA) for a cross departmental image data management system.
Homerton decided to implement the VNA system as its radiology picture archiving and communication system (PACS) contract is coming to an end.
The VNA system is said to help the trust locate and share all patient data with multiple clinical teams across multiple healthcare departments.
US-based Robert Wood Johnson University Hospital (RWJUH), a cancer treatment hospital of the Rutgers Cancer Institute in New Jersey, and Somerset Medical Center completed their merger to develop a 965-bed hospital with campuses in New Brunswick and Somerville.
With the merger, the two entities will operate as a unified organisation and Somerset Medical Center will now be known as Robert Wood Johnson University Hospital Somerset.
The combination is set to focus on the expansion of existing inpatient and outpatient services, maintenance of community programmes and the improvement of healthcare services within the communities served by Robert Wood Johnson University.
Huntsman Cancer Institute, part of the University of Utah Health Sciences system, began construction of the new Primary Children's and Families' Cancer Research Center.
The new 220,000ft² cancer research building, which will double Huntsman Cancer Institute's research space, is expected to be completed in 2016.
Architectural Nexus has been contracted as architect, while Jacobsen Construction will serve as the builder for the $105m expansion.
US-based MountainView Hospital and the University of Nevada School of Medicine announced that they are set to work together on the development of an expanded Graduate Medical Education (GME) programme.
The programme aims to increase the local supply of physicians in southern Nevada and improve patient care access for the Las Vegas community.
At MountainView Hospital, the first residency programme could begin in July 2016. A final agreement on the programme is expected before the end of 2014.
The four National Health Service (NHS) procurement hubs in the UK decided to develop a Total Orthopaedic Solutions framework agreement.
The hubs include North of England Commercial Procurement Collaborative (NOE CPC), NHS London Procurement Partnership (LPP), NHS Commercial Solutions and East of England NHS Collaborative Procurement Hub (EOE CPH).
Expected to be developed and delivered by 1 January 2015, the agreement will focus on developing a cross hub specification detailing requirements for the delivery of all orthopaedic products to hub members.
A subsidiary of US-based Tenet Healthcare acquired a majority stake in Texas Regional Medical Center in Sunnyvale, Texas.
With this latest acquisition, the company now has a 70-bed hospital in Dallas in addition to three other hospitals in the area – Lake Pointe Medical Center in Rowlett, Doctors Hospital of White Rock Lake and Centennial Medical Center in Frisco – plus 12 outpatient centres.
Physician owners continue to retain a minority interest in Texas Regional Medical Center.