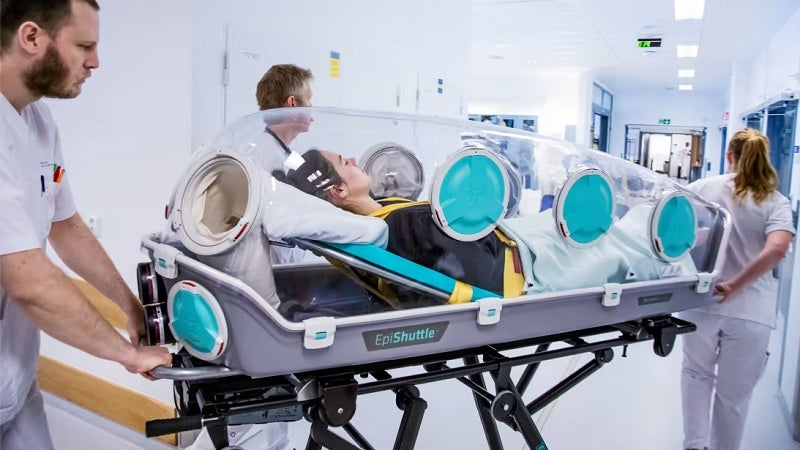 All five University Hospitals in Finland have jointly procured Norwegian company EpiGuard's new isolation and transport system to be better prepared for facing new pandemics or chemical and nuclear threats.
The EpiShuttles technology isolates a contagious patient while being treated.
Helsinki University Hospital Preparedness Unit chief medical officer Tom Silfvast said: "We are implementing a highly efficient tool to transport patients with highly contagious disease, or chemical, biological or other contamination necessitating isolation.
"The single patient isolation and transport unit is designed to provide maximum public safety while allowing critical care and treatment to be performed on the contaminated patient inside.
"The unit can be used for patient transport through air, land and sea in collaboration with the Finnish Border Guard and Defence Force units when needed, keeping society safe."
Financed by the government, the procurement of the nine EpiShuttles is steered by the Ministry of Social Affairs and Health.
EpiShuttles will be used in all the areas covered by the five University Hospitals.
EpiGuard CEO Ellen Cathrine Andersen said: "Patient transport to where ICU capacity is available has proven to be a crucial piece of the puzzle when handling a pandemic.
"Only when safe transport is in place can we utilise the full capacity of the entire health care system and ensure treatment for everyone."
The UN Humanitarian Response Depot holds six EpiShuttles to transport contagious patients safely.
WHO and first responders in Germany, Belgium, Denmark, Peru, Ireland, Greece, Norway, and the UK are also using the new transport system.