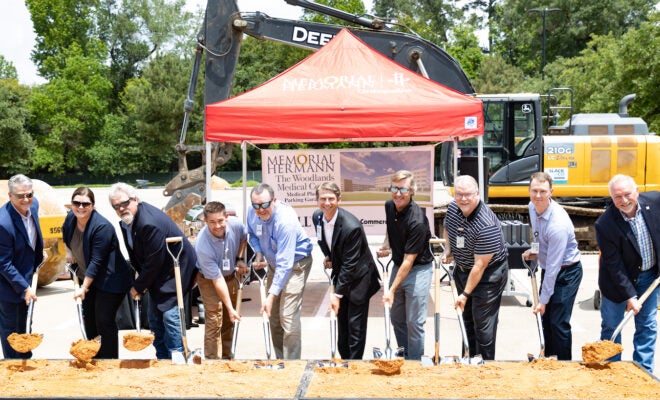 Memorial Hermann's Woodlands Medical Center has commenced construction of its fifth medical plaza and fourth parking garage in The Woodlands, Texas, US, reported hellowoodlands.com.
Representatives from Memorial Hermann, JLL, Austin Commercial, and Powers Brown Architecture participated in the ground-breaking ceremony.
The plaza will feature 135,000ft² of medical space while the parking garage will offer more than 1,000 spaces.
The development is a collaborative effort involving Memorial Hermann, JLL, Austin Commercial, and Powers Brown Architecture.
The project aims to address the community's healthcare needs and provide additional infrastructure for the medical centre.
Construction of the medical plaza is expected to be completed in May 2024 while the parking garage is expected to be finished by 2025.
During the ceremony, Woodlands Medical Center CEO Justin Kendrick said: "We're so incredibly excited for yet another ground-breaking ceremony that we all get to celebrate together.
"We are incredibly humbled that this community and region continues to put their trust in us.
"And this project really represents our ability to continue to build out the infrastructure for this campus by adding over 1,000 parking spaces and more medical office building space that we know will be pretty full pretty quickly.
"But again, we appreciate the community trusting us with their care and the incredible partnership with everyone standing here that all brings it together and makes this dream a reality."
Memorial Hermann is a not-for-profit health system in south-east Texas.
It has approximately 17 hospitals and several speciality programmes and services located across the Greater Houston area.