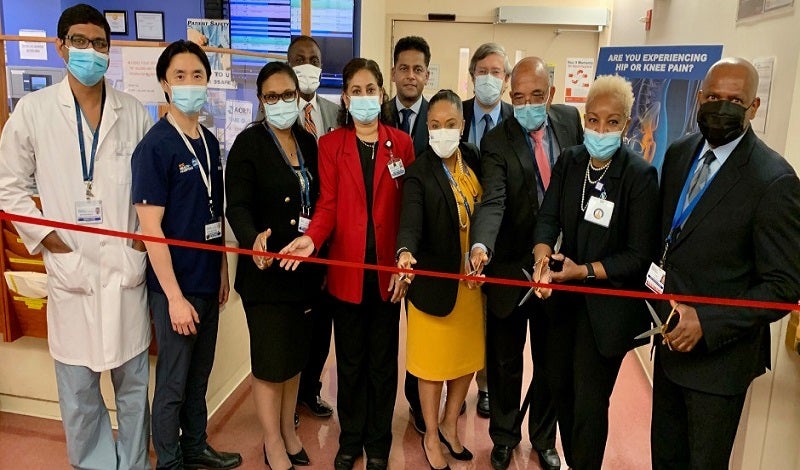 US-based healthcare provider NYC Health + Hospitals/Queens has expanded its orthopaedic department with the opening its new Total Hip and Knee Replacement Center.
The new centre will treat patients with orthopaedic disorders, including the aging community that has degenerative joint diseases.
NYC Health + Hospitals/Queens CEO Neil Moore said: "I am so pleased we are now able to offer this essential hip and knee service to members of our community conveniently within our trusted hospital.
"The addition of a Total Hip and Knee Replacement Center will allow our hospital to provide timely, convenient, and critical care to all patients who need the service right here in-house, prioritizing their comfort by remaining closer to home to receive care."
For establishing this new centre, NYC Health + Hospitals/Queens made an investment of $1m to acquire necessary equipment for performing total hip arthroplasty, total knee arthroplasty and hip hemiarthroplasty procedures.
With the opening of the new facility, it aims to restore mobility and quality of life to individuals with hip and knee joints issues.
The new team has 15 diverse providers, which include orthopaedic surgeons, rehabilitation doctors, physician assistants, pharmacists, social workers, physical therapists, occupational therapists and nurses.
NYC Health + Hospitals/Queens plans to add one X-ray technologist, rehab physician, and additional physician assistants to the team for accommodating the new procedures.
Additionally, NYC Health + Hospitals/Queens will offer services for trauma-related orthopaedic cases, including fractures and foreign body removal.
NYC Health + Hospitals/Queens Special Procedures director Vinayak Perake said: "Hip and knee pain has become a common medical condition that many people suffer from.
"Being able to offer patients full-service care – from diagnosis, to surgeries, rehabilitation, and follow-up – right here in our hospital has allowed our dedicated team of caregivers to significantly improve the quality of care delivered to our patients.
"We are not just replacing hips and knees, but we're replacing chronic pain with increased mobility and a better quality of life."