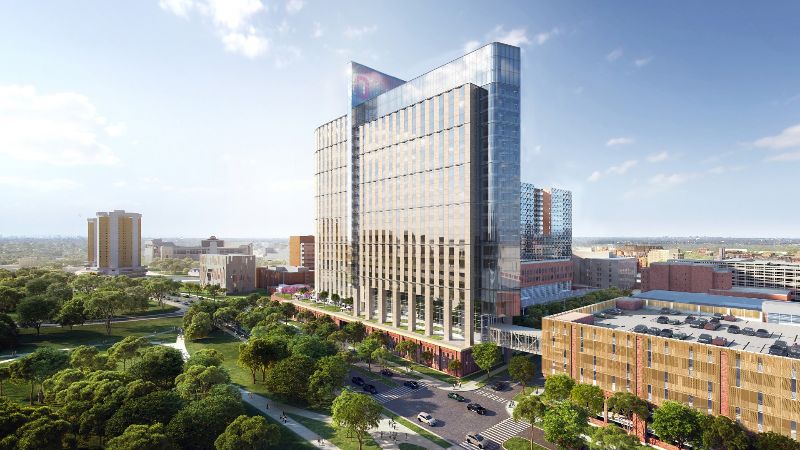 The Ohio State University (OSU) in the US has plans to seek the board of trustees approval this week for a $1.79bn, 1.9 million square feet inpatient hospital.
Named Ohio State University Wexner Medical Center Inpatient Hospital, the new facility is intended to boost research, clinical training and patient care.
The facility will provide enhanced access to advanced digital technologies for students, faculty and staff to progress patient care, teaching and research.
OSU said that the building is part of the university's long-term Framework 2.0 and the Ohio State Wexner Medical Center strategic plan.
Ohio State Wexner Medical Center CEO Dr Hal Paz said: "The new hospital will allow us to serve more patients and align hospital resources with an interprofessional education model and innovative research, allowing us to translate groundbreaking discoveries into patient care more quickly than ever before.
"Most importantly, this tower positions us to be a leader in the rapidly changing health care landscape by revolutionizing the way care is delivered."
The hospital will have collaborations with The Ohio State University Comprehensive Cancer Center – Arthur G James Cancer Hospital and Richard J Solove Research Institute (OSUCCC–James).
In addition, it will have connections with Rhodes Hall, Doan Hall, the Richard M Ross Heart Hospital and the Brain and Spine Hospital.
Pending the board approval, the new 26-storey (24-floor) inpatient facility will house up to 820 beds in private room settings. This will expand on the 440 beds in Rhodes Hall and Doan Hall, noted OSU.
The OSUCCC–James will have 148 beds, including 84 new and 64 from construction backfilling. Also, the new inpatient hospital project will include 60 neonatal intensive care unit bassinets.
Ohio State University Wexner Medical Center Inpatient Hospital will also see diagnostic, treatment and inpatient service areas, emergency department, imaging, operating rooms, and critical care and medical/surgical beds.
Upgrade of the OSUCCC–James and Ross Heart Hospital for blood bank, support services and building connections is also part of the new project.
The new hospital is scheduled to open in early 2026.
Earlier this month, Indiana University Health in the US filed plans for a new $1.6bn hospital.