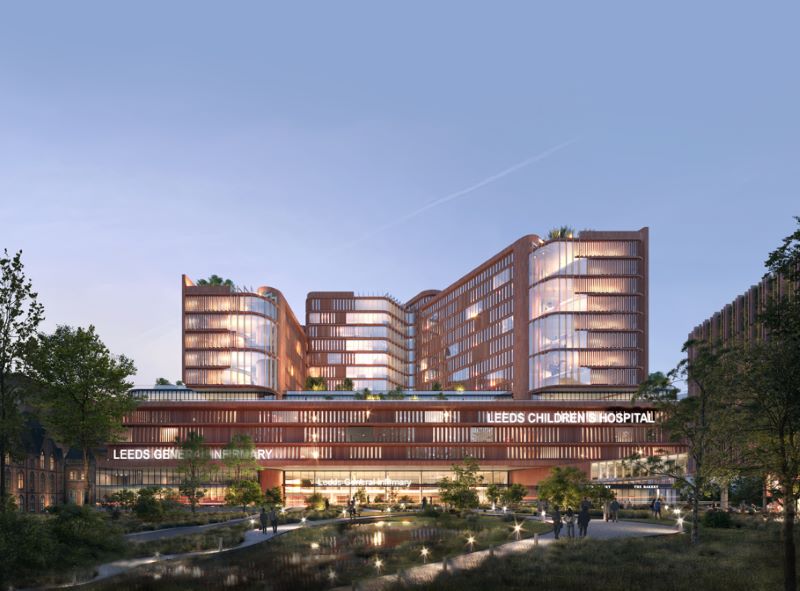 Perkins&Will has entered a contract with UK-based Leeds Teaching Hospitals NHS Trust for designing two new hospitals on the site of the Leeds General Infirmary (LGI).
Penoyre & Prasad, Schmidt Hammer Lassen Architects and Perkins&Will were confirmed as the architects for the 94,000m² building.
The building will have two distinct hospitals, one each for adults and children as well as a centralised maternity and neonatal section.
The trust noted that the designs combine clinical services for children as well as young people under a single roof for the first time.
Appointment of Perkins&Will as architects for the new project comes after a competition held by the trust last year to select an architect that can design the "Hospitals of the Future" project.
This project is one among the 40 new hospitals that the UK government has pledged to construct by 2030 under its New Hospital Programme (NHP).
Currently, the design team is conducting staff and patient engagement sessions to obtain data and facilitate the subsequent stage of developing the design.
The feedback obtained from adults, children, young people, parents and caretakers from the area will aid in determining the look and feel of the building.
Meanwhile, demolition of the Trust's Old Nurses' Home, the Hearing and Balance Unit, King Edward Building, Children's Paediatric Offices and Wellcome Wing are underway at the site where the two new hospitals will be built.
The trust added that the construction is anticipated to commence on the LGI site in 2024 while the new hospitals will become completely operational in 2027.
Leeds Teaching Hospitals NHS Trust finance director and senior responsible officer for the Hospitals for the Hospitals of the Future Project Simon Worthington said: "The Perkins&Will concept design is very exciting and will create a fantastic landmark for the city of Leeds.
"The way the new hospitals have been designed will enable them to operate independently, but also benefit from improved and more efficient communication and care when located together."
In March 2019, the trust submitted Outline Planning Application to the Planning Department of Leeds City Council to build the two new hospitals.