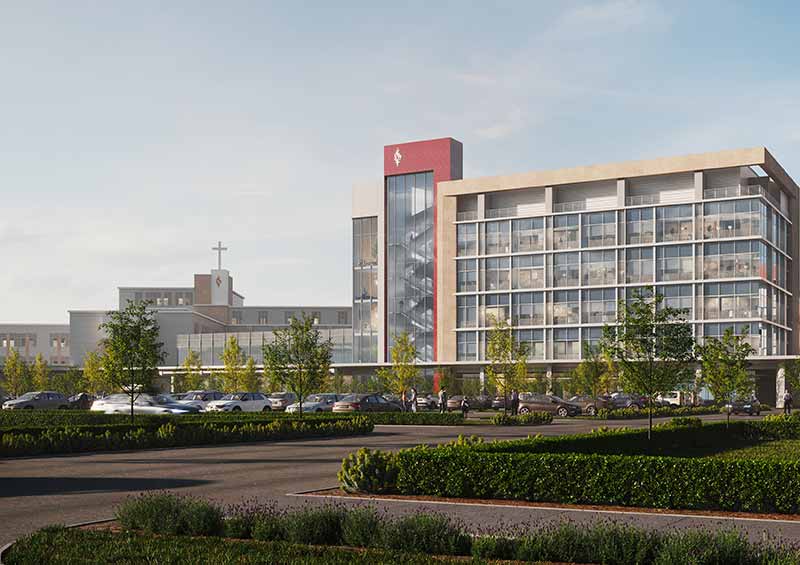 Saint Francis Health System has unveiled plans for a $250m expansion of its 104-bed Saint Francis Hospital South campus in Tulsa, Oklahoma, US.
The construction work on the expansion will start this year and continue over the coming years to potentially complete in 2025.
Saint Francis Hospital South, which was opened in 2008, will get a new patient tower with 120 new beds as well as the reformation of surgery services to eight operating rooms.
In addition, the plan is to combine the pre and post-anaesthesia units and expand inpatient physical medicine and rehabilitation services.
A new main hospital lobby will be built, and a linear corridor will link the main lobby to the patient bed tower, the emergency department and the parking garage.
Saint Francis Hospital South vice-president and administrator Todd Schuster said: "We're growing our campus to essentially double its present size.
"We will be adding approximately 200,000ft2 to this hospital, and our staff and providers are very excited about what we have planned."
Apart from expanding Saint Francis Hospital South, Saint Francis Health System aims to enhance patient experience and lower patient transfers from the South campus to Saint Francis Yale campus.
In a separate development, Humana has agreed to acquire One Homecare Solutions from WayPoint Capital Partners for an undisclosed amount.
onehome offers various home-based services. The company's model combines the requirements of patients, physicians, hospitals and health plans to enable home-based patient care.
The acquisition is expected to boost Humana's home health offering and complement its deal with Kindred at Home.
In April this year, Humana signed an agreement to acquire the remaining 60% interest in US-based home health and hospice provider Kindred at Home (KAH) in a deal valued at $5.7bn.