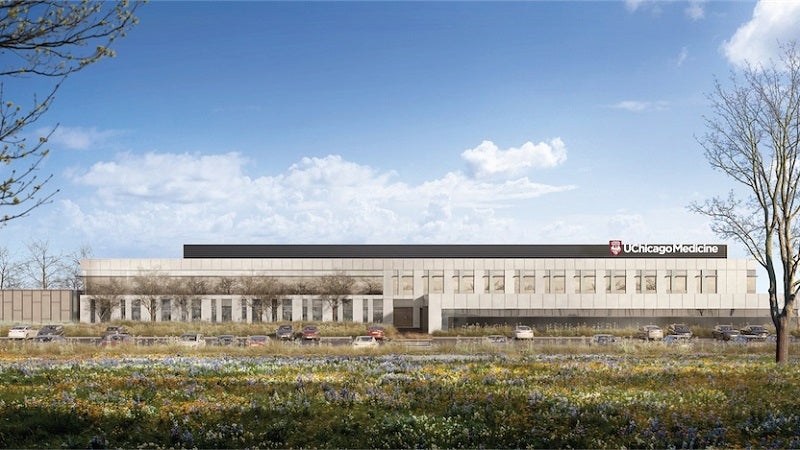 The University of Chicago (UChicago) Medicine has broken ground on a multispecialty care centre and micro-hospital in Crown Point, Indiana, the US.
The two-storey 130,000ft2 facility will be UChicago Medicine's largest off-site centre and first freestanding building in the state. The project, valued at $121m, is slated to open in 2024.
Once complete, the new centre will deliver advanced healthcare services to the local community as well as broader Northwest Indiana region.
The facility will feature a micro-hospital equipped with an eight-bed emergency department and an inpatient unit, and a cancer care centre offering infusion therapy, radiation, medical and surgical oncology services.
It will also feature an imaging centre, outpatient surgery centre and laboratory services.
Further, the centre's medical offices will give access to UChicago Medicine's specialist care including cancer care, cardiology, digestive diseases, orthopaedics, neurosciences, paediatrics among others.
The plan to build the healthcare centre was first announced in October 2021.
University of Chicago Medical Center president Tom Jackiewicz said: "We decided to add space to our original plans to build a 116,000sq ft facility, so that we can meet the growing needs of patients and providers many years from now.
"We are adding almost 14,000sq ft to our earlier plan, which now means this facility will be 130,000sq ft over two storeys."
University of Chicago Medical Affairs executive vice-president and UChicago Medicine health system president Kenneth S Polonsky said: "We wanted to be able to offer people in Crown Point the same level of care that we do in Hyde Park on Chicago's South Side — and to make it more accessible and convenient for them."
The new centre at Crown Point is expected to create a minimum of 150 clinical and nonclinical jobs.
Crown Point Mayor Pete Land said the care facility will help Crown Point expand its development portfolio in and around the Beacon Hill Business District to include 'high-paying jobs in medical field'.
In February this year, UChicago Medicine announced plans to construct a new $633m facility for cancer care in Illinois.