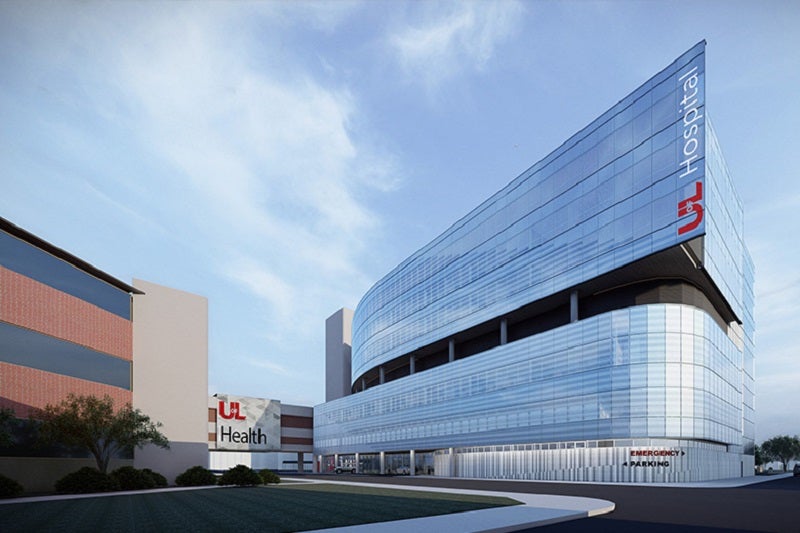 UofL Health has announced a $144m expansion at University of Louisville Hospital in downtown Louisville in the US.
The expansion and upgrade project will be anchored with a new seven-storey tower, which will add beds, all private rooms, increased access, and more jobs.
The project will increase the operating capacity of the hospital and enable a phased upgrade, which will include all private beds.
It will include increased clinical space, waiting area, a new lobby, along with updates to the coffee shop and gift shop.
Additionally, the seven-storey tower will include the infrastructure to house two additional floors for the future growth.
Upon completion, UofL Hospital will have over 360 beds in private rooms, new 24-bed observation unit and 20 operating rooms.
UofL Health CEO Tom Miller said: "The new tower will reduce capacity constraints and increase access to UofL Hospital's specialised care, progressive academic research and innovative treatments.
"As Kentucky's largest academic health care system, UofL Health is building the future of health care, to transform the health of the communities we serve, the Commonwealth and the region."
UofL Health stated that the new investment is part of the commitment to increase access to healthcare in the region, mainly in federally medically underserved areas (MUAs).
Construction work on the new tower is anticipated to commence this spring, with opening planned in early 2024.
UofL Health chief operating officer Ken Marshall said: "This expansion means we can better support both our community and hospitals in other communities.
"When we are full, we can deliver the care to our patients that is expected of us. We are building to allow more patients to benefit from the expertise of UofL Physicians and our clinical teams."
The health system has added two new locations for the Brown Cancer Center, opened five Urgent Care Plus locations and recruited over 143 new physicians over the last two years.