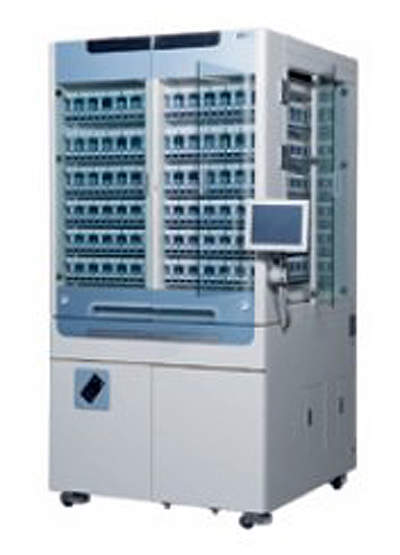 Using a packaging machine helps to reduce errors.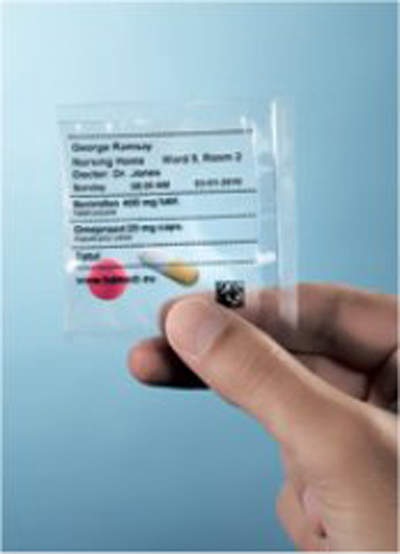 Every pouch contains either a unit or multi-dose.
Using automation from HD Medi to create packages containing specific doses of medicine is a reliable and efficient way of distributing drugs and eliminating administration errors.
HD Medi provides a range of machines which automatically sort, package and label bags containing medicine rations. The end result: easy-to-use, perfectly hygienic and well-assembled blister packages. Each separate pouch contains all tablets to be taken at a certain point in time and is labelled with important information relating to dosage, expiration date or for example, batch number.
The number of multi-morbid patients who need to take various medicines at different times of the day is increasing according to demographic change. Elderly, chronically ill patients who still live in their own homes are often overtaxed by complex dosing regimes. Caregivers in hospitals and care homes spend a lot of time preparing and administering medication for their patients. Nurses' high workloads and the time pressures they face may lead to medication errors, which can put the health of the patient at risk.
The automated Tablet Inspection System from HD Medi provides more security during provision of medicines. As soon as the pouches are packed with the individual rations, a camera checks for correct filling. All tablets in the blister package are identified on the basis of number, shape and size.
The photographs of the pouches are stored and provide seamless documentation. With this check in place, pharmacists can be confident that every dose that leaves the pharmacy is correct. Every pack and every tablet inside can be individually tracked and traced using the barcode and the central storage of data produced during the whole process of deblistering, packaging, checking and distribution.
Meeting high standards
All packaging, checking and logistic systems developed by HD Medi are fitted with simple-to-operate software which fulfils strict standards of Good Automated Manufacturing Practice (GAMP).
The various hospital pharmacy information systems as well as warehouse and accounting systems can be interconnected via a flexible interface with the blister packaging machines.
Both security and economic efficiency are major advantages in using blister-packaging machines. The reduction in error quotas when putting together the medicines makes a huge contribution to increasing patient safety. Automation solutions which have been tried and tested for many years and constantly developed further by HD Medi, allow efficient processing under economically efficient conditions.
A total solution
According to Minne Jorritsma, president of HD Medi: "The combination of an improvement in quality and economic efficiency in healthcare has convinced many customers of the major advantages of using HD Medi's packaging and inspection products. The fact that these products are fully prepared for and allowed in GMP environments, and that they are always part of a total solution for the provision of medicines, only adds to their popularity and establishes these products as the future in medicine distribution."