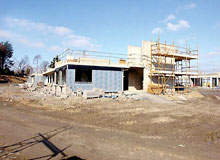 As yet another European Country with an aging population, medical provision for geriatrics is becoming an important issue in Ireland. The country possess a developed Government sector but also an expanding private hospital range.
This is the significance behind the redevelopment of the Bloomfield geriatric hospital in Donnybrook near Dublin.
BLOOMFIELD GERIATRIC HOSPITAL CONSTRUCTION
To be built on a 10-acre site on Stocking Lane, Rathfarnham, the new building is expected to be completed in 2005 and will cater for about 95 people. It will replace the complex in Donnybrook which has been caring for older people since 1812. A new purpose-built "Quaker House" is also to be provided at Stocking Lane.
Contractor John Sisk & Son, the largest general contracting company in Ireland, won the commission to build the new hospital. The company recently completed Limerick Regional Hospital and University College Hospital phase 2.
The site in Donnybrook is currently home to Bloomfield (psychogeriatric hospital), New Lodge (nursing care) and Westfield (residential home). Swanbrook House, on the same site, houses the administrative office of The Religious Society of Friends in Ireland (Quakers).
The facilities at Bloomfield Avenue will continue to operate as normal until the new premises at Stocking Lane have been completed. It is estimated that the new development will take 18 months for full completion and that the move to Stocking Lane will take place in early 2005.
SITE DEVELOPMENT
The Stocking Lane development follows a successful agreement between the religious Society of Friends with Galway based developer, Edward Holdings, to swap the valuable existing site for new purpose built facilities on the Stocking Lane site. The arrangement was negotiated by Bill Nowlan of W.K. Nowlan and Associates in co-operation with Douglas Newman Good Commercial.
Edward Holdings agreed to build a €22.86 million nursing home on a 10-acre site at Stocking Lane in Rathfarnham in part exchange for the Bloomfield Hospital site, owned by the Quakers. It is believed there was also a straight payment of around €5 million to the society. Edward Holdings, headed by Gerard Barrett, then secured permission from Dublin Council for a luxury residential development and offices on the hospital site.
The developer amended its original proposal following a further information request from Dublin City Council, reducing it in scale from 70 residential units to 66 and from 4,200m² (45,208ft²) of office space to 3,162m² (34,035ft²).
Since the agreement was signed a row has broken out with local Donnybrook residents who claim that the new apartments will have a deleterious effect on the area, and, of course, its land values.
Residents argue that, while Edward Holdings got permission for a relative low density scheme with blocks no higher than five storeys, "this is entirely contrary to what is now proposed on the opposite side of the road where blocks of apartments of mammoth scale and proportions will completely interrupt the architectural theme of the area."
The dispute is ongoing but has not stopped construction of the new hospital, which is so far progressing to schedule. There have been no protests from neighbours and residents in Rathfarnham, apparently due to the employment possibilities.
HOSPITAL DESIGN AND FACILITIES
RKD Architects designed the new premises. RKD is a well-established Dublin firm, which has wide experience in the healthcare sector in Ireland having designed hospitals since 1963.
The new building is seen as a relatively small commission as hospital assignments go. As a building that will have to provide accommodation to the aged, it features as far as possible, smooth gradients for wheelchair users and careful ergonomics.
A spokesman for Bloomfield commented that, "building a new hospital gives us a chance to establish the latest facilities. This was difficult in the last building which was a historical, rather than functional edifice."