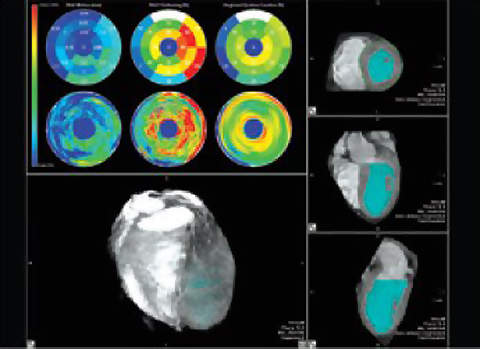 Cardiac studies are viewed on PCs and laptops throughout the hospital.
The Royal Bournemouth Hospital in the UK, a 690 acute bed hospital, has a new state-of-the-art cardiology unit with a Toshiba Aquilion® ONE dynamic volume CT scanner. The first in the UK, it will scan more than 70,000 patients in the next eight years to improve patient care.
Royal Bournemouth needed an imaging visualisation and management solution to use in concert with the Toshiba Aquilion ONE that would:
•Access cardiac studies from any location, even from home
•Access cardiac studies without special workstations, including accessibility using PCs (many visualisation solutions require special workstations to view CT studies)
•Expand use of the new scanner, making studies widely available to benefit more patients
•Be simple to use; doctors wanted quick access to information and studies, without spending time learning complex software
•Bring up studies quickly, after an initial scan is done, for prompt physician review
"Whatever visualisation solution we chose would have to maximise the impact of the Aquilion ONE," says Royal Bournemouth staff radiologist, Dr Russell Bull.
Bournemouth was already using Vital Images workstations to access clinical images from its existing Toshiba Aquilion 16 CT scanner, and was extremely impressed with the solution and Vital Images' quality support. The hospital upgraded to the Vitrea Enterprise Suite because it offered all the features it needed and worked well with the Aquilion ONE.
"We are impressed with the ease-of-use and simplicity of the Vitrea Enterprise Suite," Bull says. "You don't have to struggle through complex menus. If I want to look at a cardiac CT study, it semi-automates the process for me, by automatically selecting the coronary arteries. You get your work done quickly."
The Aquilion 16 continues to be critical to Bournemouth's clinical practice, and Vitrea Enterprise Suite integrates with it and the Aquilion ONE scanner, giving clinicians a consistent set of advanced clinical tools. Vitrea Enterprise Suite is Vital Images' premiere package of advanced visualisation tools, clinical applications and data management systems, backed by first-rate professional services. It integrates seamlessly with PACS and is available across an enterprise via the internet, and on both thin and thick-client technologies.
The software utilises an intuitive clinical workflow, fuelled by intelligent automation to improve speed and simplicity.
The bottom line for the Royal Bournemouth Hospital
Using the Vitrea Enterprise Suite, Bournemouth dramatically increased the use of cardiac studies, facilitated collaboration among physicians, allowed physicians to access cardiac studies from anywhere, including home, all to improve patient care.
The cardiac studies are viewed on PCs and laptops throughout the hospital, allowing physicians to better collaborate.
"I can more easily review cases with cardiologists," Bull explains. "Previously, we would both have to go to a workstation near the scanner, which made it much more difficult. So there has been a big improvement in our workflow and collaboration."
Physicians can also view advanced CT studies and perform all their necessary work from home, enhancing productivity and efficiency. Furthermore, doctors are able to see full 3D studies with no image quality degradation.
Vitrea Enterprise Suite also displays images more quickly. "The extra speed is a big advantage," Bull adds. "In an emergency setting, when a study is ready, the radiologist wants to be able to see it right away. With Vitrea Enterprise Suite, he or she can."
This, coupled with physicians viewing studies anywhere, and on multiple PCs simultaneously, means scanners are now used far more frequently.
"We can now scan 12 cardiac patients in a morning, and we wouldn't have dreamed of being able to do that previously," Bull says. "The speed of the Aquilion ONE and Vitrea Enterprise Suite has increased our throughput for cardiac CT fivefold."
Vitrea Enterprise Suite also reduces costs, notes Bull. "We pay on a per-licence basis, and each licence costs less than a workstation," he explains. "You can view the studies on your regular PC, so the hospital does not have to pay for extra workstations. If you want to look at the data in six different places, you don't have to install six workstations; people can just use their own computers."
But the real bottom line for the hospital goes beyond finances; it is improved patient care.
"The scanner and Vitrea Enterprise Suite allow more patients to be diagnosed, which means cardiac interventional suites are used more effectively," Bull says.