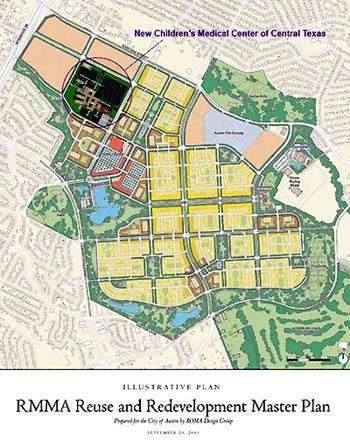 The Seton Healthcare Network, one of Central Texas' dominant health care systems, has begun a projected $175 million redevelopment of the Dell Children's Medical Center of Central Texas.
The Seton Healthcare Network, one of Central Texas' dominant health care systems, has begun a projected $175 million redevelopment of the Dell Children's Medical Center of Central Texas which is due for completion by 2007.
Currently work is taking place to develop the ER room. This will add eight beds (ultimately the hospital will have 169) to the existing 12 and increase the ER's capacity by 67%. Overcrowding in the current children's emergency room has led to long waits. In 2003, Seton reported nearly 47,000 visits to the children's ER and annual visits are projected to total 53,000 by 2005. The children's emergency department was built in 1993 and currently treats about 24,000 patient visits annually.
NOT-FOR-PROFIT MEDICAL FACILITY
Ultimately the new hospital will be the only not-for-profit medical facility dedicated to pediatric care and available to all children in a 46-county region, regardless of their family's ability to pay. It will incorporate new technologies making it easier for physicians and nurses to communicate. The entire building will be wireless, and electronic records will replace paper documentation. In addition to the latest technological advancements, the facility will have "LEED" Certification (Leadership in Energy & Environmental Design), which translates into an energy- efficient, environmentally friendly building that maximizes daylight, green spaces, zoned climate control and air quality.
More than 225 doctors, nurses, staff and families of patients were involved in the design of the facility. The Emergency department, named after the Topfer family, will be designed with essential features to allow for a future Pediatric Trauma Center. The Topfer Family Foundation, Mort Topfer, Alan and Wendy Topfer, and Richard and Kelly Topfer have given a total of $3.2 million to the Children's Medical Center.
As generous as the Topfer donation has been it nevertheless pales beside the grant made by the Michael & Susan Dell Foundation. This comes to about $25 million. According to the conditions, the Michael & Susan Dell Foundation will provide one dollar in matching funds for every two dollars collected in community donations. As a consequence of this generosity the hospital was renamed.
WATER, ENERGY AND GREEN CONSTRUCTION
This new building has laid great emphasis on its "green" credentials. Water Conservation, an important issue in this area, has received great emphasis. The hospital will contain a rainwater collection system and will be xeroscaped (needing minimum water) for water efficiency.
Energy efficiency has also been an important issue and the new children's facility will contain solar panels and heat recovery system and high efficiency equipment.
The new children's facility will utilize building materials and interior finishes which contain recycled materials, are recyclable or reusable, and cause the least environmental harm during manufacture, use and disposal. The hospital will reduce emissions of toxic or dangerous substances into the environment by utilizing materials that do not emit high levels of volatile organic compounds (VOC).
The children's hospital will enhance the health and comfort of building occupants by optimizing natural daylight through effective design. Indoor air quality will be improved through purifiers and ventilation in order to eliminate undesirable health effects from airborne pollutants.
The LEED Green Building Rating System, referred to earlier, is a voluntary, consensus-based national standard for developing high-performance, sustainable buildings. Members of the US Green Building Council representing all segments of the building industry developed LEED and continue to contribute to its evolution.
SETON HEALTHCARE NETWORK
The Seton Healthcare Network is the leading provider of healthcare services in Central Texas, serving an 11-county population of 1.4 million. The network includes four urban acute care hospitals, two rural hospitals, a mental health hospital, several strategically located health facilities that provide medical care for well patients, and three primary care clinics for the uninsured. Four out of every ten overnight patients in the region receive their care at a SETON facility.
A Seton spokeswoman commented that, "this hospital is the only hospital for children in central Texas. It is therefore vital that we create a new building of sufficient quality to service this important area. Thanks, at least in part, due to generosity of our donors this has become more possible."