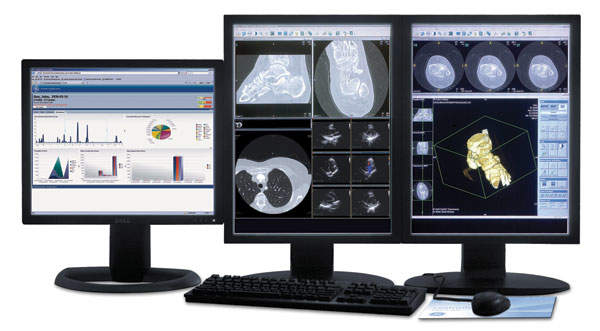 Office PCs virtually turn into a multi-modality 2D, 3D and 4D post-processing workstation.
GE Healthcare IT has reached an international customer milestone with its 'Best in KLAS' Centricity PACS solution. Centricity PACS-IW is now in use in almost every part of the world.
Marking another important step in the globalisation of web-based PACS and RIS/PACS solutions, GE Healthcare has announced that its Centricity PACS-IW product is now in use at 100 international institutions and more than 500 total customers over more than 900 sites around the globe.
The milestone means Centricity PACS-IW is presently in use in nearly every region of the world, including North and South America, Europe, Asia, Australia and the Middle East. Some of the most recent new Centricity PACSIW international customers include University Hospital Hamburg Eppendorf, Germany; County Hospital HFR Fribourg, Switzerland; Ospedale Nuovo Regina Margherita Rome, Italy; and Hamad Medical Corporation Doha, Qatar.
"We're thrilled to have so many customers worldwide enjoying the web-based benefits of PACS. Especially in Europe, Middle East and Africa the group of users is getting bigger every month," says Juergen Reyinger, vice president and general manager of GE Healthcare IT EMEA.
"Despite the geographic diversity of our PACS-IW customer base, it's interesting to note that our customers share common challenges and core needs. They strive to provide timely access to imaging results to referring physicians and external partners, while also providing radiologists with ultrafast streaming, advanced post-processing and business intelligence tools," Reyinger emphasises.
Anytime, anywhere
With its open standards-based architecture and portable Centricity Portal, Centricity RIS/PACS enables users to access the capabilities they need regardless of time, location or institution. The solution offers information at your fingertips: patient data, clinical documents and images, streamlined workflows and improved communication among healthcare experts. It promotes cost-effective regional image exchange projects, increases and accelerates access to vital patient information, and helps experts to take fast diagnoses.
Experience matters
GE Healthcare's long-lasting experience in medical devices and IT has led to a series of new technologies, driving the commitment to interoperability further. At this year's European Society of Radiology Congress, visitors can learn more about a remote viewing, image sharing and advanced post-processing done on a web-based server.
Office PCs virtually turn into a multi-modality 2D, 3D and 4D post-processing workstation. The efficient combination of AW-Server with Centricity RIS/PACS promotes extensive reporting capabilities, streamlined radiology workflows, and a smooth collaboration between internal clinicians and referring physicians.
For the second consecutive year, Centricity PACS-IW has achieved 'Best in KLAS' recognition in December 2009 against its peers in the highly competitive PACS category. The product received the highest score awarded in both customer likelihood to buy the solution again (97%) and product quality (8.09). "KLAS report rankings are extremely important to us because they're generated through feedback from our customers," Juergen Reyinger explains.
"When we're not scoring well, it's a call to action. When we score well, it just lets us know that we're correctly incorporating the honest, unfiltered feedback coming from our customers. By closely listening to them and turning their feedback into action, we help them to deliver excellence in patient care," Reyinger concludes.