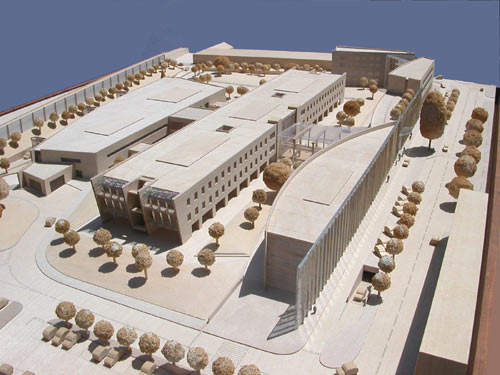 Holy Cross Hospital is adding space for up to 16 additional medical/surgical beds in eight double capacity rooms.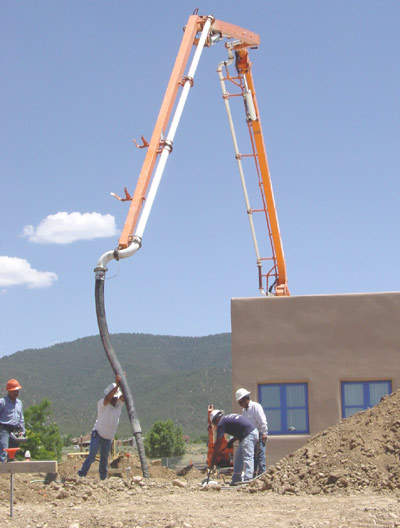 Site preparation for Holy Cross Hospital extensions.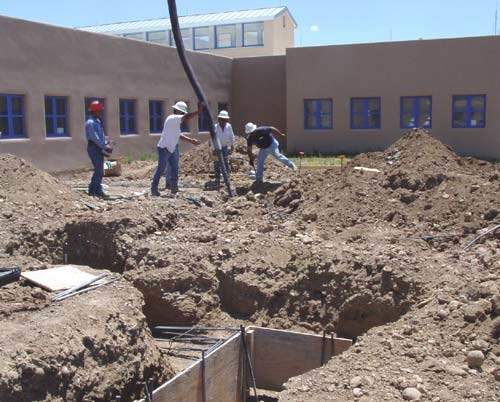 Foundation preparation for Holy Cross Hospital.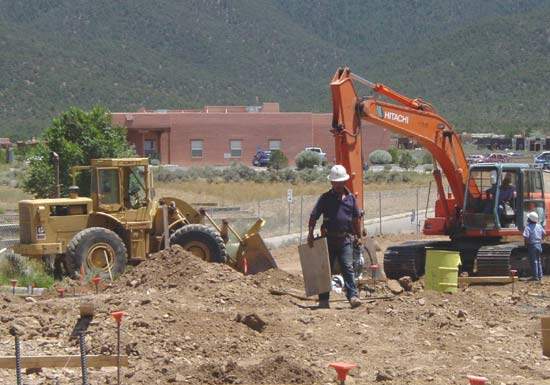 Trench excavations for Holy Cross Hospital.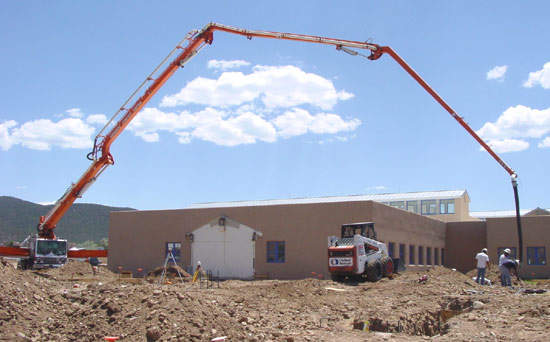 Groundbreaking and mobilization began on 4 March 2003 and will be completed in June 2004.
Holy Cross Hospital, Taos, is undergoing a massive redevelopment intended to make the facility the preferred healthcare resource for the entire region of North New Mexico.
The expansion program is costed at $12.25 million and will significantly increase capacity in the four main areas of the hospital. These include the medical/surgical facilities, the Emergency Department and Operating Room.
Groundbreaking and mobilization began on 4 March 2003 and will be completed in June 2004.
HOLY CROSS HOSPITAL EXTENSIONS
The hospital is adding space for up to 16 additional medical/surgical beds in eight double capacity rooms. The new facility will enable the hospital to avoid any severe clinical choices when capacity is exceeded. The addition will consist of a wing of new patient rooms to the north of the Taos Living Centre.
The Emergency Department will gain new patient care space – 3,587ft². A new trauma room will be built with adjoining CT scanner capability as well as a separate ER waiting room leading from a new outpatient testing waiting room.
Two new over-sized OR rooms are being added with significant enlargement in the Pre-Operative, Post-Operative and Central Stile. A large family registration / waiting area is planned with an enlarged Pharmacy Department. The Pharmacy Department is doubling its space to approximately 2,200ft². The whole ambulatory surgery, OR and pharmacy expansion comes to 11,699ft².
The Imaging Department will see a significant investment in added space and capability, along with growth in the Laboratory Department's area and privacy space for patients registering for laboratory and x-ray procedures. Enhanced outpatient waiting space will be added along with a new, relocated Chapel. The ancillary department expansion comes to 4,184ft².
As part of the redevelopment in the imaging department, Holy Cross has invested $3.5 million in 12 new pieces of imaging equipment. The new range includes general x-ray, fluoroscopy, mammography, bone densitometer or dexta, CAT scan, portable imaging equipment (C-arms and portable fluoroscopy machines, ultrasound, gamma camera) and MRI, Magnetic Resonance Imaging.
In addition to the other repairs a new hospital gift shop is planned to enhance the general public facilities of Holy Cross.
Other areas to undergo expansion include the dietary department, engineering and plant maintenance, education classroom, business office, medical records and transcription conference room, human resources, patient case management and physician dictation floor workspace, materials management, and computer workstations.
HOLY CROSS CONTRACTORS
One of the principles that lay behind the appointment of contractors at Holy Cross was the fact that they should come from New Mexico. The site demonstration and earthwork was carried out by Silva Excavating and the termite treatment was given to Arroyo services. The Condeck Corporation was given the contract for lightweight concreting while All American Enterprises have been awarded the EPDM Roofing contract.
Internally, the glasswork is being carried out by SouthWest Glass and Glazing, architectural woodwork is being carried out by Imperial Millwork and ceramic tiles by Quality Services Supply. The fireproofing will be carried out by Desert Plains Inc and Chandler AZ.
HOLY CROSS HOSPITAL EXPANSION PROJECT FINANCE
The total cost of this project is expected to come to $12.25 million for 2002. This will come totally from hospital resources. Using the County of Taos as a willing vehicle to issue tax-exempt debt on 27 December 2001, $8 million in bonds were sold at an interest rate covering seven years at approximately 4.55%.
The money will be repaid by the hospital, using patient revenues at approximately $86,000 per month.