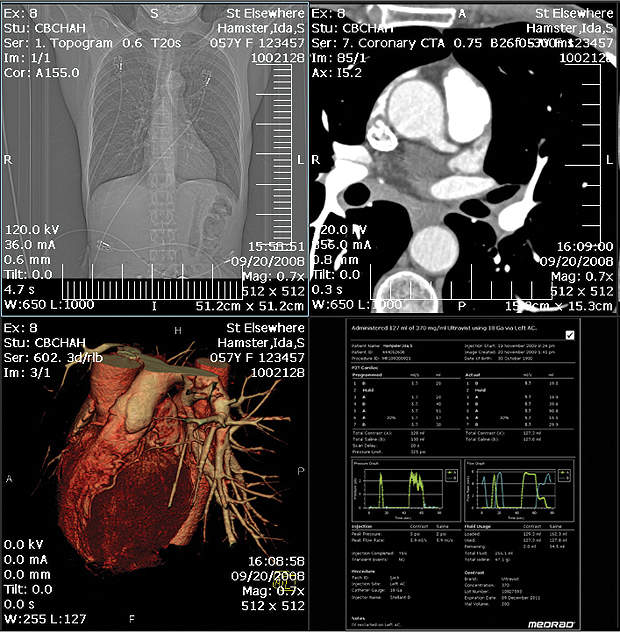 PACS-integrated contrast injection records (bottom right) immediately reveal protocol variances, precise flow rates, and more.
MEDRAD® believes that significant advances in radiology informatics will enable new workflow and cost efficiencies and further personalised care for healthcare professionals.
Demand to deliver improved clinical outcomes, greater cost efficiencies and workflow productivity has never been greater for healthcare providers. At the European Congress of Radiology (ECR) 2010, MEDRAD will unveil radiology informatics capabilities designed to help healthcare professionals meet these needs in ways that, until now, have been largely untapped.
PACS-integrated injection records
ECR attendees can experience first-hand the clinical and operational benefits the company's Certegra™ Informatics platform delivers by participating in MEDRAD's simulated interactive demonstrations. In addition to PACS-integrated injection records capabilities, demonstration highlights will include personalised injection protocol automation. Certegra products automate and advance how patient and study information is generated, integrated and mobilised within radiology.
"MEDRAD is using informatics to open up access to data providing clinical, research, and operational benefits within an enterprise," says William Boonn MD, chief 3D and advanced imaging at the Hospital of the University of Pennsylvania. "Clinical records integration offers built-in workflow efficiencies and productivity potential. Without it, radiologists have to either track down the technologist who performed a study or go to the scanner directly to get the information they need."
Certegra's Connect.PACS™ builds on current platform capabilities including information capture, automated record keeping and compliance documentation, as well as additional reporting options.
Connect.PACS immediately transfers a patient's CT contrast injection record to PACS, eliminating the need to manually enter injection information. The injection record transfer enables radiologists to view injection protocols alongside the patient's PACS image set for real-time and retrospective image analysis.
Personalised patient protocol technology
Working independently or together with Connect.PACS, Certegra P3T® products use clinically validated injector-based algorithms that enable technologists to automate the calculation of personalised contrast¹. P3T Cardiac enables improved contrast enhancement for higher quality images. P3T Cardiac is also proven to deliver a higher percentage of CT pulmonary angiography (CTPA) exams ranked 'diagnostic without limitation' when compared with standard protocol.
At a slightly higher contrast dose than standard protocol (80ml)², P3T Cardiac enhances CT angiography of cardiac structures, coronary arteries, chambers of the heart, thoracic and abdominal aorta, and pulmonary vasculature for pulmonary embolism (PE) studies. P3T Abdomen personalises CT imaging of abdominal organs including the liver, pancreas and kidneys.
"P3T gives newer staff members a sense of security with cardiac. They know the contrast will be correct," says Robin Brothers, chief CT technologist and coordinator at Medical University of South Carolina. "The coronaries are perfectly contrasted for cardiac, and our timing is always correct. We never miss with P3T."
About MEDRAD
MEDRAD's European headquarters are in Maastricht, The Netherlands, with additional offices in nine European countries and representation in the Middle East and Africa. MEDRAD, with corporate headquarters in the US, develops, markets and services medical devices used to diagnose and treat disease.
References
1. Seifarth H,et al., 'Introduction of an individually optimized protocol for the injection of contrast medium for coronary CT angiography'. Eur Radiol. 2009 May 8. [Epub ahead of print]
2. Presented at Society of Thoracic Radiology (2008) Poster Session; Christopher R. Deible MD, PhD