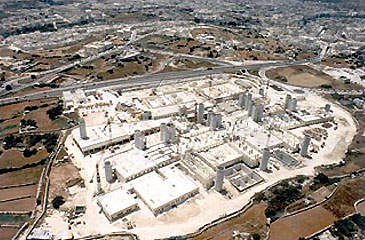 Construction of the Mater Dei Hospital began in 2000.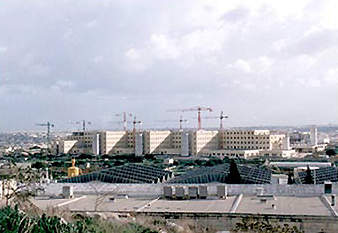 When completed the new hospital project will have a total floor area of 232,000m² and approximately 8,000 rooms.
2002 - outpatients department under construction.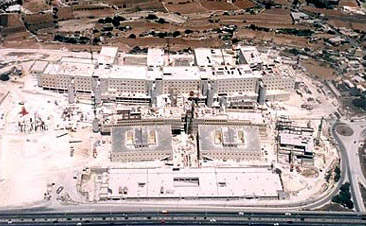 Mater Dei Hospital will be the first building in Malta with insulated external walls and with high performance glass in the windows.
Mater Dei Hospital in Malta was hailed as a landmark project when it was first gazetted in the late 1990s. However, soon after work commenced it became mired in controversy. The original opening date of 2005 was put back to July 2007, and some commentators even feel that this date is ambitious.
When completed the new hospital project will have a total floor area of 232,000m² and approximately 8,000 rooms. The hospital will also be used as a teaching facility by the neighbouring University of Malta.
ENVIRONMENTAL PLANNING
Resources in Malta have always been scarce, which is why environmental considerations have played a key role in the development of the Mater Dei Hospital.
In keeping with the environmental considerations, which have played such a role in the hospital's development, this will be the first building in Malta with insulated external walls and with high performance glass in the windows. These will reduce cooling costs between April and November and heating costs during the other months.
Rainwater will be collected, stored and used for irrigation. Low flush toilets and environmentally adapted refrigerants will be used as well as polypropylene (PP) piping. In addition, there will be an effort to reduce electromagnetic fields at the hospital by various means.
Construction waste will be separated at source so the Maltese authorities can arrange further recycling. Preparations will be made for the recycling of topsoil from excavation work, as well as stones from the demolition of stone walls.
During the construction, trees that would have normally been cut down have instead been moved and re-planted at other sites. Rubble walls and buildings of cultural heritage value have been moved and rebuilt in a safe environment. As many as ten different kinds of waste are being sorted and recycled. Excavated material is partly used on site as road base and surplus material is used to refill an excavated quarry, which will later be used as an orange plantation.
HOSPITAL POWER SUPPLY
So far so good, but there have been difficulties. An article in a local paper claimed that the power requirements of the new project alone would require the same energy as the 29,000 inhabitants of Gozo (Malta's second largest island). The hospital will require 19MVA, roughly equivalent to 19MW.
The Mater Dei hospital is set to have air conditioning in every room and that is what will take the biggest toll on Malta's energy bill. A spokesperson for the Foundation for Medical Service confirmed that, "each and every room of the hospital will be air conditioned as well as certain plant areas. Other areas such as corridors and service areas will be air-conditioned indirectly or not at all."
It also seems that while those who planned and approved the hospital development did consider energy saving, renewable sources of energy were not considered, although solar power could apparently cut the emissions and energy bill considerably.
The Foundation's spokesperson said: "No solar or renewable power use is envisaged but the design includes energy saving features such as: double glazing and UV blocks on windows; use of variable speed drives; heat recovery from chillers and air handling units; use of condensation from air-handling units; electronic ballasts on fluorescent lighting fixtures; a building automation system and other features."
HOSPITAL CONSTRUCTION COSTS
Controversy continues to boil in parliament and the media over the project. In November 2004, an opposition vote of no confidence in the government over the way the project had been handled was barely defeated by 27 votes to 31.
One of the main bones of contention remains the project's budget and how the Maltese economy will cope. As an opinion article in The Times of Malta said in November, "The country is still paying way too much for the new Mater Dei Hospital. We are now talking in terms of MTL145.5 million (€339 million) to be paid to Skanska [the contractor] and an additional MTL30 million to MTL40 million for the supply of medical equipment and logistics."
"What started as an exciting project in the early 1990s to create a specialised hospital, then estimated to cost around MTL50 million, has now turned into a monster, which is not only costing the country a fortune, but is also eating into taxpayers' pockets to unacceptable levels."
The issue has gone to court with the PM appearing as a witness to testify against Joe Zahra, a 51-year-old private investigator accused of spreading false rumours which could have alarmed the public and of fabricating evidence of a crime he knew was not committed.
The length of time to complete the contract has also emerged as an issue. Labour MP Joe Mizzi has said that by the time the hospital opens its equipment will be already obsolete but the government has contested this.
CONTRACTORS
Added to these issues there has been an unseemly row over the awarding of the contract for equipping the hospital to Italian consortium INSO-Esaote over Dutch competitor Simed.
Worth €70 million, the contract was certainly worth having and has become politically-charged since the opposition Labour party started asking questions over the contract's award.
Things have not exactly been helped by the revelation that the committee intended to check and oversee the contracts contains members of the Maltese Prime Minister's own family, leading to further furious accusations (just as furiously denied) of nepotism.
Regarding the contract price, Dutch company Simed said that it was clear that the figure quoted by INSO was cheaper as it did not include the provision of certain equipment and did not account for VAT and other ancillary costs such as after sales support.
Although Simed's position is now hopeless, Dr Fenech insisted that a proper inquiry take place on the awarding of such a contract to INSO spa when it was clearly technically and monetarily inferior to Simed's. He also commented on the undue haste in taking all decisions in one day.
Despite these points, INSO is proceeding with the contract.
Many of the other of the less controversial contractors are from Scandinavia. Scandinavian Hospital Services is providing the administration, maintenance and development of the project main database. Leading Norwegian consultants SWECO has been retained to design all of the electrical and telecom installations in this project, covering a total floor area of 25,000m².