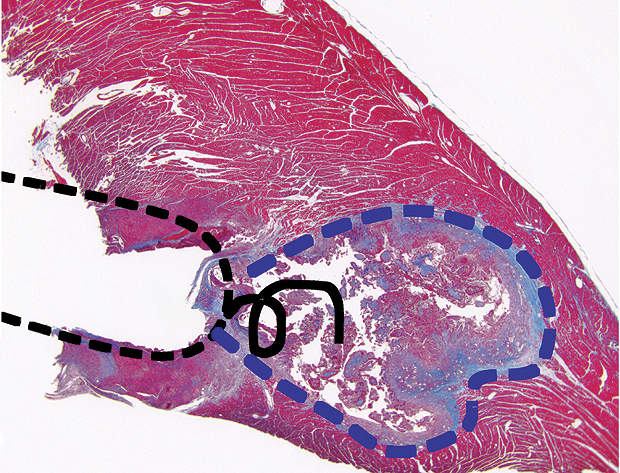 Histology specimen showing thermogenic myocardial tissue damage due to lead tip heating. The approximate outline of lead body and helix are marked in black.
New pacemaker technology is addressing the risks and hazards of MRI scanning, explains Juerg Schwitter, director of the Cardiac MR Centre of the University Hospital Lausanne (Centre Hospitalier Universitaire Vaudois, Lausanne, Switzerland).
MRI is one of the fastest-growing areas in diagnostic imaging. As MRI indications are booming and the number of procedures increases each year, so too does the number of patients with implantable cardiac devices. After the age of 65 a person's chances of needing an MRI double – and this same demographic group is the most likely to require a pacemaker. In Europe alone, more than 2 million people bear an implanted cardiac device. US sources estimate that 50%-75% of patients with implantable cardiac devices will be indicated for MR scans over the lifetime of their device.
Hazards and risks
Until now, substantial and growing numbers of pacemaker and ICD patients have been denied the diagnostic advantages of MRI. And rightfully so, since the American College of Radiology (ACR) and the Radiological Society of North America (RSNA) warn that medical devices may malfunction or cause problems during an MRI exam. Patients are at risk of serious side effects or death in the absence of a pacing system approved for MRI use.
The risks posed by an MR scanner on a pacemaker-bearing patient are real. The static magnetic, gradient magnetic and RF fields present during an MR scan provide sources of electromagnetic interference. These fields have the potential to induce mechanical stimulation of the system components, voltages, lead tip heating and device malfunction. The above may have hazardous effects on the patients and on their implantable cardiac devices, such as thermal tissue injury (see image), lead dislodgement, unintended cardiac stimulation, induction of cardiac arrhythmias, device reset, loss of pacing therapy, random operation or permanent failure of the device.
SureScan pacing system
During the past decade, industry in cooperation with clinicians have designed and tested a complete pacing system, device and leads to address the risks related to pacing in an MRI environment. Since 2009 Medtronic's SureScan pacing system has been available in Europe, and is the only pacing system to receive CE-mark approval for use in MRI.
The device's internal ferromagnetic components are significantly reduced to decrease the susceptibility to magnetic attraction. The device design minimises the gradient field energy coupled to the lead tip, thereby reducing the potential for gradient-induced cardiac stimulation. The lead geometry is modified to prevent interactions with gradient and RF fields, thus preventing the risk of lead tip heating. The pacemaker also includes a SureScan functioning mode that can be activated before an MR scan to eliminate the impact of MRI-generated electrical noise in order to ensure appropriate device operation and pacing therapy during an MR scan.
A worldwide multi-centre, randomised controlled clinical trial including 464 patients has confirmed the safety and performance of the SureScan pacing system (EnRhythm MRI SureScan pacemaker, 5086 CapSureFix MRI SureScan pacing leads) during MR scans on 1.5 Tesla machines, whole body SAR 2W/kg. Figures presented for the first time at the Heart Rhythm Congress 2009, held last May, showed a 100% MRI-related complication-free rate (n=211, p<0.001). The second-generation Advisa MRI™ and Ensura MRI™ pacemakers will shortly be available in Europe.