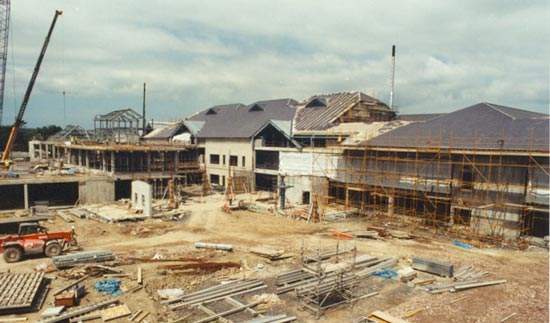 In July 2003 the new Nobles Hospital, Braddan, opened in the Isle of Man (IOM). This structure is the third hospital of this name to be built on the Island. The original (now the Manx museum) was opened on 4 September 1888.
In October 1992 the IOM's parliament, the Tynwald, endorsed a strategy to allow for the preparation of a scheme for the replacement of Noble's (IOM) Hospital by the construction of a new acute hospital on land at the Ballamona estate.
In December 1994 Bovis Construction Ltd was appointed to provide pre-contract management services and, since that time, has been working for and with the DHSS and has become an integral member of the design and construction team charged with the design and development of the project.
Under this method of procurement the Management Contractor (MC) did not undertake any of the construction work and construction was arranged through a series of work packages or contracts let directly with the MC.
Where feasible, work packages were 'tailored' and sized to suit the capabilities of IOM main contractors and subcontractors.
HOSPITAL CONSTRUCTION
Detailed design work continued whilst early work packages were being executed on site. Consequently, an earlier start on site was achieved. Competition was maintained for the whole of the construction works with work packages being advertised in the local press and UK construction journals and being tendered for competitively as the design for each element was completed.
The new hospital has been planned to have capacity for a perceived projected IOM population of 85,000 by the Year 2021. By this time it has been estimated that the hospital will be coping with 6,250 surgical operations, 28,000 new cases through the accident and emergency department, 65,000 examinations in radiology, with 2.25 million items processed by the laundry using 22.5 million litres (6 million gallons) of water and 20,000lb or approx. 10t of soap per year.
One million meals (including meals on wheels) will be prepared with 13,500 recipes being compiled, weighed and cooked and 13,500 food samples being taken and checked for pathogenic bacteria.
Costing over £111 million the new hospital building houses 314 acute specialties beds including a dedicated 18-bed day case unit, a 15-bed private patient unit, seven operating theatres, a 25-bed rehabilitation unit and a day assessment and treatment unit.
In addition there will be dedicated outpatient departments, accident and emergency, radiology, pathology and rehabilitation departments.
SPECIALIST HEALTHCARE AREAS
The facilities and layout of the building have been designed in such a way as to provide for more specialist areas. Intensive care and coronary care are to be separate units unlike the combined unit in the old Nobles Hospital at the Westmoreland Road site. The change in care delivery means an even better service for patients but does require more specialist staff to care for patients in two areas.
There is also to be a change in the way the accident and emergency department functions and the manner in which it is accessed by patients. The unit has been designed to focus on one area for major injuries with another one for less serious injuries.
Another innovation relates to orthopaedics. In the old Nobles Hospital elective patients who were coming in for planned surgery and those who had experienced trauma were cared for together. In the new hospital they will be looked after in separate wards. This change of emphasis will lead to greater clinical efficiency with beds being used more effectively, leading in turn to improved management of waiting lists and limiting the risk of infections being transmitted from patient to patient.