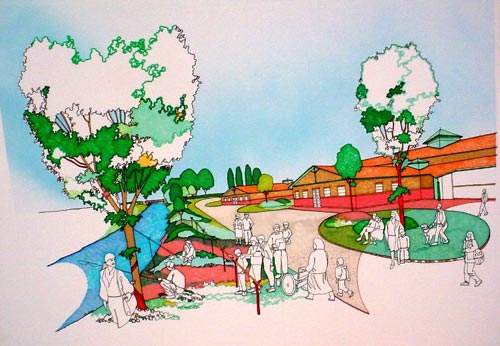 Construction of South Holland Hospital in Pinchbeck, UK, will begin in 2006 with opening scheduled for 2007 / early 2008.
Outline planning permission for the construction of a new South Holland Hospital was agreed in the April 2005. This was a considerable achievement in the light of the many difficulties encountered in getting planning permission for the site.
The new building is being built as part of the Government's PFI initiative on the 11-acre site at Spalding road. Construction will begin in October 2006 with completion due in 2007 / early 2008.
Health Services in Spalding are currently located in four sites and in all cases the accommodation is unsuitable and inadequate. The new hospital will bring all the NHS organisations together on one site and will provide the most modern facilities for the care and treatment of patients.
NEW HOSPITAL SERVICES
The new hospital will comprise a minor injuries unit, community nursing services, physiotherapy, occupation therapy and X-ray along with community hospital beds for rehabilitation, short-term care and palliative care, as well as services for adults and the elderly with mental illness and an ambulance station.
The number of inpatient beds will climb from 32 to 38.
Any NHS buildings that are surplus to requirements will be sold and the proceeds will be put back into the local health service.
HOSPITAL CONSTRUCTION
It is being constructed as part of a batch PFI scheme (Shires3 PFI Batch) which includes two other NHS projects in Derby and Leicester. With a capital value of £65 million, the actual value of this contract could increase to £150 million. This is the first such scheme in the country. The actual cost of the Spalding site is put at £24 million.
The winning partnership selected to build and run the hospital – Arden – consists of Alfred MacAlpine and Costain.
Under the terms of the PFI the developers will build the hospital, maintain it and run certain services for which the NHS will pay rent to the developer.
HOSPITAL OWNERSHIP AND MANAGEMENT
East Lincolnshire Primary Care Trust will remain the leaseholder of the property for a 30-year period. They will pay a unitary charge (rent) for the property during this time and at the end of the period the building will become the freehold of East Lincolnshire PCT. Other organisations using the property will sub-lease their accommodation from East Lincolnshire PCT.
Clinical services will also be run by United Lincolnshire Hospital NHS Trust (ULHT), Lincolnshire Partnership NHS Trust (LPT) and the Lincolnshire Ambulance Service NHS Trust. Project Co, a private developer, will manage the estates, grounds and gardens, pest control and utilities services.
TIMESCALE
Subject to the application being approved by the Government Office of the East Midlands, initial groundwork's on the 11-acre site at Spalding road, Pinchbeck, could begin in early 2006. Construction of the building itself should begin in October 2006 with completion expected by end of 2007 / early 2008.