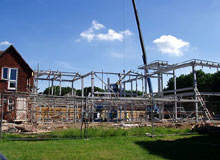 The current facility serving Savernake is a community hospital managed by Kennet & North Wiltshire Primary Care Trust and provides services to the population of Marlborough, Pewsey, Tidworth and parts of the Wootton Bassett. In 2003 the decision was taken to redevelop the site and construction is expected to be complete in May 2005.
The scheme attracted controversy in the planning years because of the trust's determination to fund the project (which is a private finance initiative PFI) by selling off part of the site for housing. The sale is supposed to raise £3million of the redevelopment costs.
NEW HOSPITAL BUILDINGS
When completed the hospital will be a 3,200m³ two-storey building which will feature 35 intermediate care beds, 12 beds for older people with mental illness, facilities for outpatients, x-ray and minor injuries departments, central reception area, cafe, shop and waiting areas.
The new building will connect two existing 19th Century listed buildings, The Sir Giles Gilbert Scott Building and a Day Hospital, both of which will be retained as part of the development. The Sir Giles Gilbert Scott Building will be converted into an administrative and training area for a mix of health teams and voluntary bodies.
The new building will be constructed largely from steel and glass to form an attractive contrast to the adjoining listed building. The new development will allow considerable flexibility so that it can be adapted relatively easily as healthcare needs change over the coming decades.
According to project manager Ian Mclelland, Savernake is intended to be a functional structure: "there is nothing particularly distinguished about this building in its design, it is largely intended to be useful."
INCREASED PATIENT RESOURCES
The need for the new hospital is being driven by local statistics. Over the decade to 2011, the population aged 75 and over in Swindon and its immediate area (which Savernake will serve) is set to grow by 18.1% placing a significant strain on existing health resources.
Calculations have been made about the likely bed occupancy:
Intermediate care inpatient: 25 beds at 85% occupancy, 7,756 bed days
Building capacity: 35 beds at 85% occupancy, 10,859 bed days
Mental health inpatient: 12 beds at 85% occupancy, 3,723 bed days
Day hospital: 2,284 total attendances
X-ray: 5,000 total attendances
Outpatients: 9,500 total attendances
The total cost to the NHS over the economic life of the facilities of the Public Sector Comparator, in current prices, would be £68.2 million, and for the PFI solution £67.2 million. Not an enormous saving but a significant one nonetheless.
Both of these figures depend on the implementation of "modernised, fully integrated delivery systems affecting all staff in the new hospital." Examples include the implementation of cook chill catering services, development of ward based rehabilitation assistants working alongside nursing staff, greater integration with voluntary and private sector care workers, improved productivity, and full ICT cabling to facilitate "telemedicine" links with clinical centres (PACS radiology system already operational).
KEY WORKER ACCOMMODATION
The provision of key worker accommodation (six units) as part of the associated residential development has been designed to mitigate some of the recruitment difficulties currently experienced in this expensive housing area, particularly with physiotherapy, occupational therapy and nursing staff.
SUPPLIERS
Amec are designing and building the new hospital. Controversy has flared however over the choice of suppliers to the hospital, particularly caterers. A BBC Dispatches reporter working undercover at Tillery Valley Foods (TVF) – part of the major private catering company Sodexho – filmed more than 120 incidents of 'unhygienic behaviour', including workers failing to use surgical gloves, a health and safety requirement.
Tim Boucher, chairman of the Kennet and North Wiltshire Primary Care Trust, said: "The year 2004 will be a momentous one for Savernake Hospital. It is a very exciting and important occasion for which a lot of people have put in a lot of hard work over the years."