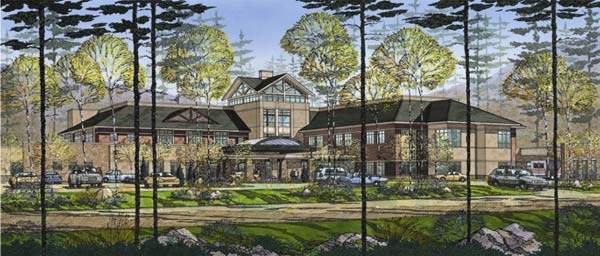 Construction started on the new St Anthony Medical Center in June 2004.
On 17 June 2004 more than 250 people gathered at building site on the southwestern edge of the Summit County Commons in Colorado for the groundbreaking of a new hospital. Nurses, doctors, construction workers, government officials, residents, health care executives, clergy and ski resort employees were among the various guests.
When completed, the 90,000ft² hospital, known as the St Anthony Medical Center, will include:
25 beds, including 12 beds for medical, surgical and pediatric patients, nine maternity beds and four special care (ICU) beds
Dedicated C-section suite within the labor and delivery unit
State-of-the-art emergency department with 16 private treatment rooms and Level III trauma designation
Imaging services, including x-ray, CT scan, mammography, ultrasound and MRI
Two state-of-the-art operating suites for inpatient surgical services
Laboratory and pharmacy services
Chapel
Dietary services, including a full-service cafeteria
Helipad to accommodate two helicopters adjacent to the emergency department
200 parking spaces for patients, physicians, staff and visitors
AMBULATORY SURGERY CENTER
Located adjacent to the new hospital will be a 10,000ft² Ambulatory Surgery Center (ASC) that will allow patients easy accessibility to same-day surgery procedures. This facility will provide the same surgical services currently available to Summit County residents at the medical center with separate entrance and waiting area. The ASC will be a joint venture between the hospital and local physicians.
The medical campus also will include a medical office building to be developed by a group of Summit County physicians.
HEALTH CARE IN COLORADO
St. Anthony Hospitals and Centura Health have provided health care services to Summit County residents for over 25 years at its current location of Highway 9 and School Road. This facility has continued to grow in size and stature, and treats more than 14,000 patients annually. However, the current site has been developed to its fullest extent with no future expansion opportunities.
St. Anthony Central Hospital is Colorado's largest nonprofit Level I trauma center and home of Flight For Life, the nation's first hospital-based emergency medical helicopter program. A nationally recognized comprehensive full-service health care organization, St. Anthony Hospital has served Colorado for more than 100 years.
Centura Health is a faith-based, not-for-profit health care organization formed in 1996 by Catholic Health Initiatives and Adventist Health System. Centura Health's mission is to continue the healing ministry of Christ.
The system encompasses 12 hospitals, eight senior living facilities and Centura Health at Home – home care, hospice, infusion, home medical equipment and oxygen services. Every year, more than half a million people turn to Centura Health to deliver their babies.
NEW HOSPITAL FACILITIES
Centura Health and Summit County officials began meeting in June of 2002 to explore the possibility of relocating and expanding the facility at the County Commons site, and an 11.5-acre land lease was executed recently. Centura received funding approval in early 2003 for this $40 million project from Catholic Health Initiatives, St. Anthony Hospitals' sponsor.
The architect is Earl Swensson Associates of Nashville, Tennessee, and the construction contractor is MA Mortenson Company of Littleton, Colorado. Whenever possible, efforts to use local contractors will be made. Site work began in early May with a priority of relocating the existing bike path. Completion of the hospital is slated for Autumn 2005 with an expected move-in date late in December 2005.
The fate of the current Summit Medical Center has yet to be determined. Employees will move out of the existing center in 18 months. The hospital is expected to have a significant economic impact by creating over 200 construction jobs to build the hospital and over 30 new hospital jobs once the hospital is open, bringing the total number of hospital employees to more than 175.