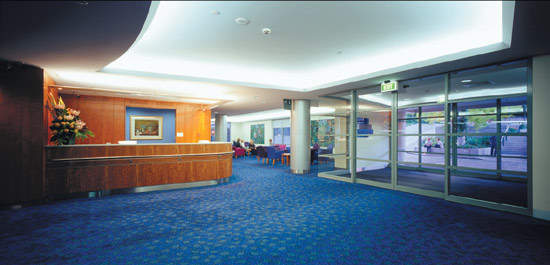 St Vincent's Hospital interior reception.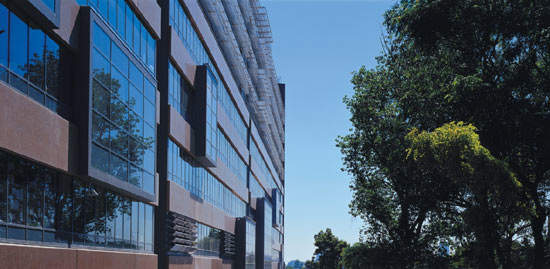 St Vincent's Hospital exterior wall.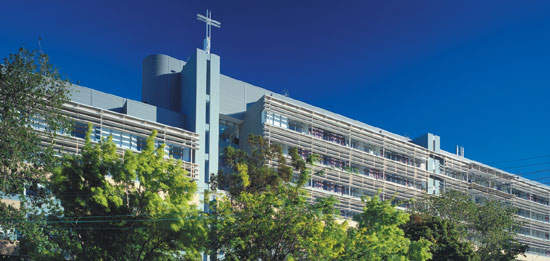 St Vincent's Hospital exterior general view.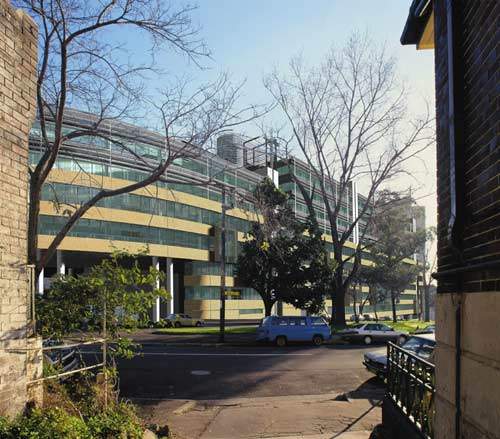 St Vincent's Hospital premises.
St Vincent's is one of Sydney's oldest hospitals and provides emergency secondary and tertiary hospital care to the community at a state and national level.
It is a principal referral teaching hospital in the New South Wales Public Health system and one of three in the South Eastern Sydney Area Health Service.
The hospital provides bone marrow and heart lung transplants, and a high level of specialist care. It is the home of the Victor Chang Cardiac Research Unit.
ST VINCENT'S CAMPUS REDEVELOPMENT
The redevelopment of the St Vincent's Campus began in November 2000 and included integrating the private and public facilities. The core of the redevelopment was equipping the public hospital with a new 44,000m² unit containing an outpatient facility, inpatient wards, procedural units, intensive care unit and a new expanded state-of-the-art emergency department. The newly constructed ten-level facility is known as the new Xavier Building and cost A$110 million.
The Xavier Building has integrated linkages with the existing deLacy and Aikenhead buildings and, for the first time, linkages to the Private Hospital Buildings at the south end of Darlinghurst campus.
Integrating the public and private enables sharing of service, maximisation of efficiency and delivery of better clinical outcomes.
Direct physical links have been developed between the two buildings in the areas of catering, IT, purchasing/stores, human resources, finance/payroll and cath labs. Future integration possibilities include medical imaging, intensive care and inpatient accommodation.
The new building permits St Vincent's to expand on its achievements in 'high-end' clinical practice and to introduce new technology and life-enhancing treatments.
The Xavier Building heralds changes in the way services are delivered according to the needs of the community. In particular, there is a major increase in patient treatment on an ambulatory basis or as day procedure, which has developed from advances in medical science and technology.
In 2001/02 there were almost 29,000 inpatient admissions to St Vincent's Hospital and more than 50% of these admissions were half-day only. During the same period there were 506,000 non-admitted patient occasions of service ranging from in-the-home treatments to outpatient presentations for a variety of treatment and diagnostic treatments.
The 'hot floor' on Level 5 of the Xavier Building collocates key clinical and diagnostic specialities to promote synergy and optimise the services of key equipment and clinical staff with the existing facilities in the Aikenhead Building. The combined 'hot floor' houses operating theatres, intensive therapy, endoscopy, procedure rooms, interventional radiology and cardiac catherisation, the latter undertaking both public and private procedures.
The Xavier Building houses all service and support areas including medical imaging, the emergency department, renal unit, ambulatory clusters for cardiothoracic and oncology services, immunology, dentistry, pathology, ambulatory procedures, chapel, outpatients and eight inpatient units.
The Private Hospital has, as a result of the redevelopment program, acquired two additional operating theatres, a new recovery area, two cardiac catheterisation labs, an enlarged and enhanced TSSU, a new post-op recovery unit, two floors of inpatient units and an enlarged catering department servicing both hospitals.
XAVIER BUILDING DESIGN AND CONSTRUCTION
Bligh Voller Nield Principal Ms Sarita Chand commented, "The Xavier Building successfully responds to the contemporary model of service delivery which has shifted from inpatient care to a day only ambulatory care for diagnostic, treatment and procedural services".
"Architecturally, this was more than just a physical envelope for accommodating the complex functions within," she said. "A tight urban site, changing clinical practices, revenue generation imperatives, patient expectations, digital and communication technology were just some of the issues we addressed to deliver a facility that responded to complex clinical and nursing functions, new models of service delivery and human requirements of staff, patients and visitors."
The internal layout is based on basic design principles of clear and legible circulation patterns, transparency and the maximum use of natural light and external views. Open-ended corridors allow for growth, orientate users toward external landmarks, and provide a system of travel throughout the building that is easily comprehensible.
"As well as ensuring the clinical spaces were technically competent, BVN placed equal emphasis on the creation and treatment of non-clinical spaces for staff, patients and visitors," said Ms Chand.
Traditional staff tearooms are complemented by discreet staff retreats that are away from patient areas and have magnificent external views. The existing staff cafeteria in the Private Hospital extends into a new landscaped court, with visual privacy from patients and visitors, for use by all staff as a 'break-out' area.
The café and retail precinct on Levels 3 and 4 provide meeting places for patients and visitors, in conjunction with a beautifully landscaped garden at the main entrance. This garden has been created over a multi-level underground 275-space carpark and is a welcome oasis within the heavy traffic of Victoria Street.
Internally the colours are fresh and light, generally neutral but with critical walls highlighted either to enliven large spaces or to provide reference points. The interiors are greatly enriched by an artwork program that includes paintings, sculptures and historically significant artefacts.
Externally the design reflects and emphasises internal functions. Ms Chand said, "The finely detailed metal sunscreens and strong shadow patterns of the upper inpatient floors create a lightness in contrast to the solidity of the polished pre-cast concrete panels of the lower diagnostic and treatment."