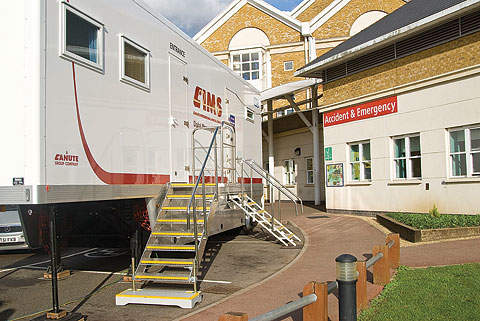 To maintain service to patients, CIMS provided its new mobile digital mammography trailer.
Canute International Medical Services (CIMS) offers a unique service to diagnostic imaging departments from the design, build, and refurbishment of clinical rooms through to the provision of an interim mobile equipment solution.
CIMS is part of the Canute Group of companies and has 33 years' experience in delivering logistical solutions in the UK and Europe. CIMS has developed to include a 'total service solution' to imaging departments across Europe.
CIMS was asked recently to refurbish two rooms in Barnet General Hospital, London, UK, in preparation for the fitting of a new MIS Healthcare Selenia FFDM in the mammography room, and to alter an existing office so that it would become an ultrasound room. Before works began, CIMS de-installed the existing mammography system and placed it in storage for the hospital.
New air conditioning was installed in both rooms before the ceilings and flooring were refurbished, the electrical installations carried out and both rooms decorated. To maintain the service to patients, CIMS provided their new mobile digital mammography trailer, also fitted with an MIS Selenia, outside the A&E department. Staff were then able to familiarise themselves with the equipment, on the trailer, while the works were carried out on the room with the added benefit of using the same equipment being installed in the refurbished mammography room. The mobile trailer allowed for a seamless transition to the new equipment installed on-site while maintaining the clinical service to patients.
The mammography room and newly converted ultrasound room were finished on time, ready for the installation of the new Selenia machine.