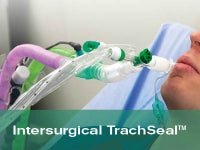 Closed suction enables a clinician to clear the lungs of secretions, while maintaining ventilation and minimising contamination with the least possible disruption to the patient and exposure to the care provider.
Intersurgical TrachSeal closed suction systems are available for 24 hour or 72 hour usage depending on patient requirements. There are two length options to allow attachment to either endotracheal or tracheostomy tubes.
Endotracheal products feature a catheter length of 54cm and the tracheostomy tube variants have a catheter length of 30.5cm.
The new closed suction systems feature an ultra-clear, soft sleeve, allowing the clinician greater feel when inserting the catheter with optimum visibility of blockage assessments.
The suction control valve is responsive and allows for single handed control of applied suction force. The positive locking mechanism is designed to prevent suction being accidentally applied.
Intersurgical will be demonstrating TrachSeal closed suction systems on stand 201 at the European Society of Intensive Care Medicine Conference (ESICM) from 3-7 October 2015.
i-gel: The New Revolutionary Single-Use Supraglottic Airway from Intersurgical
The Solus laryngeal mask - flexible wire-reinforced airway tube.
The i-gel is an innovative second-generation supraglottic airway with a soft, gel-like, non-inflatable cuff. The i-gel is designed to create a non-inflatable anatomical seal of...