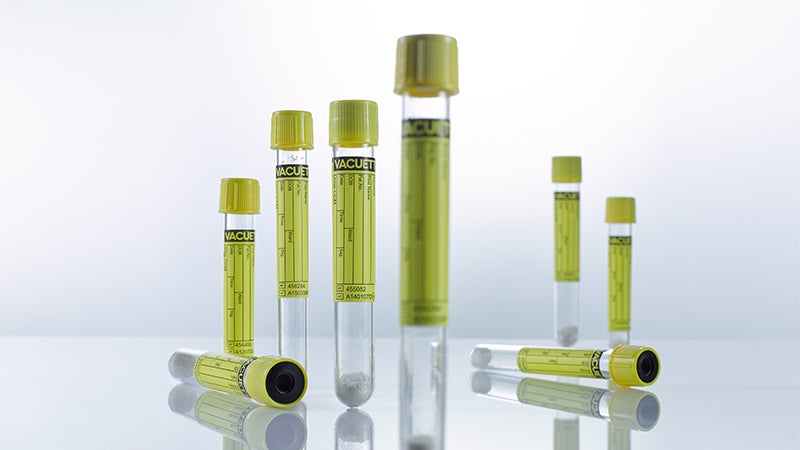 The innovative VACUETTE® Urine CCM tube contains a highly soluble additive.
After just a few inversions of the tube, the sample is thoroughly mixed together with powder additive and the bacterial count is reliably stabilised.
The stabiliser in the vacuum tube keeps the urine sample within a constant temperature range of 20°C-25°C for up to 48 hours. During this time, the sample can be transported or stored without the need for refrigeration.
The VACUETTE® Urine CCM tube is fitted with a safety cap that is extremely easy to open, allowing for hygienic working conditions with no risk of splashes, which may occur with standard rubber stoppers. Plus, the VACUETTE® Urine CCM tube is made from highly transparent Polyethylene terephthalate (PET) plastic and is shatterproof.
Which types of bacteria can be stabilised?
A large number of obligatory and optional pathogenic urogenital bacteria are stabilised in the VACUETTE® Urine CCM tube, which can be reliably detected for up to 48 hours. Urinary tract infections are most commonly caused by Escherichia coli or Staphylococcus spp. In addition to these two bacterial strains, internal studies have verified the stabilisation of Salmonella enteritidis, Candida albicans and Enterococcus faecalis. Furthermore, even sensitive microorganisms, such as Streptococcus spp are stabilised sufficiently(1).
---
Literature:
1) Evaluation of the feasibility of the VACUETTE® Urine CCM tube for microbial testing of urine samples. Internal study by GBO
Greiner Bio-One presents the Vacuette FC Mix Tube for glucose stabilisation. It is suitable for...