Forterra Systems provides software that enables hospitals and healthcare organizations to train for a range of skills and improve teamwork and communications through online collaboration. Our On-Line Interactive Virtual Environment (OLIVE) software platform immerses each participant in a 3D virtual environment that looks and interacts like the real world.
Each participant is represented as a realistic computer-graphic character, known as an avatar, that moves and speaks under the user's control. Using this new medium of communication, also known as virtual worlds, virtual reality or virtual simulation, organizations can train and collaborate in ways not previously possible.
3D simulation for medical training
Forterra's OLIVE is a multi-user virtual experience that centers on a simulated patient instead of a physical one. Virtual patients are placed in a virtual medical space where real practitioners can respond to their symptoms and diagnostics, and provide care. This solution is considerably more flexible in its requirements for space, and is lower cost, than high-end physical simulators.
An unlimited variety of training scenarios is possible, with example scenarios provided for immediate use. Scenarios include learning objectives for learner participants, scripted directions for standardized role-player participants, assessment instruments for individual and team performance, and teaching guides for faculties, facilitators and instructors.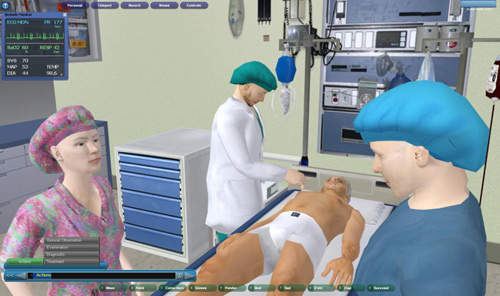 Doctor and nurses in team training with virtual patients to practice diagnosing conditions and applying treatments.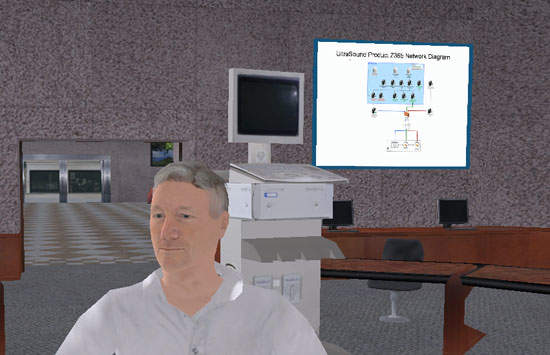 3D equipment and training content in a room optimized for operator and user training; learners can practice interacting with devices to rehearse training procedures.
A counselor meeting with a therapy patient where patients don't need to leave their home; healthcare practitioners can bring their practice directly to their clients.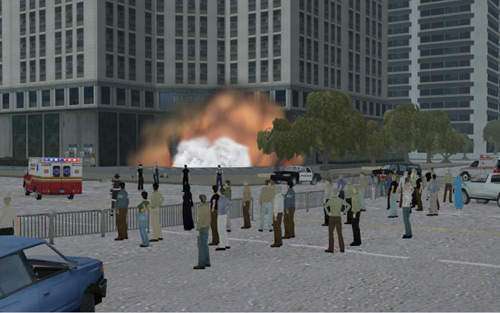 CBRNE preparedness exercises are just one of many examples for simulating a variety of disaster events that require coordination between response organizations.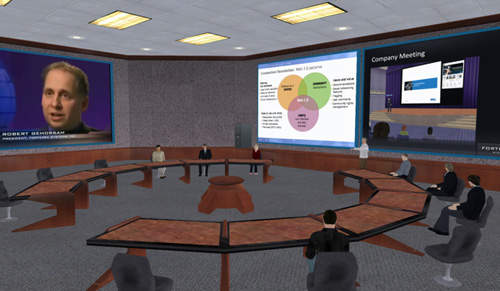 Multimedia seminar where PowerPoint slides, videos and desktop applications can be presented to remote attendees; members can ask questions and have break-out discussions just like in a live meeting.
Virtual simulation of medical situations
One example scenario is the simulation of an emergency department, outfitted with the functionality to support emergency management of multiple patients in a mass casualty incident. It includes life-saving airway and breathing management, cardio-pulmonary resuscitation, intravenous administration of saline and blood, oral, intramuscular and intravenous application of numerous drugs from a pharmacopoeia, and other necessary procedures and actions.
Virtual training for healthcare and medical applications
OLIVE supports the following uses of virtual worlds for healthcare and medical applications:
Medical procedures training
Drug and medical device education
Therapy and rehabilitation
Emergency response
Meetings and events
Public health
Virtual world capabilities for medical training
OLIVE provides unique, collaborative virtual world capabilities for healthcare organizations interested in solving process, treatment and training challenges. Key product features include:
Private secure worlds: operate behind or through firewalls; ability to address HIPPA requirements
Superior user experience: 3D audio; engaging, realistic avatars and graphics
Reliable and available: anytime and anywhere there is a PC with connectivity; LAN, WAN and internet deployments
Open and extensible architecture: compatible with industry-standard 3D content development tools; compatible with SCORM and learning management systems; customers and third-party developers can build their own solution
Healthcare industry features: plug-in physiology models provide clinical realism; medical equipment and VR interfaces
Benefits of virtual world and simulation technologies for medical training
Forterra is an innovative leader in the application of virtual world and simulation technologies, solving today's problems and designing solutions for the challenges in tomorrow's healthcare and life sciences arena. Applications of Forterra's software and services improve patient safety, offer immersive therapy and rehabilitation, and increase collaboration, leading to a reduction in healthcare costs.
Forterra's 3D virtual software also reduces medical errors through improved communication and team skills, expands the training opportunities available to a wider spectrum of care-givers, and reaches out to consumers with a branded virtual world experience.
Medical simulations for training
Forterra offers significant experience developing and deploying applications in the healthcare arena through the Forterra Studios team in collaboration with our partners at Innovation in Learning, who have been developing medical simulations for training for over a decade. The combined experience of the Forterra Studios team and our partners brings the right capabilities to solve your real-world challenges in the healthcare field.