Surgeons and healthcare professionals worldwide rely on the consistent quality, precision and performance embodied within Swann-Morton surgical blades, handles and scalpels. From its manufacturing facility in Sheffield, UK, Swann-Morton produces over 1.5 million surgical blades per day. The current range includes 70 blade shapes and 27 handles that can be used across the various disciplines of general and specialist surgery.
Surgical scalpels for orthopedic surgery
For use within rigorous orthopedic and general surgical procedures, the 'Cygnetic' surgical scalpel provides the surgeon with additional strength and stability through its patented combination of specially designed blade and handle.
Its functionality will assist the nurse with safe and easy blade attachment and removal while the simple disassembly for cleaning will be welcomed by the decontamination department.
Disposable scalpels
Following a substantial investment in new automated scalpel assembly and packaging machines at our Sheffield plant a new generation of disposable scalpels will be released on to the market in late 2009, displaying a number of aesthetic changes. The blades will not change, but they will now be attached to the handle using a unique technology developed in-house by our engineering and R&D departments.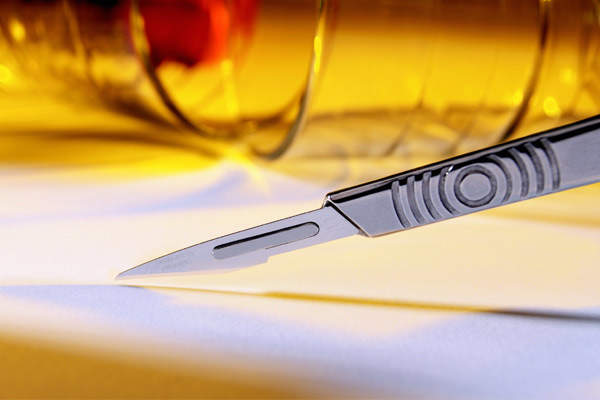 Surgical blades and scalpels for general surgery.<br><br><br><br>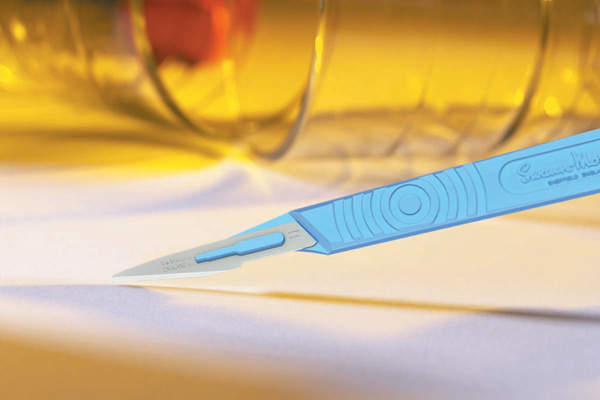 New disposable scalpel design.<br><br><br><br>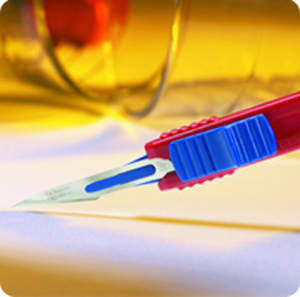 New retractable safety scalpel with additional functionality.<br><br><br><br>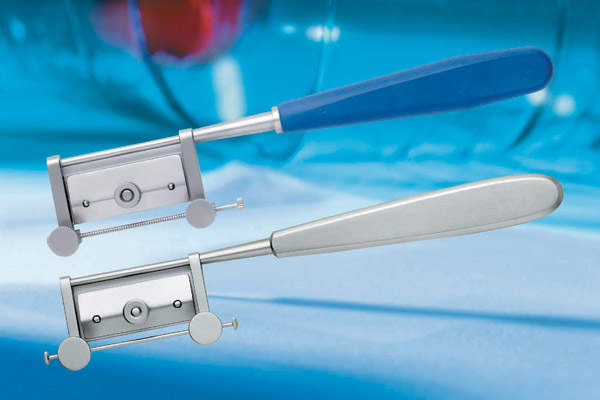 New silvers skin graft knife for plastic, reconstructive and oral surgery.<br><br><br><br>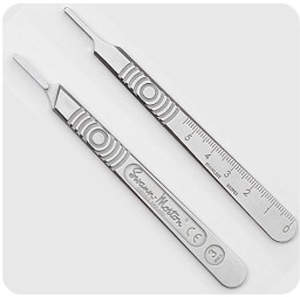 Stainless steel graduated surgical handles.<br><br><br><br>
The fitment on the full range of sterile and bulk non-sterile scalpels will be open sided as on the metal handle range. The handles themselves will now carry a graduated measure on the reverse side to mirror our range of metal stainless handles and will be marked with the CE symbol, which currently only appears on the outer product packaging.
The sterile scalpels will still be individually packaged but into a new thermo-formed tray developed to assist in safe passing techniques. The bulk non-sterile scalpels, used extensively within the custom tray and kit sector, will carry a more substantial protective closed end guard. This guard will also be used in our range of sterile guarded scalpels.
Retractable safety scalpels and blade removers
The OSHA compliant sterile retractable safety scalpel supports and encourages existing safe passing protocols and safe disposal of sharps in a variety of usage environments. It is currently available in three stainless-steel scalpel blade shapes, which are colour-coded for ease of recognition. We provide a black slider for the No.10 scalpel blade, a blue slider for the No.11P scalpel blade and a green slider for the No.15 scalpel blade.
Additional features were added in 2009, including:
Strengthening of the forward temporary lock position to prevent uncontrolled retraction when contacting with bone during use
An additional notch to hold the blade more securely in the passing position
A permenant lock to be engaged prior to final disposal in a sharps container
Additional blade shapes will also be available in the bulk non-sterile range for procedure kit and tray manufacture on request.
Swann-Morton's sterile blade remover, for use within the operating room (OR), is compatible with all blade sizes. The sterile blade remover is transparent to assist the blade count, and encapsulates the contaminated sharp until it can be safely disposed of in an appropriate container.
Ideal for GPs and community visits, the blade removal unit will remove and hold up to 100 blades of various sizes.
Stainless-steel surgical knives
After the successful addition of the Silvers minor skin graft knife and blades to the range last year we have extended it further with a premium stainless-steel Silvers knife, providing an alternative to the current version of the knife that has a distinctive blue autoclaveable handle.
When combined with our surgical stainless double-edged razor blades the knife handles, originally designed by HL Silver in Toronto, Canada, are ideal for taking small, intricate grafts from areas that would not be accessible with larger, standard knives. Although used mainly within plastic, reconstructive and oral surgery, the Silvers can also be used for the debridement of wounds.
Stainless-steel surgical handles
Changes in the pattern of global demand for stainless-steel handles in preference to traditional nickel alloy handles has motivated Swann-Morton to embrace new manufacturing technology .The beginning of 2010 will witness the final stage of a two-year conversion plan with the full range of standard handles being available in the new format, the exceptions being the wide-bodied 5B, 6B and PM 8 handles, which are scheduled to follow later in the year.
A combination of increasing nickel alloy prices, growing concerns for handle discoloration and cross instrument contamination during cleaning, and increased awareness of nickel allergies among patients and staff encouraged the company's investment in the new state-of-the-art stainless injection moulding process.
The nickel alloy handles will remain available only while current stocks last.