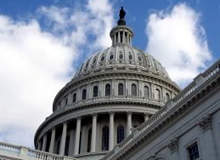 1. Andrew Tunnicliffe: In our publication we usually talk to long-established radiologists or others working hands-on in this profession. Can you tell us how your role differs; what might a typical day hold for you?
Renee Cruea: I am a liaison between the radiology community and their elected officials. My job is to educate Congress about what imaging is, why it is valuable and why funding needs to be consistent and adequate to support research. Each elected representative has many issues that they deal with every day, and my role is to educate them on this issue so that they can make well-informed decisions on issues that affect imaging stakeholders. My daughter, when asked by her teacher what I do during the day replied "My Mom looks for money from the government so that researchers can build machines to see inside my guts".
2. Your early career and even academic studies majoring in political science and history are a far cry from where you are today. How did you make that migration?
Where I am today isn't really all that different from where I came from. My political science and history degrees are very useful for advocacy/lobbying. My first position in Washington was an executive assistant position for a lobbyist who ran her own firm. I simply have more focus (healthcare/imaging) and have been able to find a niche that suits both my interests and my skills.
"I spend a lot of time meeting with representatives and political acumen comes in handy as you attempt to identify a way to get your point across."
3. You've been at the Academy for more than 12 years. How did the position come up, and what is the driving force behind what you do?
I was government relations associate for nine years and then I was promoted to executive director. I enjoy advocacy and I believe in the mission of the organisation I represent.
How well do you
really

know your competitors?

Access the most comprehensive Company Profiles on the market, powered by GlobalData. Save hours of research. Gain competitive edge.
Company Profile – free sample
Thank you!
Your download email will arrive shortly
Not ready to buy yet? Download a free sample
We are confident about the unique quality of our Company Profiles. However, we want you to make the most beneficial decision for your business, so we offer a free sample that you can download by submitting the below form
By GlobalData
4. The role you have today is somewhat political, or at least requires political acumen. Would you say that's a fair assumption and could you give an example of where you might have had to use it?
Most positions of leadership in DC are political. I spend a lot of time meeting with representatives and political acumen comes in handy as you attempt to connect with people and identify a way to get your point across effectively.
5. What are the challenges facing the imaging profession today?
Funding for and support of imaging research. Education and advocacy are key. Imaging is cross-cutting but that isn't a fact that is obvious to most outside the profession.
6. During your career, what is the single thing you are most proud of?
Being part of the advocacy team who wrote and advocated for the legislation that established the National Institute of Biomedical Imaging and Bioengineering at the National Institutes of Health.
7. And if there were anything you could change or perhaps do again what would that be?
Nothing. I prefer to always look ahead.
8. Is there something that you had always wanted to achieve, personally or professionally, but have never been able to for one reason or another?
Yes, I want to finish a book I began writing a few years ago about what it is like to have a positive type-1 diabetic pregnancy. There is a lack of positive information available for women like me with type-1 diabetes, who want to have children.
9. How did things work out and what would be the single most important piece of advice you think you could give women in this position?
My pregnancy was a bore, the most healthy experience possible and that certainly isn't something you will hear much about if you are type-1 diabetic and want to get pregnant. My advice would be to always remember that you are your own best health advocate. You must be proactive in your healthcare.
10. Do you think that healthcare providers could be doing more, and if so, what?
I am not typically the type of person who would ask that question. I would put the onus back onto the patient. Patients need to educate themselves about their condition, particularly when they have diabetes and wish to be pregnant. Diabetes affects each person differently. Being pregnant and having type-1 diabetes is a challenge, but more importantly you never know how it will affect your body, so you need to prepare.
11. What motivates you both personally and professionally?
To be a very positive role model for my daughter and to be the best person I can be in all aspects of my life while enjoying them with balance.
12. Has it ever been difficult to balance your working and home life?
Challenging yes, but without challenges I would be bored. I love the fact that my daughter is proud of what I do as a mother, a woman and a boss, and that I have a job I enjoy every day.
13. What do you enjoy doing in your spare time?
I play golf with my daughter who is six and already has a better swing than I do.
14. Your handicap?
"I am a liaison between the radiology community and their elected officials."
Now you have crossed a line in this interview, and you can quote me on that. I plead the 5th!
15. Is there one particular lesson you have learned from your home life that you find helps in your professional one, and vice versa?
Yes, my daughter loves to remind me to take a breath, so I do so at work now as well. The lesson I've taken from work home with me is that I can not control everything.
16. What advice would you offer to young, aspiring candidates looking to get into radiology today?
Appreciate where you are trained; the value of the academic side of research.
17. Do you think that is undervalued?
Yes. I think that there is a huge divide between private practice radiologists and academic radiologists. It is important to encourage each group to value equally the academic research structure and support it by contributing to research. This is so important now in this economic climate, reimbursement cuts and a previous six-year stint of flat funding from the federal government.
18. As executive director what do you hope to achieve for the academy and the wider profession?
I want to educate the public about the value of imaging research and how it will affect the care they will receive as patients.
19. What do you think the profession as a whole, down to the individual facility and radiographers, can do to ensure we all understand?
Communicate with your elected officials, visit their local offices, invite them to see your labs, meet with them and articulate to them the value of what you do and how it affects patients in his/her district.
20. And finally, about you, what are your hopes for the future? Where do you want to go next?
Next? I want to get home in time to make something healthy for dinner. Beyond that, who knows, I am open for anything.