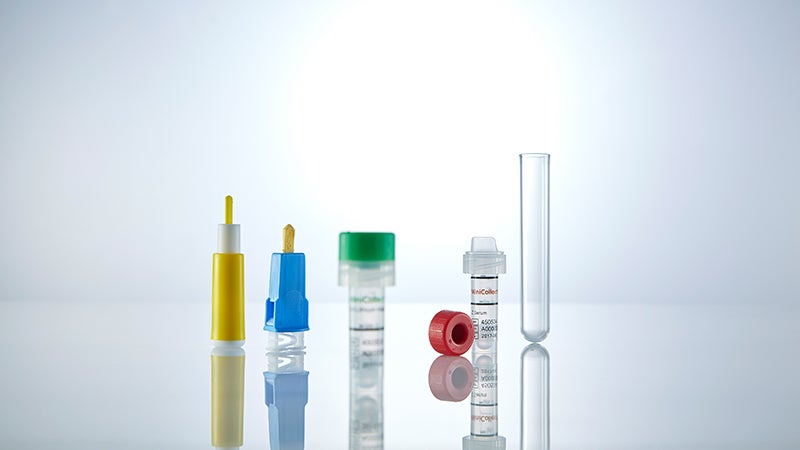 The MiniCollect® system not only benefits geriatric patients or those who need to have blood taken on a regular basis, but also burns victims.
Above all, a particularly gentle approach is required when it comes to our youngest patients. With this in mind, Greiner Bio-One has developed and optimised the MiniCollect® capillary blood collection system.
Integrated blood collection scoop means accessories are no longer needed
The cumbersome process of transferring the drop of blood using capillary tubes or funnels is now a thing of the past, thanks to the MiniCollect® System.
The special feature here is the blood collection scoop integrated into the wide tube opening. In this way, the drop of blood can be transferred to the MiniCollect® primary tube quickly and easily, minimising adhesion. The sample comes into contact with the additive immediately.
The caps are completely sealed and they meet the highest pharmaceutical regulations. They can easily be sent via pneumatic dispatch or other transport systems without losing any sample material.
Carrier tubes and combined filling volumes simplify use
For centrifugation, the MiniCollect® tubes can be screwed into a premium carrier tube using a simple rotational movement. When combined, the dimensions correspond to a standard 13mm by 75mm tube format and can easily be placed in a standard rack or standard centrifuge.
Combined filling volumes for the Ethylenediaminetetraacetic acid (EDTA) and serum tubes makes the preparation of samples more straightforward. Two easily visible filling marks on the tube provide greater flexibility for use.
Greiner Bio-One presents the Vacuette FC Mix Tube for glucose stabilisation. It is suitable for...