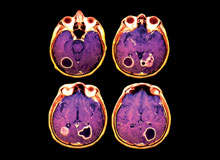 The ability to see structures or fluids within the body is essential to modern medicine. For example, X-ray examinations would be much more limited without X-ray iodinated contrast media, which provides the ability to look at structures that would otherwise be indistinguishable from nearby tissue.
Responses to contrast injection
Many people who receive contrast media injections will feel something after the injection has occurred; this is a normal physiologic response. The most common feelings are a metallic-type taste in the mouth or a feeling of warmth/flushing; responses that are rarely a cause for concern.
Unfortunately, some people suffer more substantial and adverse reactions to contrast media. According to the seminal report by Hitoshi Katayama et al, which was published in Radiology in 1990, almost 3% of all patients injected with non-ionic contrast media suffer an acute adverse reaction worthy of being recorded and monitored. Even here, most of the reactions are mild and self-limited. However, a small number of patients can have severe or even very severe reactions, and a tiny number of reactions can even result in death.
"We could expect to see a severe reaction once a month, and a very severe reaction more than once a year."
In the Katayama paper, 0.04% of people who received non-ionic contrast material injections had severe reactions that required some form of treatment, while 0.004% had very severe reactions that required the presence of an anaesthesiologist or hospitalisation. While these percentages seem small, given the huge numbers of people that receive contrast material injections throughout the world each day, severe and very severe reactions are encountered fairly frequently. According to Professor Rich Cohan, a radiologist at the University of Michigan, US, most radiologists can count on seeing moderate severe reactions periodically in their practices.
"At our hospital, we inject well over 100 patients with iodinated nonionic contrast media every day," he says. "According to the numbers provided by Katayama et al, we could expect to see a severe reaction in our department more than once a month, and a very severe reaction more than once a year."
How well do you really know your competitors?
Access the most comprehensive Company Profiles on the market, powered by GlobalData. Save hours of research. Gain competitive edge.
Company Profile – free sample
Thank you!
Your download email will arrive shortly
Not ready to buy yet? Download a free sample
We are confident about the unique quality of our Company Profiles. However, we want you to make the most beneficial decision for your business, so we offer a free sample that you can download by submitting the below form
By GlobalData
The most common mild allergic-like contrast reaction is the development of hives, which are usually only a few in number and which usually last for only a few minutes. Moderate reactions commonly result in respiratory symptoms, including wheezing, throat tightness or hoarseness and light-headedness. Severe reactions can result in loss of consciousness, swelling of the airway to the point of closing, severe drop in blood pressure and even cardiac arrest.
Risk factors
How do radiologists ensure the risk to their patients is minimised and that the number of reactions they observe are the fewest possible? According to Cohan, the first step is to identify patients who are at increased risk of having an acute allergic-like reaction. The three commonly acknowledged risk factors for acute allergic-like reactions include patients who have had a prior adverse contrast reaction of the allergic-like type, patients with allergies to other substances, and patients with a history of asthma.
"Not surprisingly, the patients who are at the highest risk of having an allergic-like reaction are those who have had previous reactions to the same kind of contrast material," he says. "It's not a complete guarantee that someone will have the same reaction, but a subsequent allergic reaction is much more likely, compared with patients who haven't had reactions before. It has been estimated that the increased risk in these prior reactors is about five-fold. Not quite at the same level are patients who have allergies to other substances, including foods and other medications and asthmatics. Prior studies have found that the risk of an acute allergic-like reaction in these two groups is increased by a factor of about two to three."
There is also a problem with the large amount of patients who have allergies to other medications or foods. Such allergies are very common and may be present in up to 50% of people.
"Almost 3% of all patients injected with non-ionic contrast media suffer an acute adverse reaction worthy of being recorded and monitored."
"Obviously, we wouldn't be doing anything very selective in such a large group by identifying them as being at increased risk," says Cohan. "So, many experts have recommended that we consider those patients who have severe allergies or have many allergies as being particularly at risk, although the data to support this behaviour is not very compelling.This is merely an assumption that many of us make."
Cohan believes that it is important to have a number of overlapping mechanisms in place to detect patients who are at increased risk of having an allergic-like contrast reaction, so that if one component fails the others may succeed in identifying patients as having an increased risk of having a contrast reaction.
"The clerk who schedules an imaging test usually asks the patients the relevant questions," he explains. "The patient is then interviewed by a technologist on arrival in the radiology department. In addition the medical records are reviewed."
Corticosteroid prophylaxis
If a patient who has had a prior allergic-like acute reaction contrast media is identified, then premedication is administered if they are to be re-injected or if a contrast-enhanced study is necessary. The most crucial component of this premedication is the use of high-dose corticosteroids. Premedication lowers the chance of a subsequent reaction to some extent, but does not completely eliminate the risk.
Very little has changed over recent years in terms of how high-risk patients are identified and how premedication is administered. The most significant development has resulted from the introduction and widespread adoption of non-ionic agents, which cause fewer reactions than the older ionic agents. "However, the questions that we ask our patients are still the same, the decisions about whether to use steroids are the same, and the way that we administer the steroids are the same," says Cohan.
Contrast-induced renal toxicity
Non-allergic, non-acute reactions to contrast media also occur. Another important reaction that concerns Cohan is that iodinated contrast material (used for IVPs, CTs and conventional angiography) is damaging to kidneys.
"We know that iodinated contrast material has the potential to damage kidney function," he says. "Such damage is exceedingly rare in people whose kidneys are working perfectly normally; however, it can be a problem in people who already have an element of kidney failure, such as acute renal failure or chronic kidney disease. Iodinated contrast media can make the kidneys function even more poorly in these people."
"The greatest risk of contrast-media-induced renal toxicity seems to lie in patients who have renal failure and diabetes mellitus."
The greatest risk of contrast-media-induced renal toxicity seems to lie in patients who have renal failure and diabetes mellitus. It is less clear whether or not the presence of diabetes mellitus alone is a risk factor for contrast-induced renal toxicity.
Many studies have attempted to look at this issue, but the results are conflicting.
"Some groups are believed to be at increased risk for developing renal toxicity from iodinated contrast material," says Cohan. "This includes people who have had several injections of contrast material over a short period of time – if there's more contrast material than their kidneys can handle, they may be more at risk for being damaged by that contrast material."
Also included are patients on other medications, such as some antibiotics and anti-inflammatory medication, that may damage the kidneys, and patients that have severe congestive heart failure or who are very dehydrated.
Gadolinium in MRI
Compared with the contrast media used for X-ray tests such as CT, which is iodinated, the most commonly used MRI contrast agents contain gadolinium. Acute allergic-like reactions to MRI contrast agents are much less common than reactions to X-ray contrast agents.
"Nephrogenic systemic fibrosis has been reported recently," says Cohan. "It"' a chronic condition associated with gadolinium-based MR contrast material administration. This is a disease that results in stiffening of the skin and joints due to fibrosis, which may also affect internal organs."
This disease has been exclusively encountered in patients with severe renal failure. The majority of these patients have received MRI contrast agents. There is no treatment and the disease can be fatal. For this reason, gadolinium-based contrast agents should be injected with caution and only if absolutely necessary in patients who have severe renal failure.
Tracking contrast reactions
Most institutions have a system in place for monitoring patients who have had contrast reactions and identifying patients who have reacted in the past, so that if they return for another contrast-enhanced study premedication can be used. Unfortunately, the tracking system relies almost entirely on the rigorous record-keeping of individual hospitals and imaging centres.
"Gadolinium-based contrast agents should be injected with caution and only if absolutely necessary in patients who have severe renal failure."
"In our department, we have instructed our technologists to summon a physician to evaluate any patient who has a reaction after contrast media injection, no matter how mild the symptoms may seem at first," says Cohan. "In addition, a departmental quality assurance contrast reaction form is then completed for every patient who has a reaction. The nature of the reaction and its treatment is dictated in the official radiology report and the patient is listed as being allergic to contrast material in the patient's electronic medical record."
Contrast reactions are frequently reported to the contrast agent manufacturers, particularly on rare occasions when clusters of reactions are encountered. It has been speculated that there may be some unique problem to a specific batch or lot of a shipped contrast agent in these instances. Also, when contrast media is shipped at abnormal temperature or when it comes into prolonged contact with the rubber stoppers in bottles, chemicals may leach in to the contrast material, making it more allergenic. However, manufacturers can rarely identify the problem in these situations, and the reasons for occasional continued reaction clusters nearly always remain unknown.
Treatment of contrast reactions
Cohan notes that the one aspect of contrast reactions that could be improved the most is the way in which patients having contrast reactions are treated. The reactions are so rare that many physicians who evaluate reacting patients initially frequently make treatment errors.
"This includes administering insufficient amounts of oxygen, using the wrong type of fluid if intravenous hydration is required, overusing antihistamines, and forgetting how much epinephrine to administer, should epinephrine injections become necessary," he adds.
Cohan feels strongly that all physicians who administer contrast material should review reaction treatment algorithms regularly, preferably at least twice a year.Nurses and technologists should also be familiar with the recommended treatment of the most common contrast reactions.
"Fortunately, most patients who have contrast reactions do well, even those in whom non-recommended treatment may be instituted," he says. "Deaths after contrast material administration are very rare."
Future monitoring
Although reactions to contrast media are uncommon, most physicians who administer contrast agents on a routine basis can expect to see and be called to treat adverse reactions, including those that are severe.
While most reacting patients recover uneventfully, a compulsive and rigorous monitoring system should be in place to identify patients who have reacted or who have other risk factors for a contrast reaction.
All physicians should be familiar with the recommended treatment for contrast reactions. This requires a regular periodic review of the algorithms that are suggested for treating patients with the most common cutaneous, respiratory and cardiopulmonary reactions.