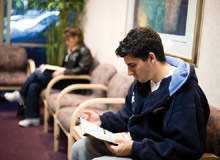 The American Cancer Society estimates approximately 1.5 million new cancer cases will be diagnosed in the US in 2009, with the EU projecting an additional 2.9 million new cancer cases. Progress in diagnosing certain cancers at earlier stages and treatment advances have led to significantly increased survivorship rates and more people living with cancer worldwide, a trend projected to continue well into the future.
As cancer incidence and prevalence rises, so does the use of outpatient oncology services. According to the Advisory Board, growth trends in outpatient use over the next five years are estimated at 59% for imaging, 42% for chemotherapy and 20% for radiation therapy and outpatient surgeries. This growth in outpatient services has been driven by physicians, consumers, advances in technology, payment trends, and shifts in regulation. Outpatient departments, once described by the late Dr John H Knowles, a director of Massachusetts General Hospital, Boston, as "the stepchild of the institution… The least popular area in which to work", and providing limited care, often only for the poor, has emerged as the new quality, innovation and profit drivers in healthcare.
Benefit to the health authority
An increasing percentage of cancer care in the US is provided in an outpatient setting, and for good reasons: higher reimbursement rates than those for inpatient care, improved patient outcomes, enhanced efficiency and appropriate utilisation of bed, staffing and other hospital resources, decreased costs of providing care, increased patient throughput, and opportunity for enhanced research through clinical trials.
Much of the recent growth in outpatient care has been driven by the interests of third-party payers keenly aware of the financial savings to be incurred from a shift of patients from the inpatient to the outpatient setting. With the cost of an average inpatient bed greatly exceeding that of an outpatient bed, they are incentivising healthcare providers through higher reimbursement rates for care provided in the outpatient setting. Also, as more evidence is collected demonstrating better short- and long-term outcomes for those receiving outpatient treatment, payers are becoming even more inclined to push for outpatient care, which has the potential to amass cost savings over the entire course of their provided coverage to their members.
Given current global financial conditions and the declining patient/payer mix, higher collection rates for those patients who maintain third-party coverage have become a necessity for survival. For hospitals, which are already filling inpatient beds, the outpatient treatment setting allows organisations to increase their patient volumes while avoiding the need to build more buildings.
How well do you really know your competitors?
Access the most comprehensive Company Profiles on the market, powered by GlobalData. Save hours of research. Gain competitive edge.
Company Profile – free sample
Thank you!
Your download email will arrive shortly
Not ready to buy yet? Download a free sample
We are confident about the unique quality of our Company Profiles. However, we want you to make the most beneficial decision for your business, so we offer a free sample that you can download by submitting the below form
By GlobalData
"Providing care and access to clinical trials in an outpatient setting makes involvement more palatable and convenient for cancer patients."
Outpatient cancer care, the third most profitable outpatient and inpatient service line (behind only cardiac services and general surgery in contribution to the bottom line), is multi-pronged, requiring medical, surgical and radiological services. In this instance, ambulatory treatment centres, through their provision of infusion therapy needs (such as chemo, blood products, fluids and electrolytes), can reduce volumes in other inpatient and outpatient settings, and can be designed for ease of access, comfort and staffing efficiency.
Even with the introduction of new oral anticancer agents, chemotherapy infusion demand is expected to increase 21% across the next decade in the US due to the growing and ageing population. This demand will increasingly be focused in the hospital outpatient setting as reimbursements to private physicians continue to decline.
Radiation treatment centres, the primary source of outpatient oncology profits for most cancer programmes, allow hospitals to extend themselves into the community and provide treatment locations closer to home. In high demand both for treatment and screening purposes (such as virtual colonoscopy, lung CT and breast MRI), radiation treatment centres, predominantly a fixed cost business, will continue to thrive as patient volumes continue to increase.
Use of outpatient surgery, largely driven by advances in minimally invasive procedures, is also on the rise, not just in oncology but industry-wide. According to the Advisory Board, in 1980, of all surgeries performed, 20% were outpatient; in 2007 59% were outpatient; and it is projected that in 2017, 63% of all surgeries will be performed in an outpatient setting, and healthcare organisations benefit from decreased surgical average lengths of stay, better reimbursement rates and decreased expenses. Having outpatient surgery in a different building also allows clinical teams to develop a rhythm and can aid in streamlining surgery scheduling.
As the search for the cancer cure continues and treatment advances lead to a greater chance for patient survival, clinical trials continue to be a large focus in academic oncology programmes. Providing care and access to clinical trials in an outpatient setting makes involvement more palatable and convenient for cancer patients, with the end goal of improving the lives of all living with cancer.
Also, having access to a higher volume of patients helps to meet the need for specific subsets of patients, while satellite facilities located in patient communities improve the chances that patients remain enrolled in a trial over time without the added burden of travel into busy medical centres.
Patient benefits
Providing oncology care in the outpatient setting allows for easy access to services in facilities that can be designed to feel less like a hospital, helping make cancer treatment less stressful and enabling patients to focus all their energies on recovery. Ease of access, more convenient locations with centralised services, shorter treatment lengths and decreased costs are just a few of the benefits afforded patients when an outpatient treatment option is available.
The main driver of where today's patients choose to receive their care is location. Outpatient cancer centres can fulfill the desire for a single point of service, often closer to home. However, with many treatment options and locations to choose from, today's patients are seeking added value in their care, and while timely access to services is crucial, patients do not just want to be seen quickly; they are seeking the same level of clinical care and improved levels of customer service as compared to a traditional inpatient setting.
In the past 20 years, outpatient cancer care has witnessed treatment advances resulting in less invasive procedures, shorter treatment lengths and decreased side effects. With the advent of new non-sedating chemotherapy drugs and the future of oral chemotherapy, patients will be able to spend less time in treatment and more time healing at home, often saving money in the process by avoiding the costs associated with being admitted. Treatment advances have also included improved screening practices, which allow for earlier diagnosis and improved outcomes.
Multidisciplinary care centres
Multidisciplinary Care Centers (MCCs) allow for a 'patient first' model of care that also cushions an organisation's bottom line. In 2006, the Kaiser Family Foundation and the Harvard School of Public Health conducted a poll that found half of cancer patients and their households have problems coordinating care. The multidisciplinary model of care – geographically co-locating resources, support staff, and disease-site specific clinicians across all relevant specialities in one centre – addresses that issue.
Dating back to the 1950s, this concept of care is re-emerging, especially in the cardiovascular, oncology and neuroscience fields. This resurgence has many drivers including a renewed focus on quality, more informed patients who seek immediate access and coordinated care, an openness of hospitals and physicians to discuss alignment opportunities, and the formation of accreditation bodies requiring the demonstration of multidisciplinary programmes.
MCCs are organised around a specific cancer type and encompass the complete cycle of care for a disease entity – diagnosis, treatment and follow-up. They provide a venue for coordinated care across medical oncology, surgical oncology, radiation oncology, diagnostic imaging and supportive care specialities, clustering the clinical expertise needed to effectively treat the patient in a patient-centric and results-driven environment.
"In today's competitive healthcare market, the first step to organisational success is getting patients in the door."
MCCs also enhance the benefits the general outpatient care model affords patients and healthcare organisations: ease of access, improved outcomes, increased volume, access to clinical trials, decreased costs and increased revenue. MCCs can make an organisation more competitive by increasing the value and decreasing the cost of care provided.
In today's competitive healthcare market, the first step to organisational success is getting patients in the door. Given the multitude of venue options available for cancer care, consumers have become selective shoppers, with a main focus on access. Patients seek 'one-stop-shopping' for tests, consultant and ancillary services and are willing to travel further for expertise in their specific disease.
MCCs provide a centralisation of services that facilitates the referral process and the scheduling and sequencing of appointments across specialities for a given disease site. For example, having radiologists and pathologists intertwined geographically improves diagnostic service access for medical and surgical oncologists. Also, the provision of additional services, such as social workers, case managers, and patient advocates, ensures that the health system meets both the emotional and social needs of the patient in addition to their medical needs.
A potential result of improved access is increased patient volume. High volumes of patients flowing through the MCC enhance the education and decision-making skills of the clinic's staff as they are routinely exposed to the nuances of a specific disease site. Clinical care problems can be identified more quickly, enabling solutions to be rapidly generated with a diminished level of modality-specific bias that can occur when there is no structure for discussion of patient issues across specialities.
Improved communication between health professionals also prevents the duplication of examinations and investigations, leads to more consistent information being communicated to the patient, and increases the level of job satisfaction among multidisciplinary care team members. The horizontal integration across divisions and departments also allows for prioritisation of each group's clinical protocols, increasing the probability that patients will be enrolled in the most appropriate clinical trial for their treatment. Clinic business processes – such as charting, charge capture, coding, and outcomes documentation (all important in the insurance reimbursement process) – are also streamlined as staff members become familiar with the routine procedures/issues specific to their patient population.
Given the broad variation in healthcare system design, delivery and financing across the globe, healthcare organisations must examine what, if any, implementation approach is best in establishing multidisciplinary care in their environment.
References are available on request from the editor.