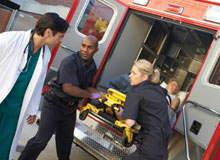 The American College of Emergency Physicians (ACEP) is an organisation that supports quality care and promotes the interests of emergency physicians. It has long advanced emergency care in the US and been an advocate for the 119 million (as of 2006) patients who seek immediate medical treatment every year.
Emergency medicine in America became a medical speciality in 1979, and the physicians that practise it have expertise in almost every other medical speciality. There are over 190 residency programmes across the country covering this area of medicine and they graduate more than 1,000 emergency physicians each year. However, there are still not enough board-certified emergency physicians in the US, especially in rural areas, and there will continue to be shortages, possibly for decades.
A typical shift in an emergency department at night can include dealing with the critically ill victims of alcohol-related car wrecks, stab wounds to the chest, gall bladder problems, appendicitis, fungal meningitis related to AIDS, and discovering a suspicious lung mass, which a later biopsy may reveal as cancer.
Many of the practices that have become routine began on the battlefield with wartime medics, which is fitting for the US because emergency physicians now find themselves on the front line of what has become a healthcare crisis. The UK faces its own challenges with emergency department waiting times, and in the US, more patients are waiting longer for care.
A recent report by the US Government Accountability Office found that patients who need to be seen in one minute will wait an average of 28 minutes. Emergency physicians and nurses are dedicated to providing the best care, but these delays are simply not sustainable without severe consequences.
The US Centers for Disease Control and Prevention showed that between 1996 and 2006 the number of emergency visits rose from 90.3 million to 119.2 million – an increase of 32%, or an average annual increase of nearly three million visits (2.9 million) per year. Meanwhile, the number of hospital emergency departments decreased from 4,019 to 3,833.
"47 million people in the US have no health insurance. Research shows that people without such insurance delay care until their conditions become emergencies."
In addition to the lack of resources, there are other complicated reasons that emergency departments in the US are crowded. The population is growing, and more people are ageing into senior citizenship. Older patients are living longer and have more complicated medical conditions that often require emergency care. A further factor is that 47 million people in the US have no health insurance. Research shows that people without such insurance either delay or forego care until their conditions become emergencies. Uninsured emergency patients are more likely to be hospitalised.
Boarding patients
A large uninsured population combined with inadequate reimbursements by private and government insurance companies have led many hospitals to compensate for the income shortfall by closing emergency departments or slowing down admissions from that department. This leads to the practice of "boarding", or holding in the emergency department, patients who have been admitted to the hospital. The inability to get people out of the emergency department, because people are boarding is the main contributor to crowding. Boarded patients require ongoing monitoring by emergency physicians and nurses, who then cannot tend to more patients coming through the door.
In addition, frivolous lawsuits and defensive medicine have driven up the costs of healthcare in the US and contributed to the shortage of medical specialists willing to take calls in emergency departments, leading to more delays in care. This is particularly true for patients who require care from orthopaedists, obstetricians, plastic surgeons, neurosurgeons, otolaryngologists and hand surgeons.
It is not uncommon for an emergency physician to place multiple phone calls to enlist a specialist to treat a patient, only to transfer that patient to a hospital many miles away. These delays in care can compromise the medical outcomes for the patients who need the on-call specialists, as well as for the patients waiting to see the emergency physicians, who are tied up on the telephone.
ACEP has proposed a number of solutions to the problems in emergency departments and has argued strenuously against the practice of boarding, the single biggest contributor to crowding and long wait times. Some members of the organisation have lobbied their hospitals successfully to move admitted patients into in-patient hallways, which has reduced crowding tremendously. However, most hospitals resist this.
The American College of Emergency Physicians conducted a survey of emergency physicians in January 2009 that was emailed to 16,600 practising members. There were 1,734 responses, which revealed:
66.1% saw an increase in patients seeking care in the past six months
69.9% reported an increase in the population of uninsured patients in the past six months
82.9% reported seeing patients who have lost their jobs and health insurance and who delayed medical care until their medical conditions had become emergencies
72.7% have seen a patient who is newly uninsured (past six months) and experiencing serious medical consequences because of delaying medical care
72.2% did not think their emergency department has fully experienced the consequences of the financial crisis (in terms of treating additional, sicker patients)
66.1% are very concerned, because of recent job losses and health insurance, that patients will forego medical care until their medical conditions worsen and become medical emergencies
89.9% are not confident that US policymakers are addressing the problems facing emergency patients
93.3% say policymakers should strengthen emergency departments as part of healthcare reform
87.8% say patients have sought care in their emergency department in the past six months because they have been turned away for care elsewhere, either at a doctor's office or a clinic.
Finance concerns
The Obama Administration and the 111th Congress of the US have declared healthcare reform the legislative priority of 2009, which most Americans agree is long overdue. Yet for all the money the country spends on healthcare, the nation's health outcomes are not as good as those in some countries that spend less.
To make matters worse, spending forecasts show that if the US continues at the current rate, Medicare – the government health insurance plan covering senior citizens and some disabled, which already accounts for 14% of federal spending – could consume 20% of the federal budget and be out of money by 2017.
There is a great deal of talk about cutting costs while beefing up the nation's primary and preventive care systems, and "patient-centred medical home" has become a hot phrase in Washington DC. What few, if any, policymakers are talking about is what to do with the nation's crippled emergency medical care system, which not only treats people having emergencies, but also functions as the healthcare safety net for millions of Americans who have nowhere else to go.
"While emergency physicians support expansion of primary care and healthcare coverage, these measures will not repair the nation's broken emergency system."
This is particularly worrying in a year in which the first pandemic in 41 years has been declared, especially when so many emergency departments reported being overwhelmed by anxious flu patients when the H1N1 flu virus first hit North America in the spring. Things could become dangerous very quickly when flu season begins in earnest in the autumn if steps are not taken now to shore up the US's emergency departments.
Complicating the situation further is the worldwide recession. Americans who have lost their health insurance or who are foregoing routine medical care or medications in order to save money inevitably end up in the emergency department when things go wrong. A survey of 1,700 emergency physicians in January revealed that two thirds had seen an increase in patients over the preceding six months, while 83% had seen patients who had lost jobs or health insurance (or both) and had consequently delayed seeking medical care until they had an emergency. When a patient has delayed care until the point that he requires emergency treatment, that is a sign that something is terribly wrong. While emergency physicians support expansion of primary care and universal healthcare coverage, these measures will not repair the nation's broken emergency system. This was demonstrated by the state of Massachusetts, which enacted a health insurance mandate in 2006. After that, visits to emergency departments went up and waiting times to obtain an appointment to see a physician increased.
Safety net for all
The healthcare crisis could take decades to solve, but in the meantime emergency departments will continue to serve as a healthcare safety net for everyone, not just the uninsured. Despite fewer resources, long waiting times and the lack of medical liability reforms, a new Press Ganey poll found more than 80% of emergency patients were satisfied with the care they received. It is reassuring that the relationship physicians have with their patients is still intact, despite the public's frustration with waiting so long for care.
If the solutions to the problems plaguing the healthcare system were easy or obvious, the US would not be in the situation it is now experiencing. However, patients continue to come through the door, day after day, in ever greater numbers, and all emergency physicians feel the urgency of the need for reform as strongly as anyone in medicine. Emergency physicians see people at their darkest hours, too often when all other doors remain closed, and they dread the day they have to close their doors as well.