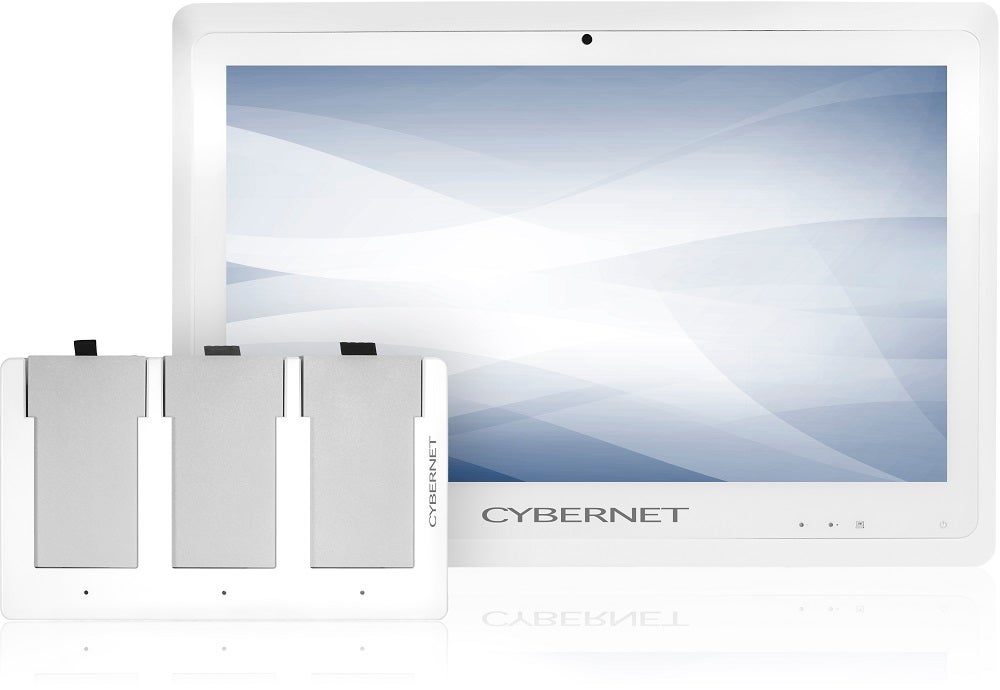 These monitors come in sizes ranging from 19in to 24in with a UHD 4k version also available with a 24in screen size.
Boasting hot-swap battery functionality, these monitors can be powered 24 / 7 without ever requiring a wall outlet. Users can simply swap out depleted batteries for fully charged ones without powering down the device. Not only that, the CyberMed XB line can even power a thin client PC and a second device using these batteries. What this means is that users can pair their battery powered XB monitor with a non-powered cart, using the monitor itself as the power source for peripherals and other devices. A computer on wheels solution such as this delivers a lightweight solution for clinicians to use at the point of care while also saving thousands of dollars on more expensive battery-powered carts.
Just like the rest of Cybernet's assortment of medical-grade devices, the XB line has been certified IEC / UL 60601-1 safe for near-patient use and comes with an IP65 sealed front bezel for stress-free disinfection. Each monitor is also fully antimicrobial with both antimicrobial housing and touch glass and is built with a fanless design that makes it safe to use in sterile environments. Finally, with VESA mount compatibility, these monitors can be mounted nearly anywhere within a healthcare facility, making them ideal for all manner of use cases.